Columbia University on Monday announced that its men's wrestling team would not compete pending an investigation into racist, sexist, and lewd messages allegedly exchanged by its male members.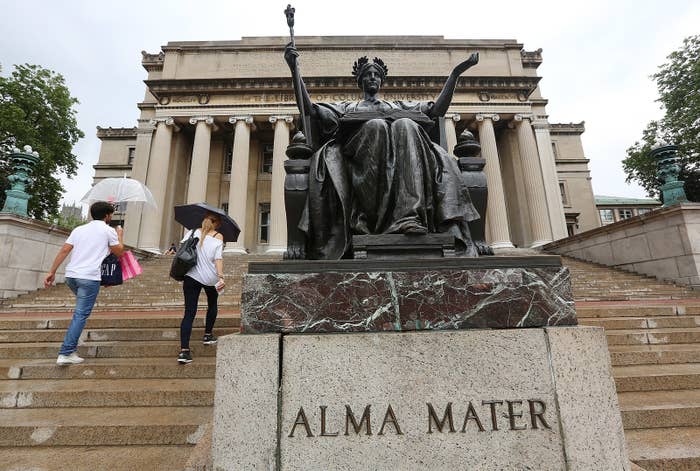 Screenshots of the alleged messages, posted by Bwog, showed the wrestlers sending Instagram pictures of female students and mocking their appearances.
Commenting on one woman's photo, a member referred to her as "fish pussy" while a comment on another woman's photo read "looking like a dude in a wig."
In one exchange about a meeting, a member said, "We pretty much just talked about how the girls were ugly."
In another exchange, a member said that girls at the Miami University in Ohio "beg for the cock so hard" which prompted another to respond: "Columbia bitches feel entitled to something when in reality they are all ugly socially awkward cunts."
While discussing an article suggesting that Columbia was cancelling Bacchanal — a spring concert for undergraduates — to prevent campus sexual assault, one of the wrestlers said, "I hope someone actually gets sexually assaulted."
The members also allegedly used racial slurs, including the n-word, and made derogatory comments about black people.
One message said, "How would I get a gf? I barely pull nigs," to which another member responded, "Nothing to be ashamed about being a night rider either."
In another exchange, one member told another, "you fucked a black bald girl..." which prompted this message: "How big was her dick compared to braziers?"
While discussing a protest after a fatal police shooting of an unarmed black teen, a message read, "Did you see any of those nigs in North St. Louis protesting that teenager getting shot by the cops?" Another message read, "There (sic) such fucking nigs dude, so far the only places that have been looted was a rim shop and a pawn shop."
In one exchange, a wrestler said, "Like people in Africa still can't tell time and that's why even if we gave then (sic) free aids medicine they wouldn't be able to use it properly."