Church Halts Lesbian's Funeral Midway Through Because Photos With Her Wife Were Shown
A Denver pastor stopped Vanessa Collier's funeral 15 minutes into the service because of a remembrance video showing photos of Collier and her wife kissing, according to reports.
A Colorado church canceled Vanessa Collier's funeral after her family refused to edit a video showing photos of Collier with her wife and children, The Denver Post reported.
Collier, 33, died on Dec. 30 when her gun went off while she was cleaning it. She was a mother to two girls, 7 and 11.
Pastor Ray Chavez stopped Collier's memorial 15 minutes into the service at the New Hope Ministries on Saturday because of a remembrance video showing photos of Collier and her wife Christina Higley kissing.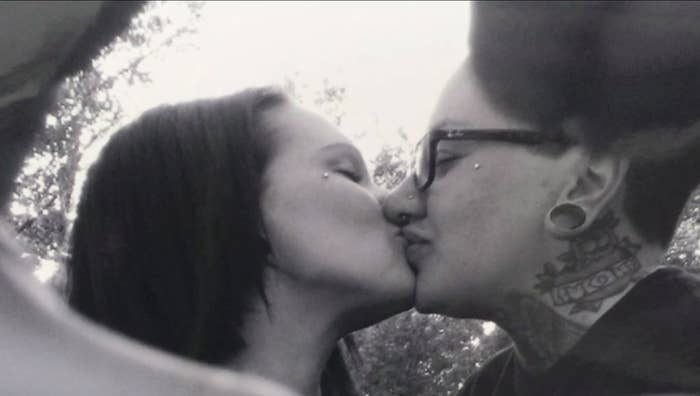 The video included the couple's engagement photos as well as photos of the couple with their two children. Friends said they had given New Hope a copy of the video on Friday, Jan. 9, but the church misplaced it, ABC 7News reported.
Reviewing the video moments before the funeral, New Hope found photos of Collier and Higley kissing objectionable and asked the family to remove them from the montage.
But Collier's family declined to remove the photos.
"They didn't want to edit her life," Collier's friend, Jose Silva, told 7News.
"People started taking their seats at 10 a.m.," Silva said. "At 10:15, the pastor said, 'Due to technical difficulties, the funeral is being moved.'" He thought it was a joke. "I thought we were being punked."
Friends and family had to pick up Collier's open casket, flowers and other arrangements and move it to the Newcomer Funeral Home across the street.
"They don't want overt, open homosexuality in their sanctuary," said Gary Rolando, the chaplain who eventually conducted Collier's service at the Newcomer Funeral Home, across the street from the church.
Collier's cousin told 7News, "it just really hurt that they could pack us up like that and throw us out...it was disgusting. I couldn't believe it."
In an emotional post on Facebook, Collier's wife Higley wrote, "please I am begging anyone to help explain to our children why our life together as a family is any less than anyone else's and inappropriate in a house of God?"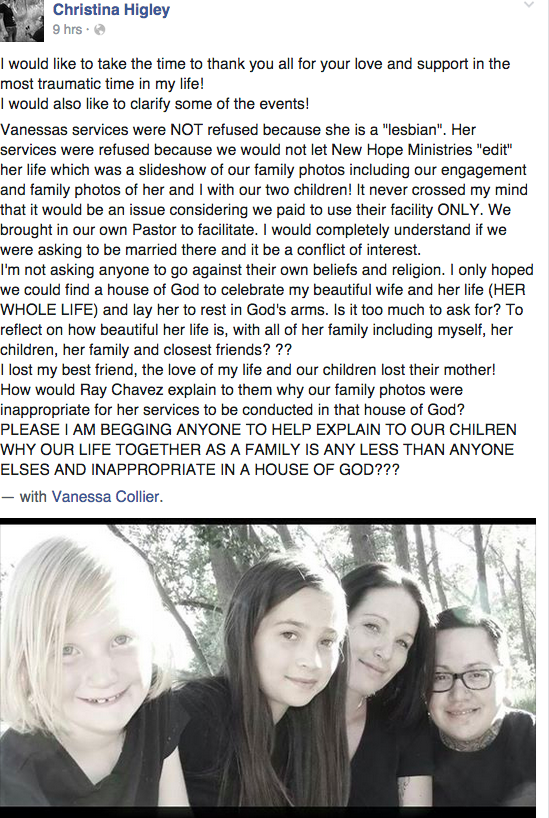 Collier's friends and family organized a "Dignity in Death Rally" on Tuesday to protest against Pastor Ray Chavez and the New Hope Ministries.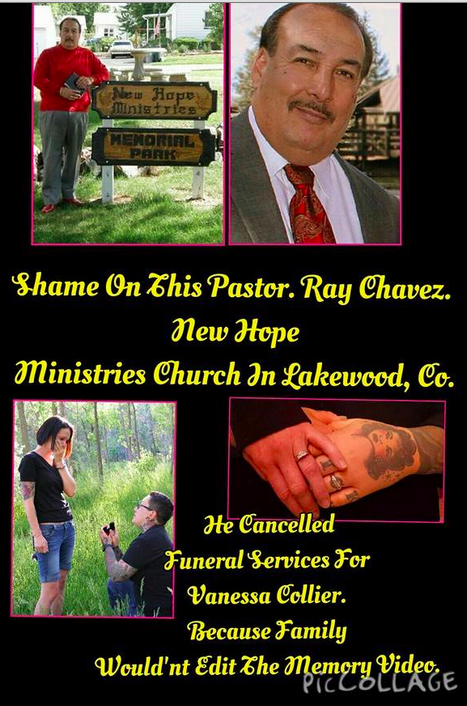 Around 50 people protested outside the church, chanting, "What do we want? Respect. When do we want it? Now," CBS Denver reported.
Protesters also held signs which read, "Indignity in death" and "You will not find Jesus at New Hope but you will find hypocrisy."
"As a Christian, I am against bigotry and stand with my friend Vanessa Collier's family in seeking an apology and refund from Pastor Ray Chavez and New Hope Ministries," Jose Silva wrote on Facebook. "The acts that took place at her funeral were wrong and no family should ever have to go through that. We are all God's children and who are we to judge, no person no matter their gender, ethnicity or sexual orientation should be treated with such disrespect at what is to be the celebration of their life."
More than 1,000 people have a signed a change.org petition to the Colorado governor asking him to "protect the rights of gays and their families in death."
Collier's family had paid New Hope $400 for the services which the church has reportedly given to the Newcomer Funeral Home.