BuzzFeed News has reporters around the world bringing you trustworthy stories about the impact of the coronavirus. To help keep this news free, become a member and sign up for our newsletter, Outbreak Today.
A church in Mississippi was destroyed Wednesday morning in act of suspected arson, a month after the church sued the city over its stay-at-home order amid the coronavirus pandemic.
The First Pentecostal Church in Holly Springs — which is in Mississippi but sits just southeast of Memphis, Tennessee — burned down in what investigators believe to be a suspected arson fire, Maj. Kelly McMillen of the Marshall County Sheriff's Office told BuzzFeed News.
The church was engulfed in flames when firefighters arrived at the scene just after 2 a.m. on Wednesday. No suspects have been identified so far and officials are offering a "substantial" reward for information leading to the arrest of a suspect responsible for the arson, McMillen said. The fire is being investigated by state and federal agents, he said.
Investigators from the sheriff's office found graffiti in the church parking lot that read, "Bet you stay home now you hypokrits [sic]," McMillen said.
Last month, the church filed a lawsuit against Holly Springs, seeking a temporary restraining order to prohibit the city from enforcing its stay-at-home order against the church while it held religious services.

The lawsuit alleged that Holly Springs police officers disrupted the church's bible study and an Easter service and cited the pastor for violating the city's order despite the congregants "practicing social distancing and complying with all applicable health requirements."
"We believe the arson appears to be connected to the lawsuit, because we don't know any other way to understand the spray painted message that said, 'Bet you stay home now you hypokrits [sic],'" Steve Crampton, a lawyer for the church, told BuzzFeed News on Thursday.

"How else would you interpret that comment?" Crampton said.
Crampton is a lawyer with the Thomas More Society, a Chicago-based conservative law firm that is currently representing a number of churches fighting against stay-at-home orders nationwide.

The lawsuit claimed that the city violated the church members' right to religious freedom, free speech, and freedom to assemble, as well as the right of due process under the First and Fourteenth amendments.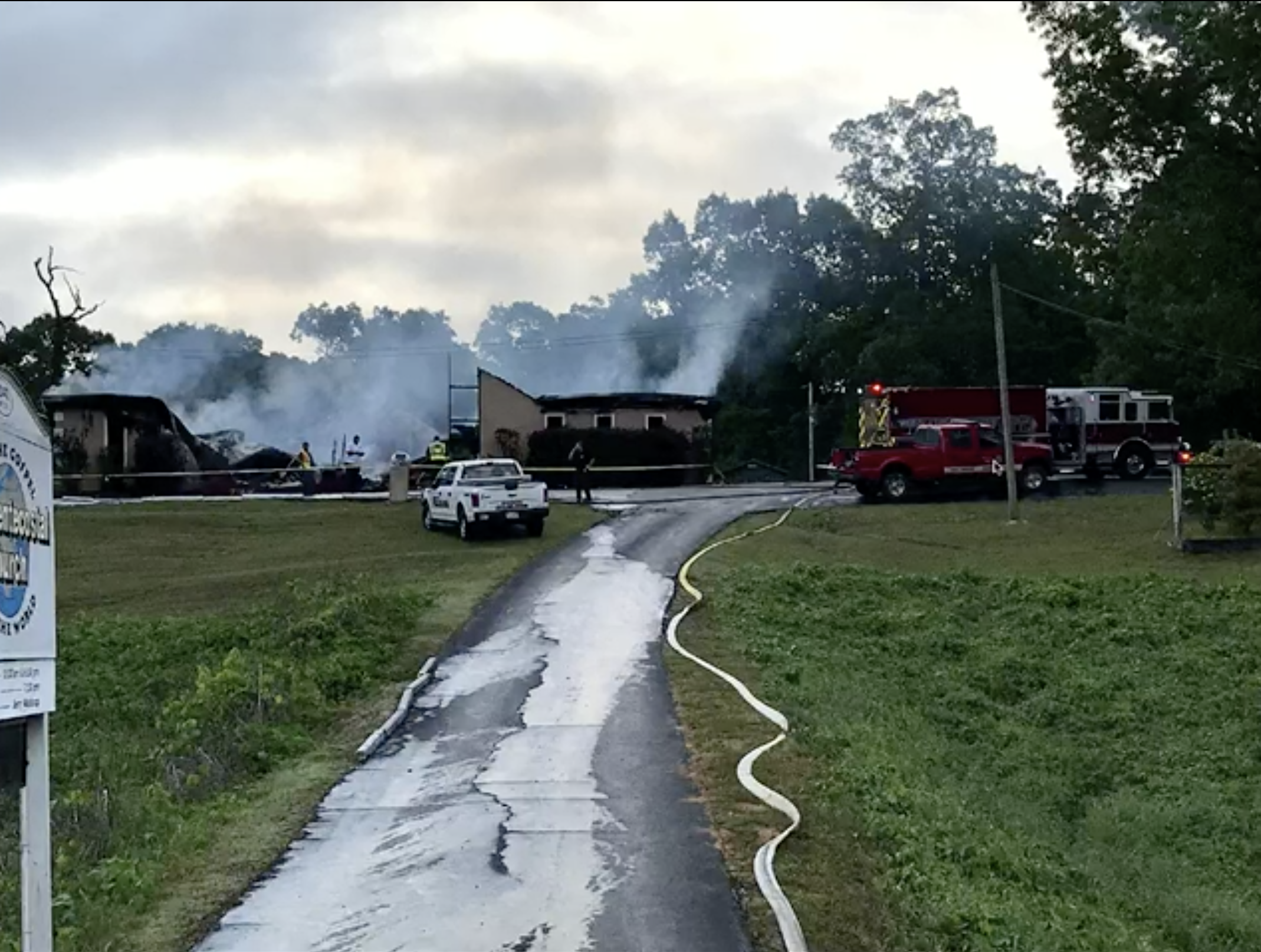 Jerry Waldrop, who has been a pastor at the church for 31 years, told WMC Action News that the church had "no idea" who would intentionally set fire to their building.
"We've tacked our brains and we have no idea," Waldrop said. "No enemies that we know of. We don't know anyone that we even think could be capable of doing something like this."
According to the lawsuit, three Holly Springs police officers interrupted the church's Easter service and shut it down after it was held indoors due to inclement weather. On April 22, officers also shut down a Bible study that was attended by approximately 35 people inside the church. The church said all its members were practicing social distancing inside.
However, the city's attorney, Shirley Byers, told WMC Action News that the church members were not practicing social distancing and were in violation of the city's initial stay-at-home order that did not include churches as essential businesses.
Byers did not respond to a request for comment.
The lawsuit noted that the while the statewide stay-at-home order issued by Gov. Tate Reeves counted churches as essential businesses, the city's order did not.

The city's order was later amended on April 24 to allow churches to conduct drive-in worship services in the parking lot during which congregants are required to remain in their vehicles with the car windows closed or slightly cracked open.
"It is very clear local municipalities can have guidelines that are more strict than the governor's guidelines, but they cannot have guidelines that directly conflict with what we have put in place," Reeves said at a news conference Wednesday.
In response to the church's lawsuit, US District Judge Michael P. Mills issued an order saying that "for obvious reasons" the court was "less sympathetic" to the church for holding an indoor service with at least 35 congregants, citing the example of how the coronavirus outbreak in South Korea was traced to religious services held by a single church.
"While particular church members may decide that meeting their spiritual needs warrant accepting the risk of attending religious services, it is a very different matter for them to argue that members of the public should accept risks to their own lives, and those of their family members, arising from others' exercise of their religion," the judge wrote in the order.
Mills also said the church's claim that its members practiced social distancing during the indoor service was "a hollow guarantee," given how difficult it is to police meetings behind closed doors and the uncertainty in determining what "a safe COVID-19 distance" is among individuals sitting together in the same room for an hour or more.
Mills wrote that while the city's ordinance was "inartfully drafted" and "vague," its enforcement of the ordinance was "reasonable."
He did not issue a temporary restraining order against the city, stating that the city had assured the court it would revise its ordinance to include drive-in church services.
While Mills acknowledged that a drive-in service was a "reasonable accommodation," he warned that it was not "risk-free," especially for elderly parishioners who would require the assistance of friends or nonresident family members to drive them to the service.
"It is well known that the COVID-19 virus disproportionately kills elderly individuals, and it may therefore be assumed that, if the holding of such 'drive-in' services becomes a nationwide trend, that a significant (and possibly large) number of deaths will result," Mills said in the order.
Crampton said he has appealed the district court's refusal to grant an expedited hearing on the motion for a preliminary injunction against the city and hopes to get a ruling before Sunday.