A raging brush fire erupted before dawn Wednesday in Los Angeles, destroying several houses, prompting the closure of the 405 freeway for several hours, and forcing mandatory evacuations of residents in Bel-Air, whose homes were dangerously close to the blaze.
The Skirball Fire, which destroyed six homes Wednesday, was the latest to ignite, this time in the wealthy neighborhood of Bel Air. By 3 pm, Los Angeles Fire Department officials said the fire had grown to 475 acres.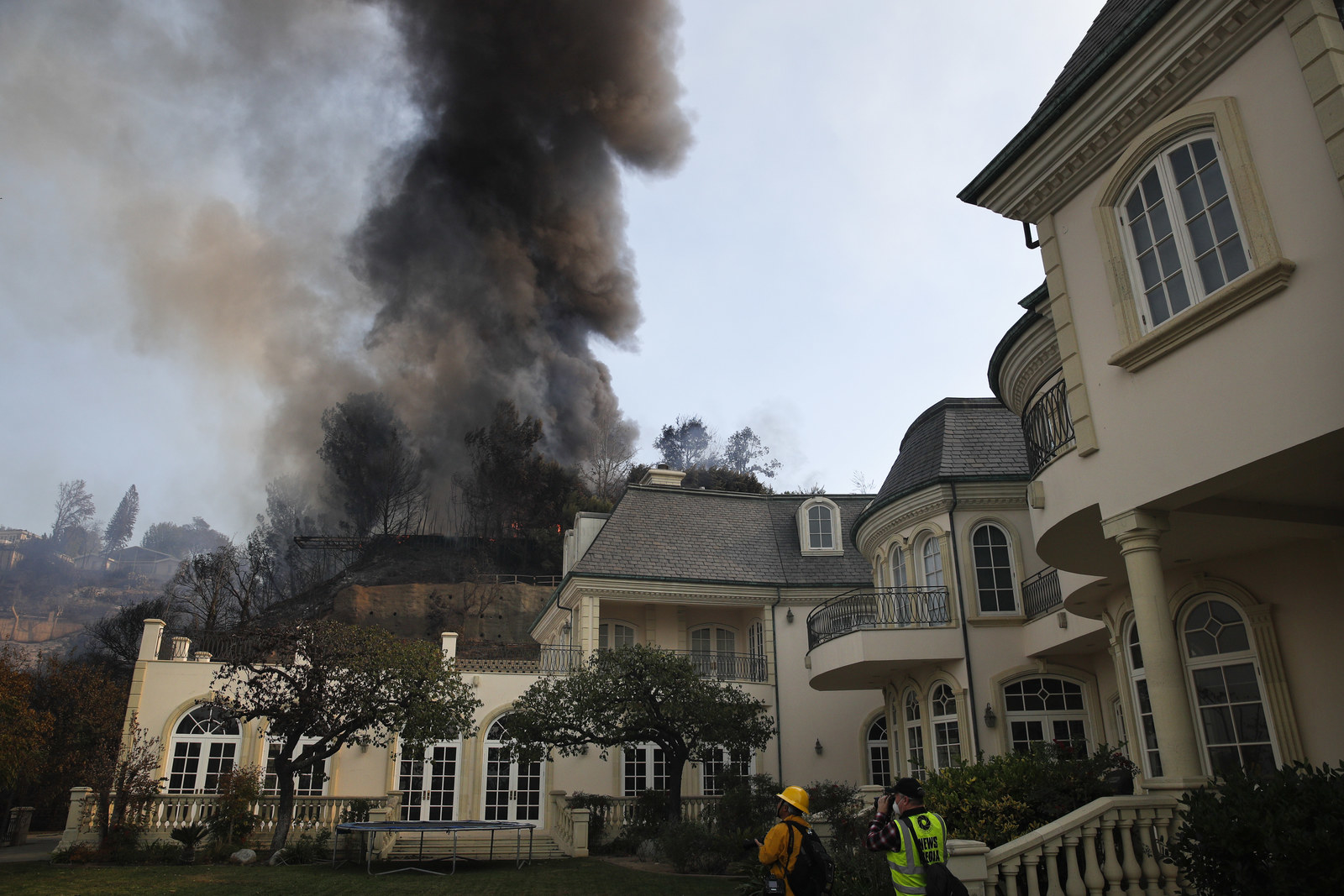 About 300 firefighters battled the fire and more than 700 homes were evacuated.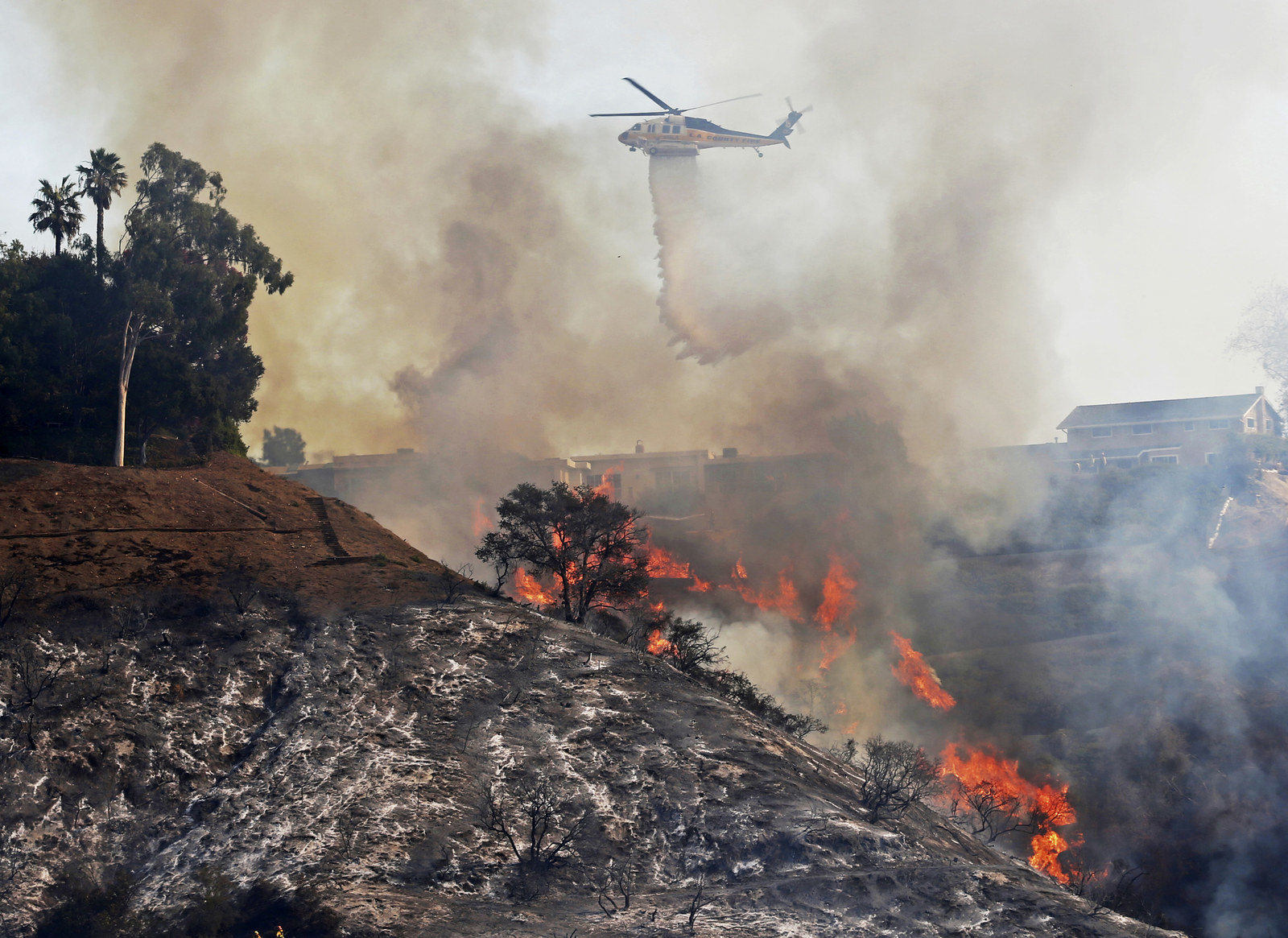 It was one of five devastating fires burning through the region, spreading firefighting resources thin. Strong winds have fueled the destructive fires. In a press conference Wednesday, fire officials said the following day could be much worse.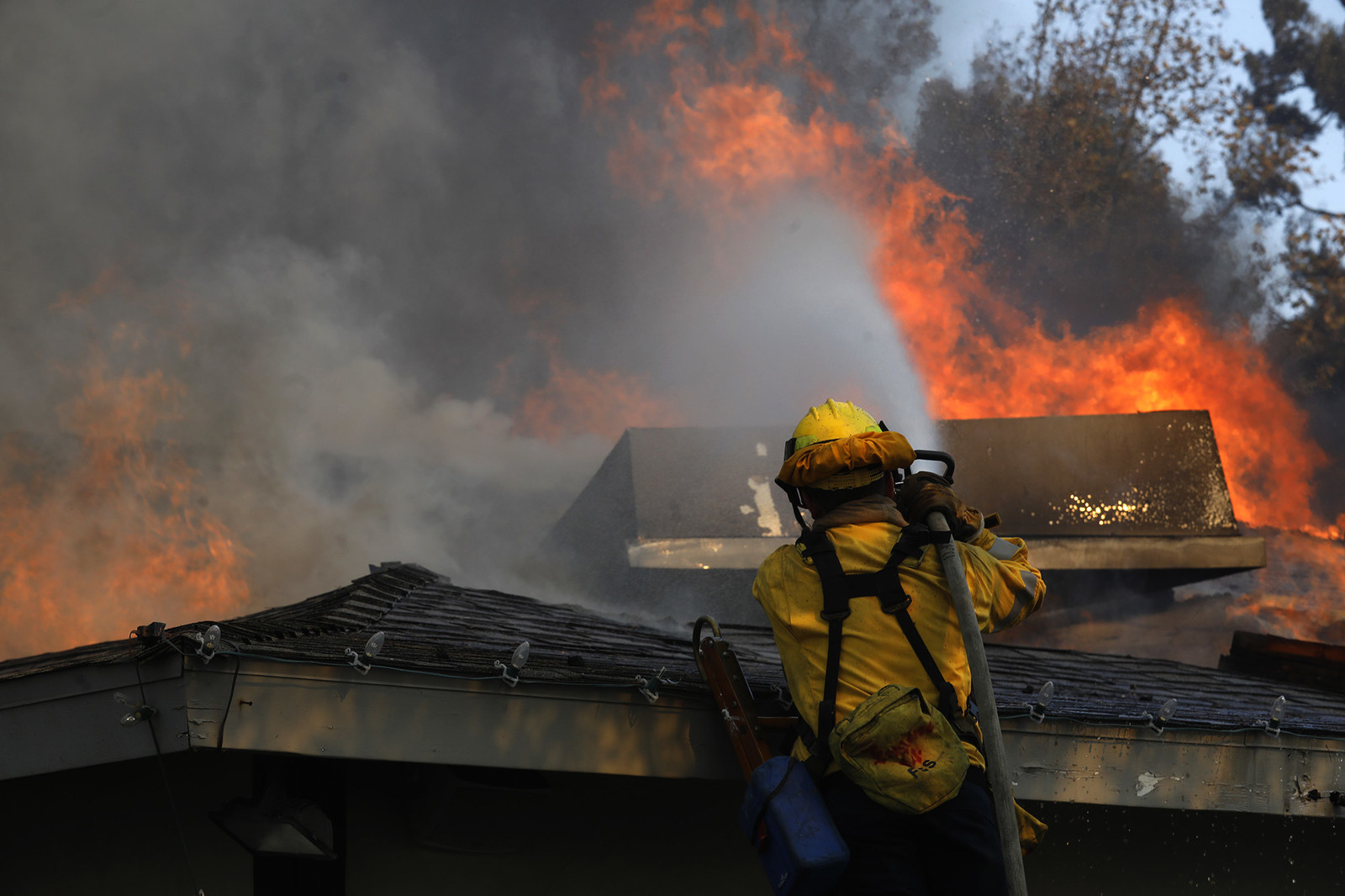 "It's critically important for people that live in wild land areas to probably sleep with one eye open tonight," Los Angeles County Fire Chief Daryl Osby said.
The fires have caused a tremendous strain on firefighting resources throughout Los Angeles, Osby said Wednesday, adding that he has requested assistance from other fire departments in and outside of California.
"You can probably understand that most of our resources are pretty tapped," he said. About 300 fire engines are expected to arrive Thursday.
Some of those engines will be assigned to active fires, Osby said, while others will be staging and preparing for additional fires that could ignite this week.
"This is a challenging time for all of us," said Ron Bravo, a battalion chief for Cal Fire.
Ralph Terrazas, chief of the Los Angeles Fire Department, said Thursday's 296 score on the fire index — which defines a score of 162 and above as "extreme" conditions — is the highest he's seen in his career.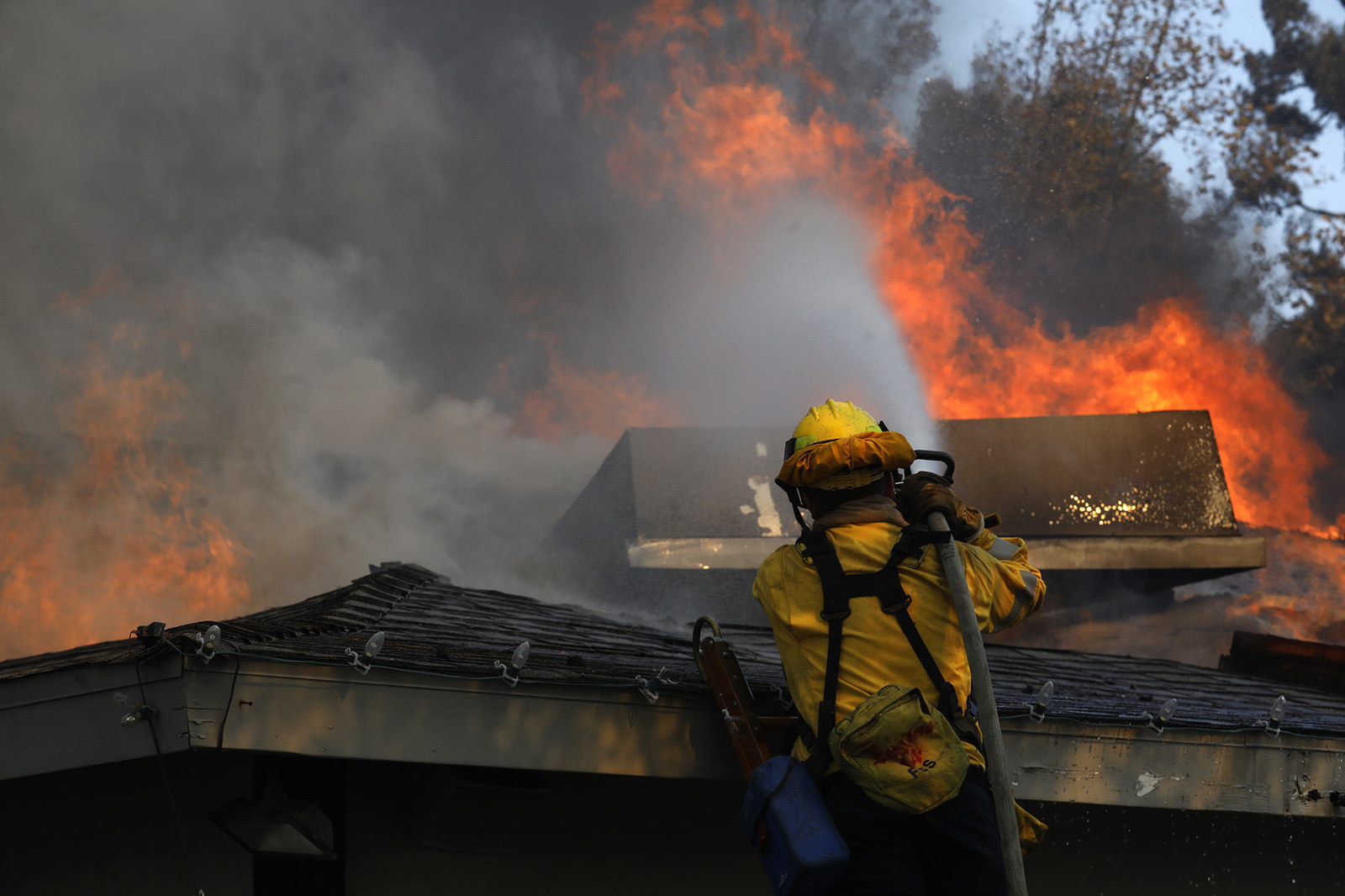 The Skirball Fire burned in the hills near the busy 405 freeway, prompting its closure early Wednesday. By 2 pm, however, the California Highway Patrol announced that both sides of the freeway had reopened for commuters.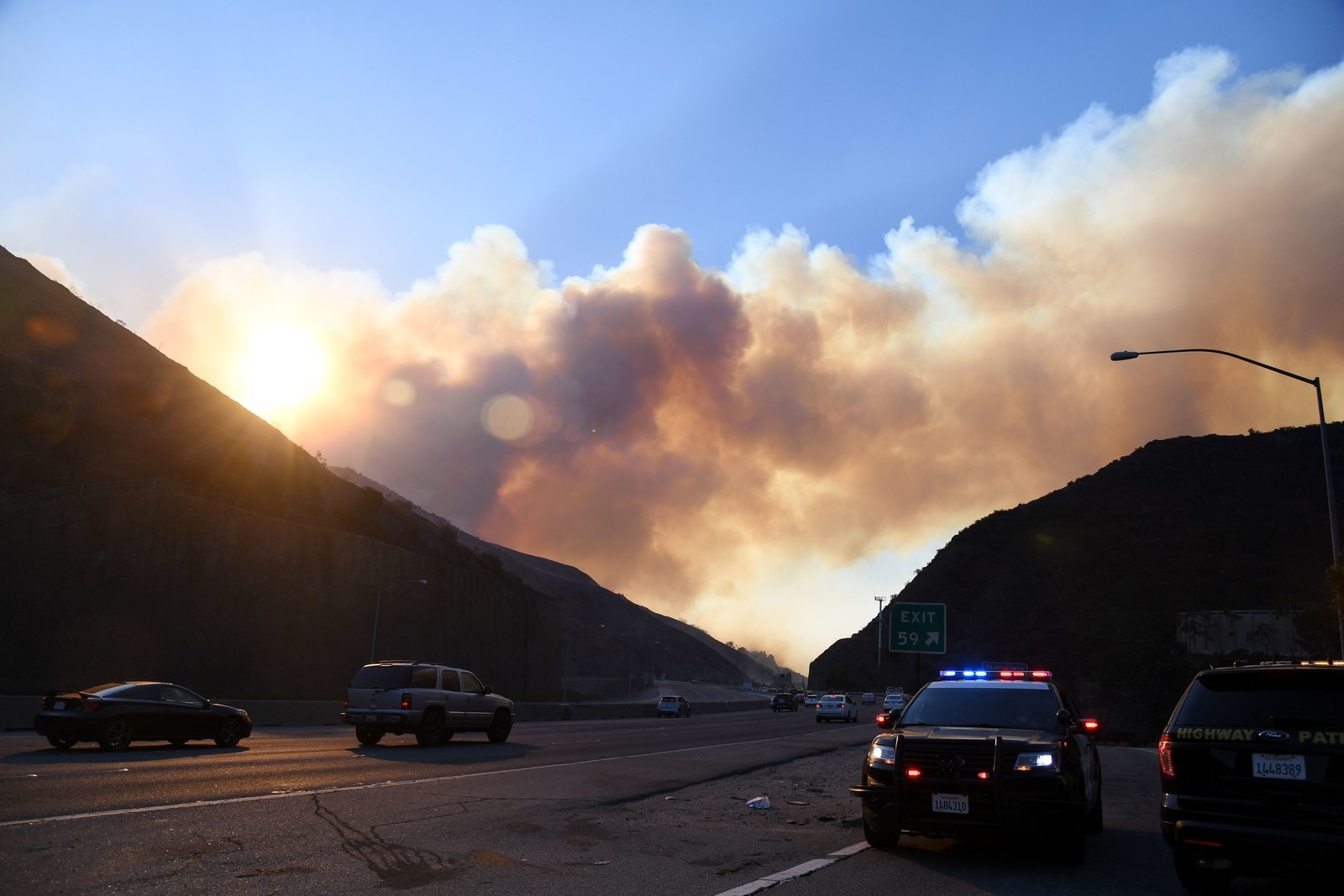 The fire threatened the Skirball Cultural Center and the landmark Getty Center, a campus of the Getty Museum known for its art, gardens, and views of Los Angeles.
People shared terrifying videos of their commute on the 405 freeway, with flames engulfing the hillside around them.
The fire burned perilously close to the 14-acre home and vineyard of media mogul Rupert Murdoch, who said in a statement "there may be damage to some buildings in the upper vineyard area," but that the winery and home itself were still "intact."
Fire officials said they were able to stop the fire's growth by Wednesday afternoon and were racing to contain the blaze fully before strong winds picked up once more.
Officials issued mandatory evacuations in the area, but several residents stayed behind, trying to keep flames away from their homes with water hoses.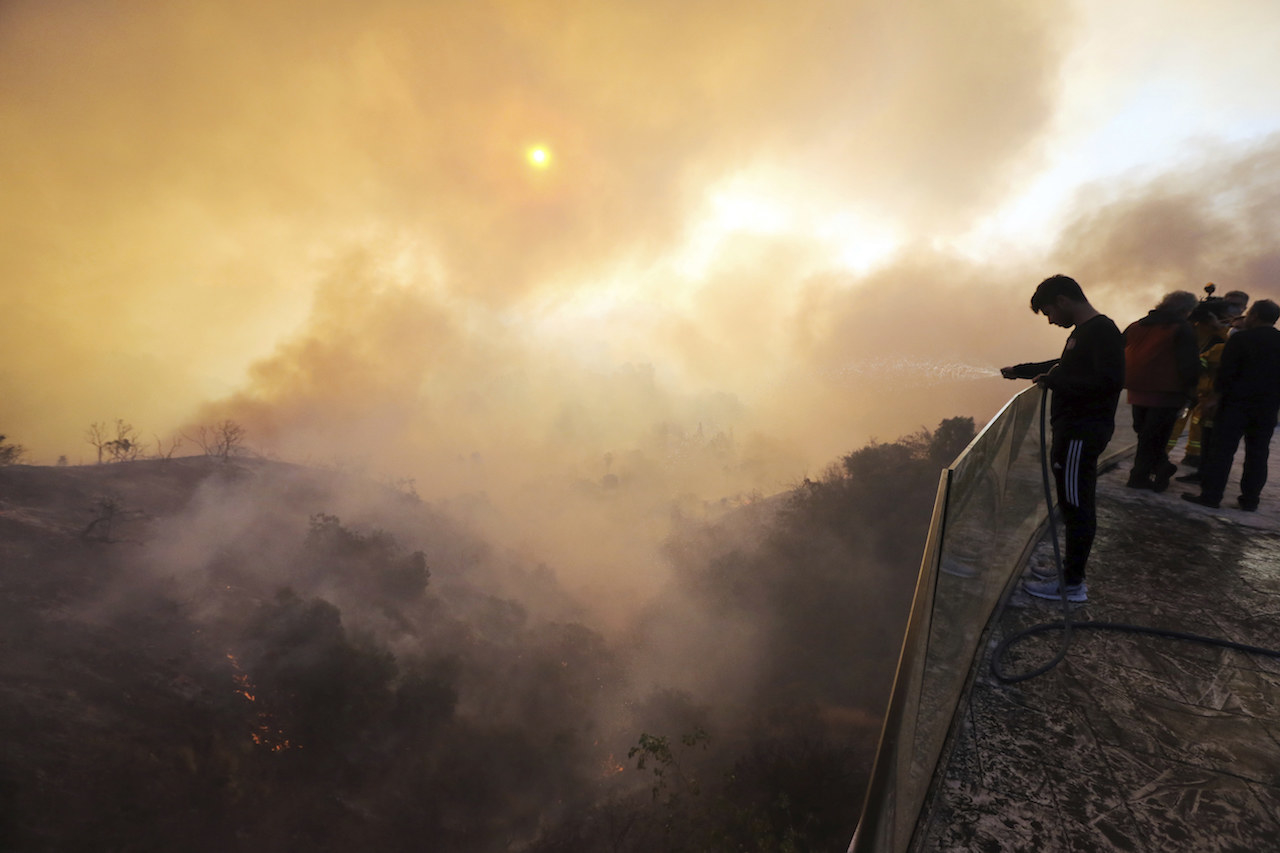 The University of California, Los Angeles, located less than four miles away from the hillside flames, cancelled all classes for the remainder of the day.
Altogether, this week's fires have torched more than 83,000 acres across Southern California, destroying hundreds of homes and structures, and forcing tens of thousands of residents to evacuate.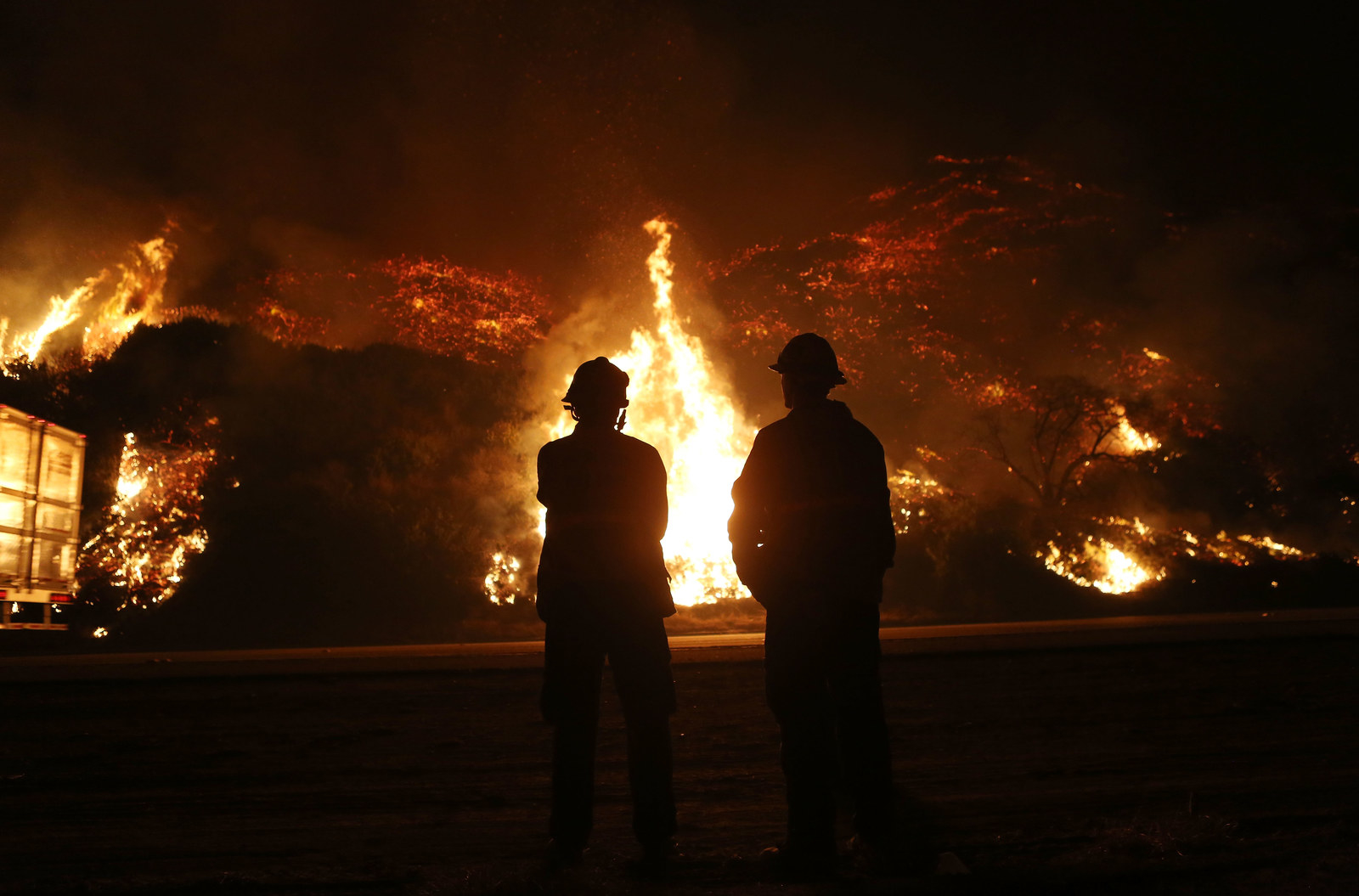 The biggest and most destructive is the Thomas Fire, which had burned over 90,000 acres in Ventura County, with just 5% containment, as of Wednesday night. So far, the fire has destroyed 150 structures, and forced at least 50,000 people to evacuate, prompting Gov. Jerry Brown to declare a state of emergency on Tuesday.
Officials in Ventura County said the Thomas Fire had moved west through the city of Ventura and that firefighters are focusing on the north side of the flames, where the fire was still actively spreading Wednesday.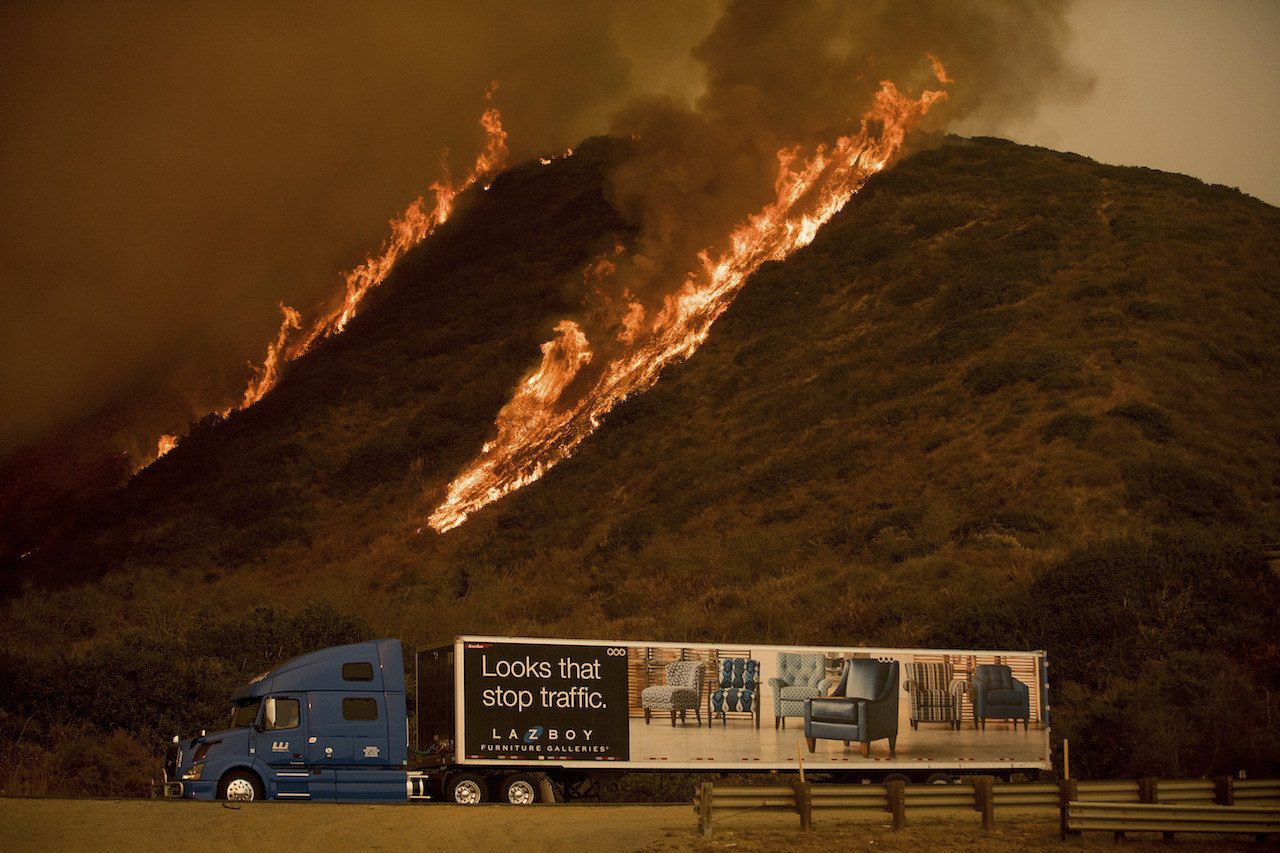 Dry and windy conditions have firefighters bracing for what could be an active fire fight Thursday and Friday, officials said at a press conference.
"We stand a fairly good chance of a fairly challenging night and day tomorrow," Tim Chavez, a fire behavior analyst, said. "It's going to be difficult night and day, and probably next couple of days."
Firefighters were keeping a particularly close eye on the area northeast of Ojai, where the fire could potentially spread with new force if winds pick up speed.
"It could become a worse event that it is now if we have the fires pick up," Ventura Fire Chief David Endaya said Wednesday.
Some residents in Ventura County returned to their neighborhoods on Wednesday to find their homes burned to the ground.
"The fire is growing," Rich Macklin, public information officer for the Ventura County Fire Department told BuzzFeed News. Officials were expecting winds of up to 50 mph Wednesday night, necessitating more evacuation orders for residents.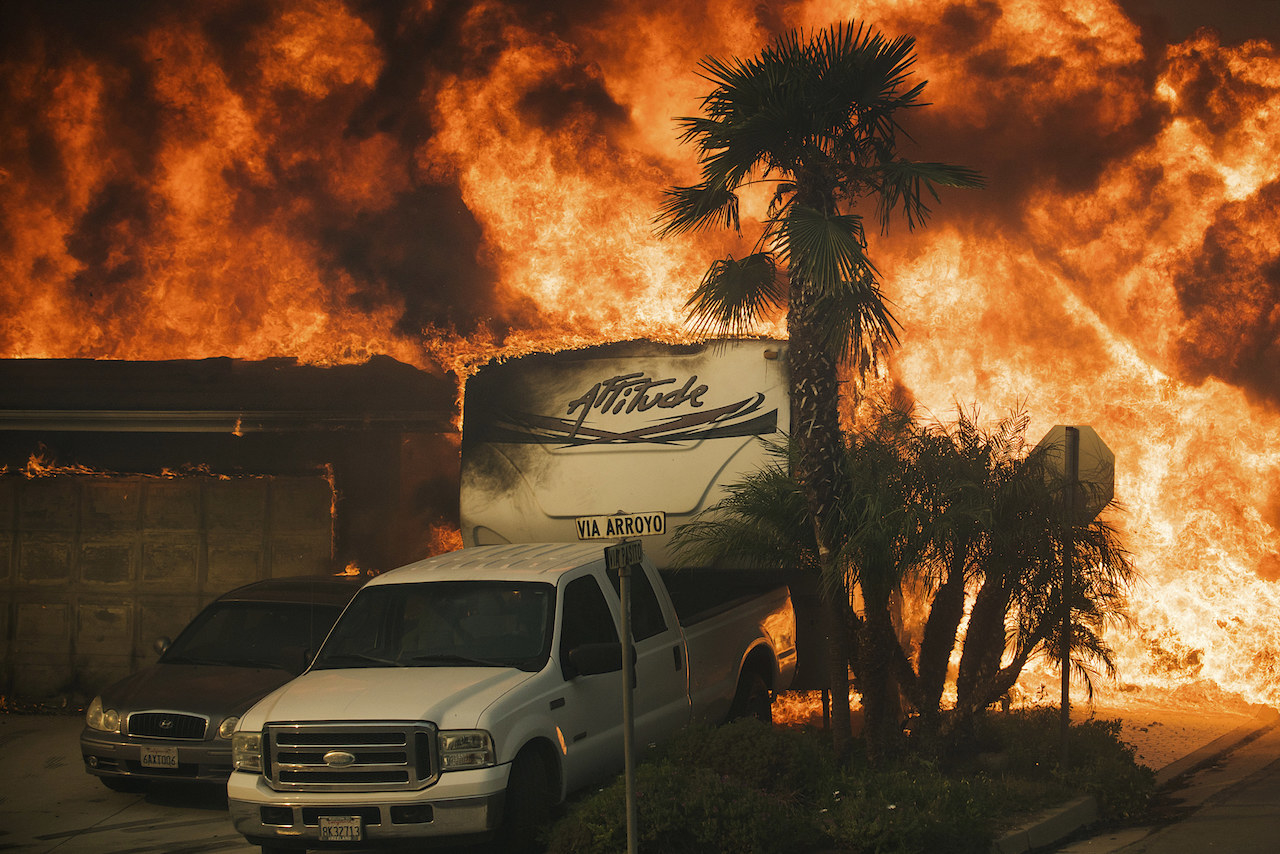 Firefighters in the county have been battling shifting ocean winds, Macklin said. As the blaze continues to grow, firefighters are focusing on protecting homes and are fighting to contain the perimeter of the fire.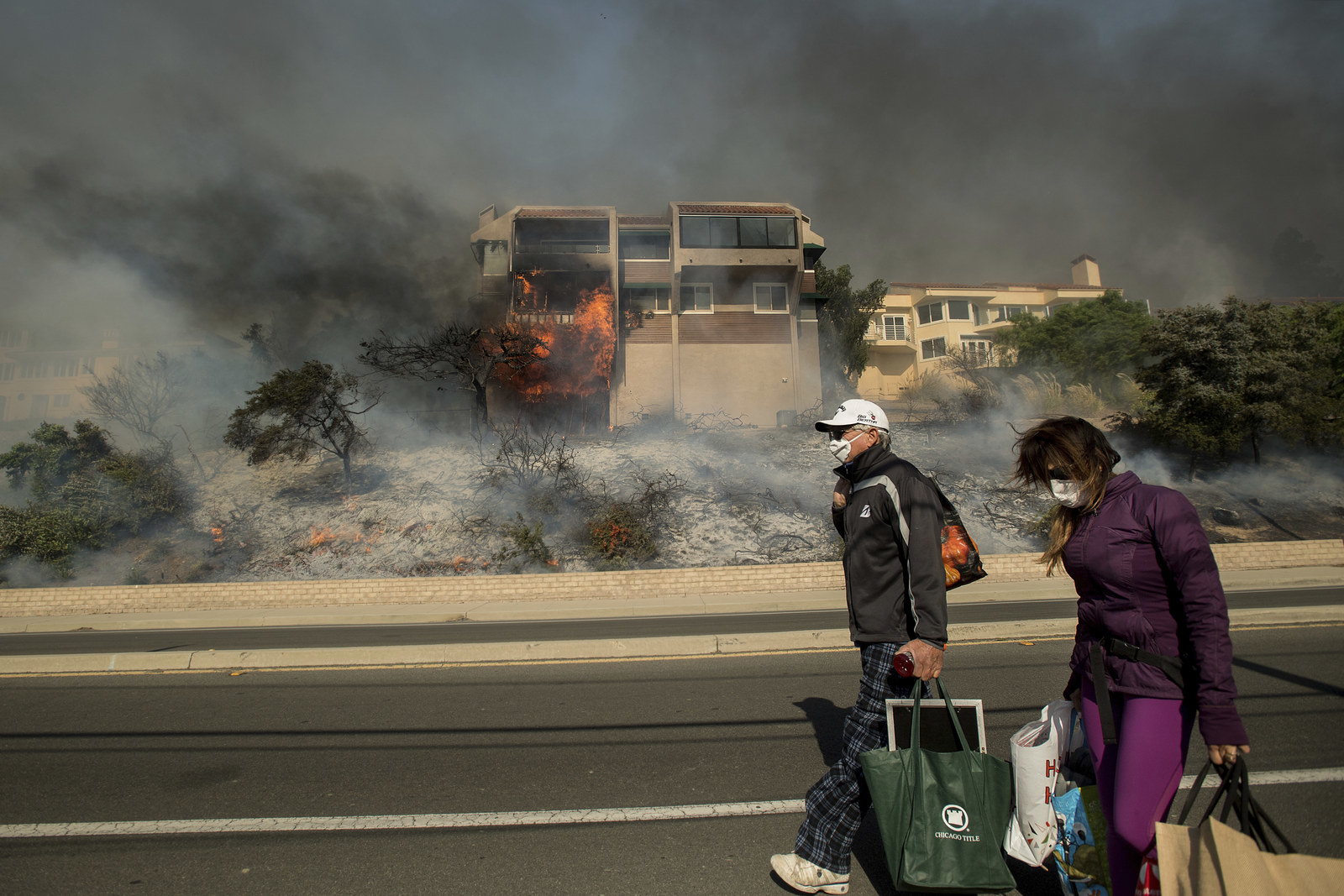 By Wednesday evening, flames could be seen in the hills around Ojai, and mandatory evacuations were ordered for much of area, which lies in the foothills of the Los Padres National Forest.
Meanwhile, the Creek fire in and around Sylmar, California, has burned 12,606 acres, Los Angeles Mayor Eric Garcetti said at a press conference. The fire is 5% contained.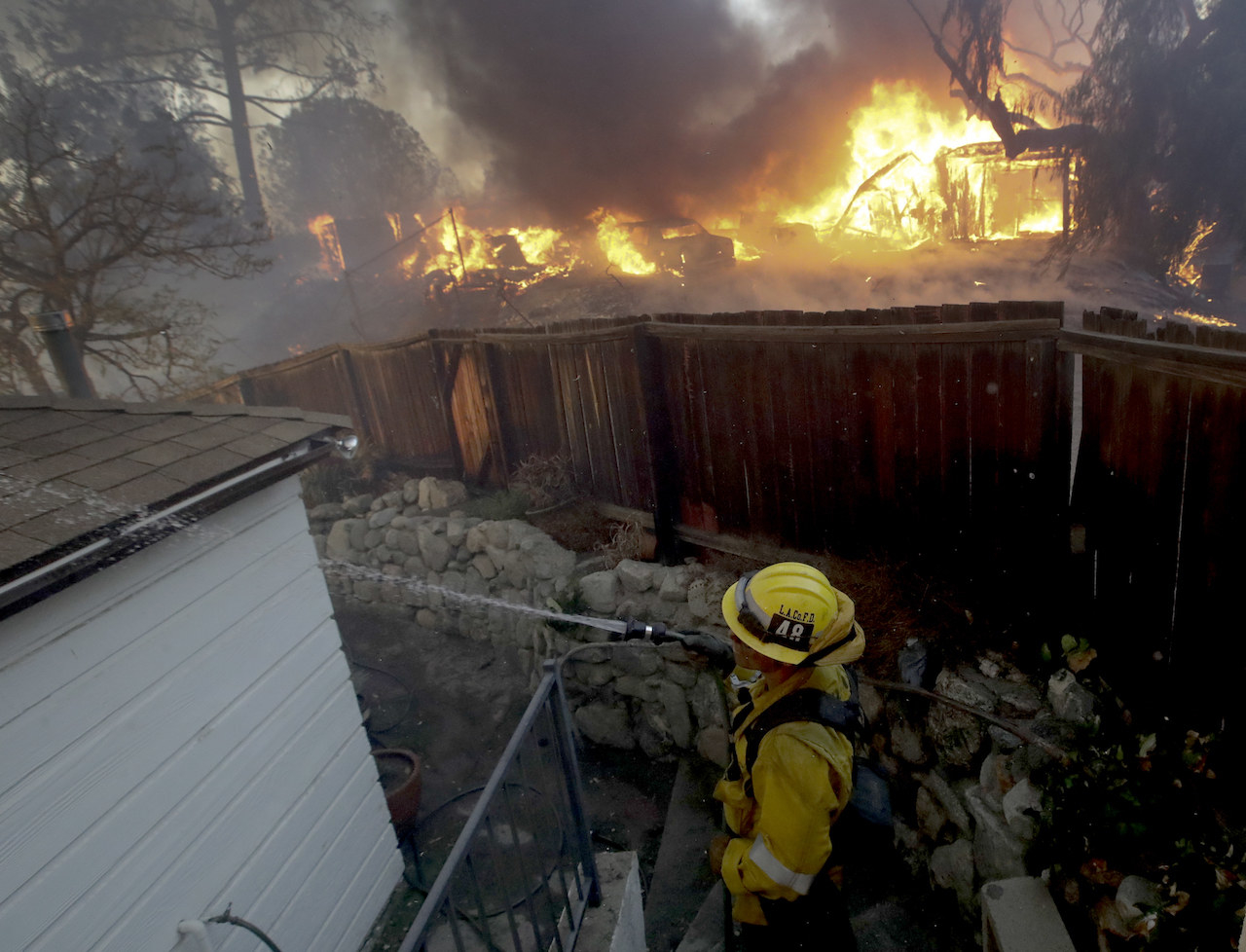 Officials said they are expecting winds of up to 40 miles per hour with gusts that could reach up to 80 miles per hour Wednesday night, which could push flames further across the area.
"Tonight, unfortunately, we will not be having people come back to their homes," Garcetti said.
Because of ongoing fire conditions, the Los Angeles Unified School District said they would be shutting down 265 schools in the area on Thursday and Friday.
A NASA satellite captured the thick smoke streaming from the fires on Wednesday.
As the fires continued to grow, President Donald Trump urged California residents to follow the advice of local and state officials.