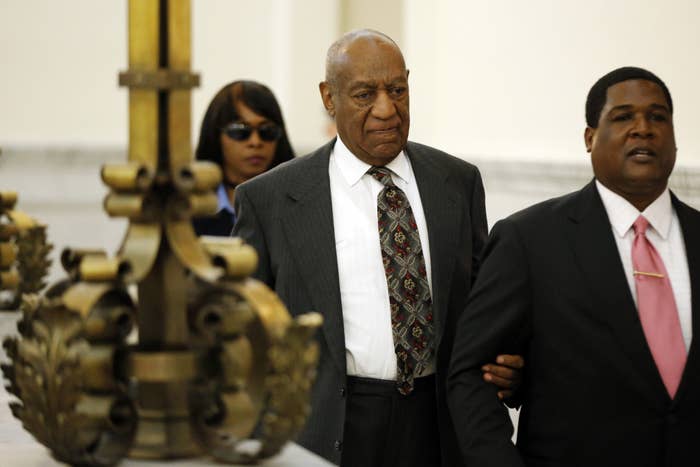 A judge on Tuesday ordered Bill Cosby to stand trial over criminal charges related to a 2004 case of sexual assault.
Andrea Constand, who first met Cosby at her former workplace at Temple University, has accused the comedian of drugging and sexually assaulting her at his home in Pennsylvania in 2004. She was the first woman to publicly accuse the comedian of sexual assault. Nearly 60 women have since made similar allegations.
During a preliminary hearing at the Montgomery County Courthouse in Pennsylvania, Judge Elizabeth A. McHugh ruled there was enough evidence for the case against the comedian to proceed to trial.
While there was speculation that Constand would also attend the hearing, she was not present at the court Tuesday.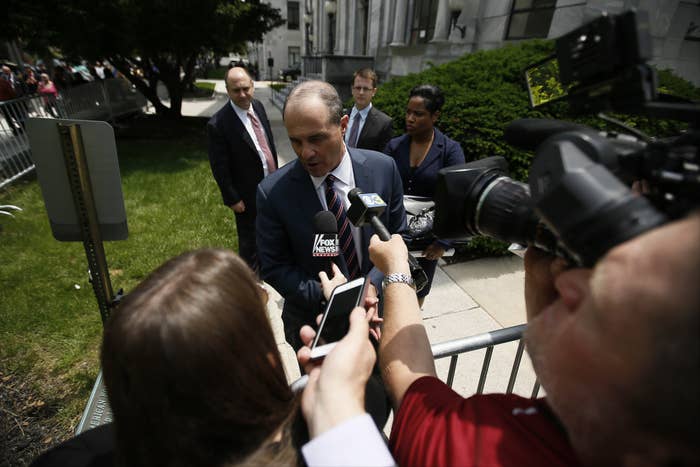 Cosby's attorney, Brian McMonagle, said in a statement that the prosecutions case was "weak, inconsistent and incredible," and relied on 11-year-old statement from a witness that is "riddled with numerous corrections and inconsistencies."
Through the complainant's own written statements, admitted in court, the fact of multiple consensual sexual interactions was established. As was the fact that the complainant communicated with, returned to the home of, had dinner with and gave gifts to Mr. Cosby after the alleged assault occurred.

Mr. Cosby is not guilty of any crime and not one single fact presented by the Commonwealth rebuts this truth. Though the Court decided the government reached the low threshold required for today's preliminary hearing, we have no doubt this case ultimately will be resolved in Mr. Cosby's favor.
Outside the courthouse, he told reporters that the hearing was "a travesty of justice."
"They had 12 years to bring a case. They didn't," he said. "What they presented today was evidence of nothing. They had 12 years to bring an accuser to confront Mr. Cosby. They chose not to."
A former detective testified about the statement Constand gave authorities in 2005, detailing the alleged sexual assault. Cosby's lawyers said that the statement was inconsistent and argued that she should have to appear in court.
In December, the Montgomery County district attorney charged Cosby with three counts of aggravated indecent assault, a second-degree felony. This was the first time criminal charges, stemming from an investigation into the Constand case, were brought against Cosby. A former district attorney had refused to charge the comedian.
Cosby has denied all the allegations against him and is involved in defamation suits with some of his alleged victims.
If convicted of a second-degree felony, Cosby faces a maximum penalty of 5 to 10 years in prison and a $25,000 fine.
In a February hearing, Cosby's lawyers tried unsuccessfully to have the criminal charges against him dropped.
Montgomery County District Attorney Kevin Steele told reporters that Constand was not required at the preliminary hearing and would be available to testify during the trial. "We want to seek truth," Steele said. "We want to seek justice."
Attorney Gloria Allred, who is representing some of Cosby's other alleged victims, said they could be called to testify at the trial. She said the court made "the right decision" in ordering Cosby to stand trial.
Responding to the defense's argument that Constand should have been called to testify, Allred said, "It is not necessary for the victim to testify at a preliminary hearing. Instead what she has stated in her police report can come in through the interviewing law enforcement officer; in this case two detectives testified about her interview and the court found that that was sufficient."
She said that Cosby was "not thrilled" that his own "damning" police interview was admitted into evidence.
Constand, who considered Cosby her mentor, said that she was "paralyzed" after Cosby gave her pills and wine, and that she did not consent to any of the alleged acts, including Cosby fondling her breasts and penetrating her vagina with his fingers.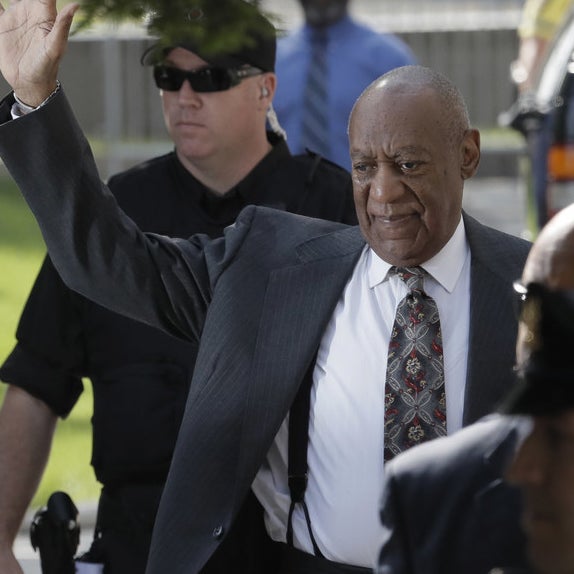 Cosby established a relationship with Constand through her work for the women's basketball program at Temple University, Cosby's alma mater. Constand rejected two sexual advances he made before the alleged assault, according to the criminal complaint.
Cosby invited Constand to his Cheltenham home in 2004 to talk about her future career plans, the complaint said. He allegedly gave her three blue pills after she told him she felt "drained and emotionally-occupied." He also told her to drink wine, the complaint alleged.
Constand alleged that after she took the pills and wine she experienced blurred vision, felt dizzy, and her legs began to feel "rubbery" and "like jelly." She said Cosby asked her to lie on his couch.
From the complaint:
Cosby did not sit on the sofa with her, but instead positioned himself behind her. Despite her impaired physical and mental condition, the victim was aware that Cosby was fondling her breasts, put his hands into her pants, and penetrated her vagina with his fingers. Cosby also took the victim's right hand and placed it onto his erect penis. The victim told investigators that she did not consent to any of these acts, and was unable to move or speak during the assault. She described her condition as "frozen" and "paralyzed."
Constand said she awoke the next morning to find her sweater bunched and her bra undone. She said Cosby, who was in a robe, gave her a muffin, opened the front door, and said, "Alright." She left the house without saying anything, the complaint stated.
In 2005, Constand filed a civil lawsuit against Cosby charging him with battery and sexual assault. The lawsuit mentioned 13 Jane Does with similar accusations but before they could testify Cosby settled the suit with Constand out of court for an undisclosed amount and without admission of guilt in 2006. The two last met during a deposition for the case in a Philadelphia hotel, the New York Times reported.
In February, Cosby sued Constand and her mother, alleging that they violated the terms of the 2006 settlement.