Four men accused in the horrific Dec. 16 gang rape and murder of a 23-year-old medical student in Delhi were convicted by a fast-track court in India. They were found guilty on all eight counts, including rape and murder. They face the possibility of hanging in their sentencing scheduled for Friday, Sept. 13.
The judge said the crime had been committed on the "defenseless" woman in a "premeditated manner."
The men had not only gang raped her but also penetrated her with a metal rod and used their hands to tear out her inner organs. The judge who announced the verdict told the court, "the important aspect of this trial is the manner in which both rods and hands were used for damaging the alimentary canal and pulling it out from the body" of the woman.
The brutal nature of the crime had shocked the nation leading to outraged protests. When today's verdict was reached, protestors outside the Delhi courtroom yelled, "Burn them!"
A fifth accused in the case hanged himself in prison, while a juvenile defendant was sentenced to three years.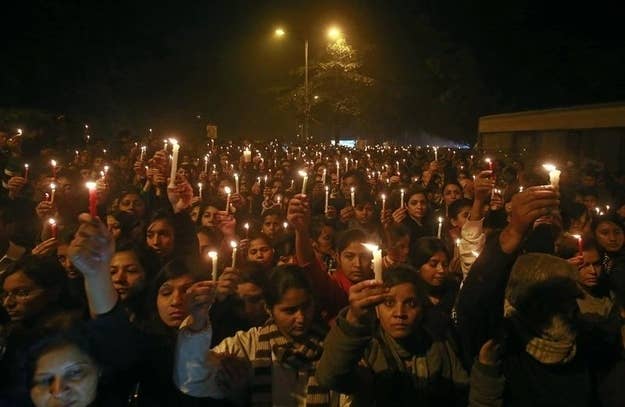 The 23-year-old, known to the nation as "Nirbhaya," was returning home with her male companion after watching Life of Pi at a movie theater when they unwittingly boarded a bus carrying her rapists. The men beat her male friend with a rod until he lost consciousness. They took turns raping her for an hour in the moving bus and then dumped both of their naked bodies on the side of a road. The woman died of grievous body injuries 13 days later.
In a four-page statement given a few days before she died, the victim pleaded with authorities to "burn them alive."
This is an excerpt from her statement about the unimaginably horrific torture she endured in the bus.
"While three-four held him, the rest dragged me to the back seat of the bus. They tore off my clothes and then took turns to rape me. They hit me with the rod and bit me.

Before this, they had snatched the wallet and mobile of my friend.

Six of them raped me by turns. While one of them shoved the rod inside, another one used his hand to tear my organs out.

The torture continued for one hour in the moving bus. They took turns driving the bus and raping me.

From their appearance they looked like drivers and their helpers. I was losing consciousness, but they hit me repeatedly to wake me up.

My friend tried to save me. But he was also badly beaten up with the rod. He also lost consciousness. They then stripped us and believing that we are dead, threw us out of the moving bus."