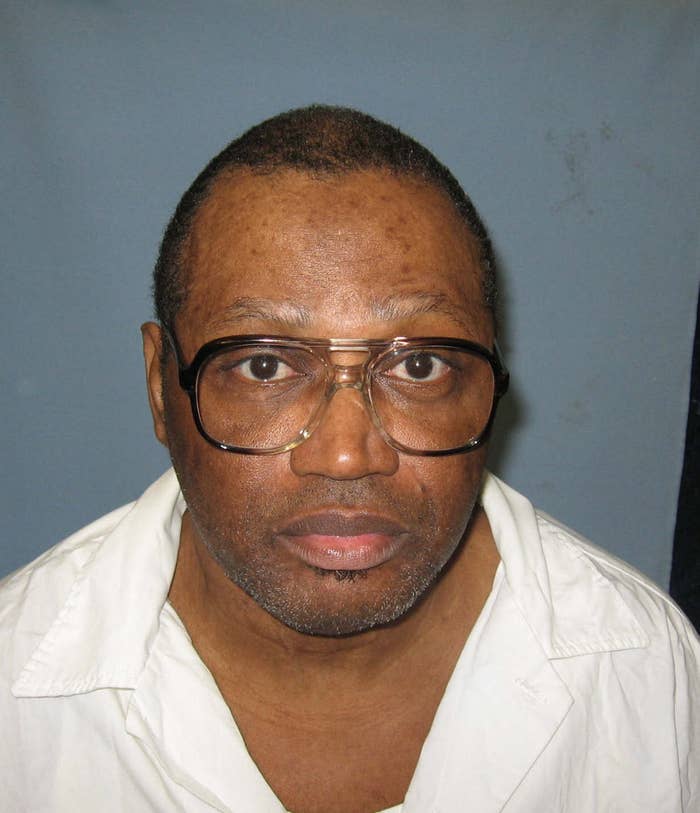 Alabama was scheduled to execute Vernon Madison on Thursday for the 1985 murder of a police officer who was responding to a domestic disturbance call. The execution ended up being put on hold due to a lower court's order, but state officials came within one vote of getting the U.S. Supreme Court to allow them to proceed.
Madison's attorneys argue that he is not mentally competent to be executed — that his strokes and dementia have left him unable to understand why the state wants to execute him.
"Mr. Madison now speaks in slurred manner, is legally blind, and can no longer walk independently as a consequence of damage to his brain," Madison's lawyers with the Equal Justice Initiative (EJI) said in a statement.
U.S. District Court Judge Kristi K. DuBose had denied the stay of execution earlier in the week, finding that Madison was competent to be executed. But on Thursday, a three-judge panel of the 11th Circuit Court of Appeals granted the stay and scheduled briefings and oral argument on the question in the coming weeks.
Alabama asked the U.S. Supreme Court to vacate the stay and allow the execution to proceed, but the Supreme Court declined to do so in a 4-4 vote denying the request on Thursday evening. To vacate the lower court's stay of execution would have required a majority of the court, or five votes.
The decision is one of the most stark actions of the court showing the significance of Justice Antonin Scalia's death on the outcome of the votes taken by the court. Had he remained alive and voted on Alabama's request, Scalia very likely would have provided the fifth vote to vacate the lower court's stay of execution, given his voting history.
At the same time, it also is notable that Justice Anthony Kennedy, who some death penalty opponents point to as a possible fifth vote for abolishing the death penalty altogether at some point in the future, joined with his three more solidly conservative colleagues — Chief Justice John Roberts and Justices Clarence Thomas and Samuel Alito — in voting to vacate the stay and allow the execution to proceed.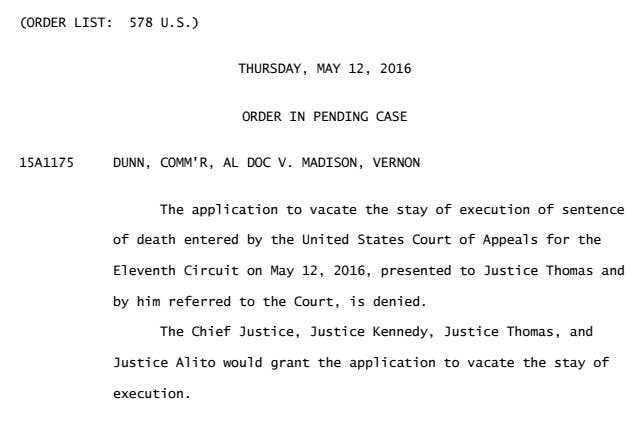 Attorneys for Madison, 65, also had asked the Alabama Supreme Court to stay his execution. In that challenge, the lawyers sought an opportunity for Madison to challenge the state's death penalty scheme, which allows judges to impose death sentences by overriding life sentences recommended by juries in capital cases. The Alabama Supreme Court denied that request on Wednesday.
During Madison's third trial in 1994 — two previous trials were reversed due to prosecutorial misconduct — the jury determined he should be sentenced to life imprisonment without parole. However, Mobile County Circuit Judge Ferrill McRae overrode the jury's recommendation and sentenced Madison to death.
In March, a state trial court judge in Alabama ruled that the state's death sentencing law was unconstitutional in response to a challenge brought by four capital murder defendants. Jefferson County Circuit Judge Tracie Todd concluded that Alabama's death penalty was similar to Florida's, which was declared unconstitutional by the Supreme Court in January.
The Supreme Court struck down Florida's sentencing scheme in its Hurst v. Florida ruling, saying it was unconstitutional because the state relied on "a judge's factfinding" and not "a jury's verdict" to sentence a person to death.
Madison's attorneys from EJI argued that Alabama's capital sentencing scheme "has exactly the same defect that the Supreme Court declared unconstitutional earlier this year in Hurst v. Florida." They said that Judge McRae, who overrode the jury's life imprisonment sentence in Madison's case, had overridden six jury verdicts of life without parole — more than any other judge in the state.
A Mobile County Circuit judge on Monday dismissed Madison's petition to stay his execution and to re-sentence him to life without parole, AL.com reported.

In 1985, Madison fatally shot police officer Julius Schulte in the back of the head while he was in his police car. Schulte was responding to a domestic dispute call involving Madison, the AP reported.