A video game that lets players shoot students and police officers inside a school has been removed from a gaming platform following outrage from families of school shooting victims.
Active Shooter was set to be released on June 6 on Steam — a gaming platform owned by Valve, a Washington-based technology and software company.
However, the game prompted widespread outrage, with parents of the Parkland school shooting victims demanding that it not be released. More than 200,000 people signed a petition started by a Seattle mom to stop the launch.
On Tuesday, Valve said it had removed the game's developer and publisher from Steam and described the individual responsible for the game as a "troll" with a "history of customer abuse."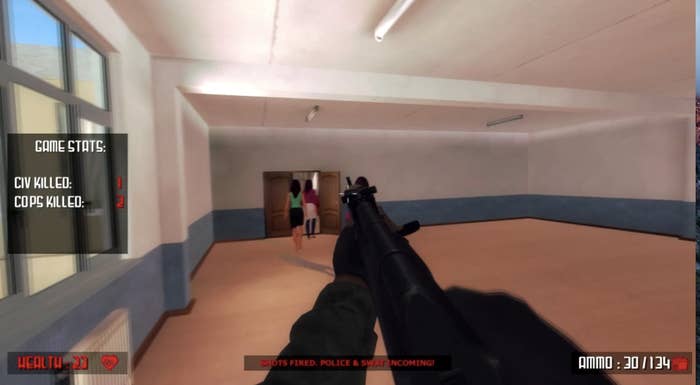 A Valve spokesperson provided this statement to BuzzFeed News on Wednesday:
We have removed the developer Revived Games and publisher ACID from Steam.

This developer and publisher is, in fact, a person calling himself Ata Berdiyev, who had previously been removed last fall when he was operating as "[bc]Interactive" and "Elusive Team". Ata is a troll, with a history of customer abuse, publishing copyrighted material, and user review manipulation. His subsequent return under new business names was a fact that came to light as we investigated the controversy around his upcoming title. We are not going to do business with people who act like this towards our customers or Valve.

The broader conversation about Steam's content policies is one that we'll be addressing soon.
The spokesperson did not provide further details about whether Berdiyev was the person behind both Revived Games as well as Acid.
A person who identified himself as Ata Berdyev on Twitter said he was not the developer of Active Shooter but that his "good friend" Anton was behind it.
According to its Steam profile, Acid is a Russia-based game publishing house that was started in 2017. The company's profile said it has a team of three people.
In an interview with PC Magazine on Wednesday, a 21-year-old Russian man, Anton Makarevskiy, took credit for developing Active Shooter.
Berdyev also spoke to the magazine, saying he was not directly responsible for developing the game, but that he offered "tips" to Makarevskiy and let him use his US bank accounts to receive payments for his game sales on Steam.
"I was essentially helping him to hold his funds," Berdyev told PC Magazine in a Skype call during which he translated for Makarevskiy. "I really dislike how they boot [Makarevskiy] out of Steam thinking it's me, rather than anything else.
Berdyev said that Makarevskiy "didn't think the game would be as controversial as it turned out to be" and that the Russian didn't "like the idea of people fighting with each other over such a topic."
It was not immediately clear what Berdyev's involvement in Acid is and neither he or Acid responded to BuzzFeed News' request for comment,
Berdyev also claimed that Valve did not remove Active Shooter due to the controversy, but because it thought that he was responsible for the game.
Last November, Piccled Ricc — a PC game based on the cartoon Rick and Morty that was developed by Berdyev — was pulled from Steam following a copyright complaint.
Berdyev defended his game at the time, calling it a "parody" of the popular cartoon.
"It was that time where Pickle Rick was [a] pretty hyped up thing, so I decided to make my own parody about it," Berdyev told gaming website Polygon in 2017. "What I mean by parody is that I tried to make sure I didn't cross any line as far as legality goes; thus why I altered the name and character himself, to try to make him look differently than from the cartoon. It's crazy that this have happened, but there is nothing much I can really do."
According to Polygon, Berdyev has been previously accused of "asset flipping" — a tactic where developers use premade assets to quickly build a cheap game with "little original work" and upload it to publishing platforms like Steam for a profit.
Last year, Valve removed nearly 200 such games in a crackdown on what the company refers to as "fake games."