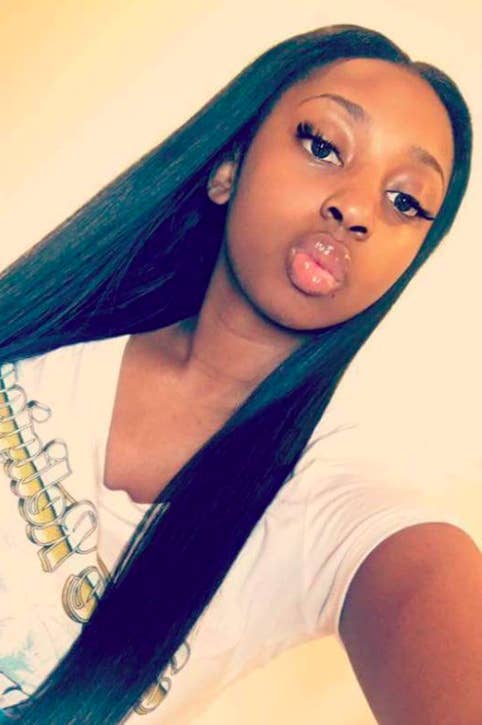 The investigation into the death of a 19-year-old Illinois woman found last month inside a walk-in freezer after she was seen stumbling through a hotel has been closed and ruled an accident, police announced Friday, ruling out foul play.
Kenneka Jenkins, was pronounced dead at 12:48 a.m. Sunday, Sept. 10, after her body was discovered in the freezer of the Crowne Plaza Hotel in Rosemont, Illinois, according to the Cook County medical examiner.
The Rosemont Public Safety Department announced on Oct. 6 that Jenkins was found to have died of hypothermia because of the extreme cold in the freezer. Alcohol and topiramate intoxication, a drug used for epilepsy, were also found to be "significant factors in her death."
"They also concluded the manner of death was accidental," Rosemont Public Safety Department officials said in a statement, referring to the Cook County Medical Examiner.
On Friday, Oct. 20, Chief Donald E. Stephens announced the case was formally closed, with no signs of foul play.

"Our detectives reported no signs of foul play throughout the whole investigation," Stephens said. "There is no evidence that Ms. Jenkins was forced to drink alcohol or consume any narcotics while at the hotel. The majority of people at the party included close friends and even relatives of Ms. Jenkins."
Video surveillance around the hotel and in the kitchen allowed detectives to trace Jenkins' steps through the hotel, but no evidence was discovered implicating anyone else in her death.
Her family had refuted the police version of events, which alleged that Jenkins was intoxicated when she walked into the freezer by herself.

But the chief also dismissed conspiracy theories swirling online about the woman's death.
"While there were many theories, rumors and much speculation floating around social media regarding the death of Ms. Jenkins, none were supported with facts. While all leads and theories were investigated by our department, what we have reported throughout the investigation and again, today, are the facts," he said Friday.
Jenkins was last seen leaving her home in Chicago for the party at around 11:30 p.m.
A week after she went missing, police released surveillance video from the hotel that appeared to show Jenkins stumbling drunk in the hotel's kitchen, hallways and an elevator.
Hours before police released the videos, an attorney representing her family said they had not received any footage from police showing Jenkins entering the freezer.
"Despite request for all evidence, we have only been provided snippets of video, none of which shows Kenneka Jenkins walking into a freezer," the attorney said in a statement. "Serious questions remain as to how she ended up in a Crowne Plaza Hotel freezer and why it took a day and a half for the hotel to find Kenneka."
Law enforcement officials said they interviewed 30 people who were in the hotel room with Jenkins at some point, and they also reviewed the contents of four cell phones, including Jenkins'.
Police believe the hotel room was paid for by two people with gang affiliations who used fraudulent credit cards. An investigation continues into the use of the fraudulent cards.
Jenkins' sister last texted with her at 1:30 a.m. Saturday, Sept. 9, and witnesses saw her at the party on the ninth floor of the hotel in the early hours of that day, police said.

Her friends told her mother, Tereasa Martin, early Saturday morning that they were unable to find Jenkins at the hotel, the Chicago Tribune reported.

Her family filed a missing person complaint around 3:20 p.m. on Saturday, according to Rosemont Police, who contacted the hotel and made the staff aware of the complaint.

The Crowne Plaza hotel staff and management "actively canvassed and searched the immediate area," police said. They discovered Jenkins inside the freezer early Sunday.

"Jenkins was beyond resuscitation and was pronounced dead on the scene," Rosemont Police said.

The police told her family that Jenkins was seen on hotel surveillance video at 3:20 a.m. on Saturday "staggering" drunk near the hotel's front desk, Martin told the Tribune.

According to police, Jenkins was intoxicated when she walked into the unused freezer, Gary Mack, a spokesperson for Rosemont village, told BuzzFeed News. However, Martin told the Tribune that she doubted the authorities' version of events, as well as accounts from the friends who attended the party with Jenkins on Friday night.

Martin said that if her daughter was "staggering" drunk — as police had described her — she would have been unable to prop the double steel doors of the freezer open herself.

She also said that her friends' "stories changed over and over."

Mack said that the unused freezer was located in an under-construction area of the hotel where a new restaurant was being built.

"This is not an area where anyone would typically be who was a guest in the hotel," Mack told the Tribune.

Jenkins' relatives and friends posted about her death on social media, with several alleging that her friends at the party were involved in her death.

"One of you lil bitches did something to my sister," Jenkins' relative said on Facebook.
A Facebook Live video — purportedly taken at the party Jenkins attended — was widely shared on social media, and appeared to record a girl's voice at one point saying "Help me."

In several Facebook posts, Monifah Shelton, who said she was at the party with Jenkins, repeatedly referred to her as her best friend, and appeared to lash out at allegations that her friends were to blame for her death.

"She my bestfriend why would I do anything harm her, man," Shelton said in one post. She also said that "all of us were drunk off our shit" and that she had done all she could to help find Jenkins in the hotel.

Shelton also featured in the Facebook Live video that was purportedly taken at the party and shared the video on her page.

"At this time, the Rosemont Public Safety Department has closed the death investigation of Kenneka Jenkins and has classified this incident as an accidental death," Chief Stephens said Friday. "There is no evidence that indicates any other conclusion."