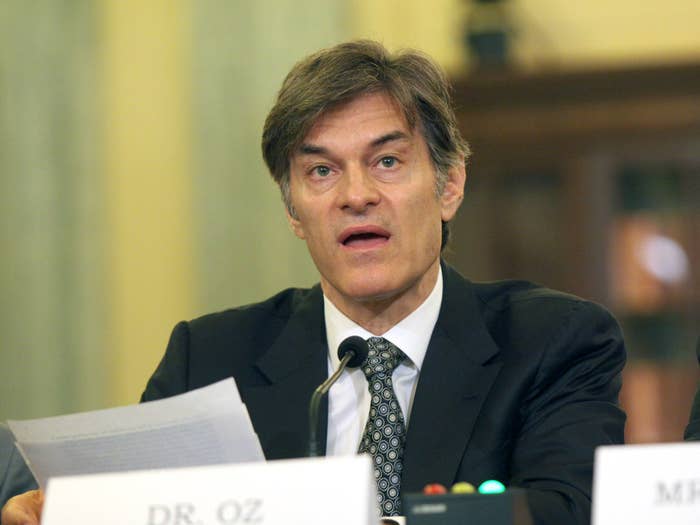 Dr. Mehmet Oz vowed to his critics that he will not be silenced on Thursday's episode of The Dr. Oz Show, The New York Times reported.
"I vow to you right here and right now, we will not be silenced," he said, addressing the group of doctors who sent a letter to Columbia University asking them to remove Oz from its faculty.
"My life's work has been built around one simple message: You have a right and a responsibility to become a world expert on your own body," he said on the show. "And the way you do that is by having access to the best, most current information; multiple points of view; and diverse opinions."
Oz also questioned the credibility and motives of the doctors who sent the letter, saying they "have big ties to big industry." The show said that Dr. Henry I. Miller, who took the lead in writing the letter, was a strong proponent of genetically modified foods (GMOs) which Oz has said should be labeled.
The show called Miller the "face and voice" of the pro-industry lobby that opposed Proposition 37, the California initiative to label GMO products. Miller also appeared in a television ad opposing Prop 37 that was eventually pulled.
Television personality Dr. Mehmet Oz on Friday made his first public comments after a national group of doctors urged Columbia University to remove him from his senior faculty position in the school's Department of Surgery.
In their Wednesday letter addressed to Lee Goldman, the dean of the Faculties of Health Sciences and Medicine at Columbia, the physicians said they were "surprised and dismayed" at Oz's appointment and that he has "misled and endangered" the public with his pathology.
Oz is the Vice Chair of the Department of Surgery at Columbia University's College of Physicians and Surgeons.
Oz, who hosts the popular The Dr. Oz Show on daytime TV, had to defend his claims of "miracle" weight-loss supplements he promoted to his viewers during a June 2014 U.S. Senate hearing. Members of Congress criticized his claims as medically unsound, saying, "The scientific community is almost monolithically against you." A senator even accused him of deliberately lying.
While testifying, Oz admitted that some of the products he told his viewers to use "don't have the scientific muster to present as fact."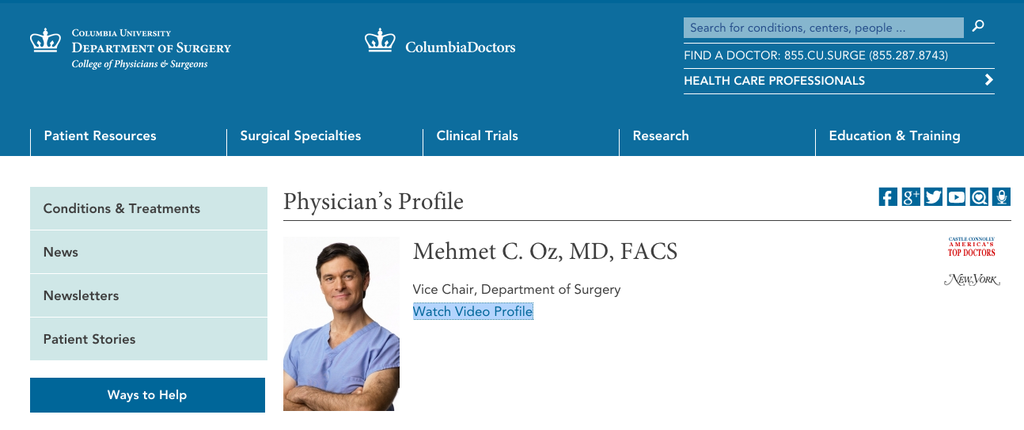 Here's the full letter provided to BuzzFeed News:
Dear Dr. Goldman:



I am writing to you on behalf of myself and the undersigned colleagues below, all of whom are distinguished physicians.



We are surprised and dismayed that Columbia University's College of Physicians and Surgeons would permit Dr. Mehmet Oz to occupy a faculty appointment, let alone a senior administrative position in the Department of Surgery.



As described here and here, as well as in other publications, Dr. Oz has repeatedly shown disdain for science and for evidence-based medicine, as well as baseless and relentless opposition to the genetic engineering of food crops. Worst of all, he has manifested an egregious lack of integrity by promoting quack treatments and cures in the interest of personal financial gain.



Thus, Dr. Oz is guilty of either outrageous conflicts of interest or flawed judgements about what constitutes appropriate medical treatments, or both. Whatever the nature of his pathology, members of the public are being misled and endangered, which makes Dr. Oz's presence on the faculty of a prestigious medical institution unacceptable.



Sincerely yours,

Henry I. Miller, M.D.
Robert Wesson Fellow in Scientific Philosophy
& Public Policy
Hoover Institution
Stanford University
Stanford, CA

Scott W. Atlas, M.D.
David and Joan Traitel Senior Fellow
Hoover Institution
Stanford University
Stanford, CA

Jack Fisher, M.D.
Professor of Surgery (emeritus)
University of California, San Diego
La Jolla, CA

Shelley Fleet, M.D.
Anesthesiologist
Longwood, FL

Gordon N. Gill, M.D.
Dean (emeritus) of Translational Medicine
University of California, San Diego
La Jolla, CA

Michael H. Mellon, M.D.
Pediatric Allergist
San Diego, CA

Gilbert Ross, M.D.
President (Acting) and Executive Director
American Council on Science and Health
New York, NY

Samuel Schneider, M.D.
Psychiatrist
Princeton, NJ

Glenn Swogger Jr. M.D.
Director of the Will Menninger Center for Applied Behavioral Sciences (retired)
The Menninger Foundation
Topeka, KS

Joel E. Tepper, M.D.
Hector MacLean Distinguished Professor of Cancer Research
Dept of Radiation Oncology
University of North Carolina School of Medicine
Chapel Hill, NC
On Friday Oz wrote on Facebook that he acted without conflict of interest to "bring the public information that will help them on their path to their best selves."
When asked about Oz, Columbia told BuzzFeed News it upheld "all faculty members' freedom of expression" in public discussion.
"Columbia is committed to the principle of academic freedom and to upholding all faculty members' freedom of expression for statements they make in public discussion," a spokesperson for Columbia University Medical Center said.
Dr. Henry I. Miller from Stanford, who took the lead in writing the letter, told BuzzFeed News that Columbia, citing the "freedom of expression claptrap," has been resistant in the past to others questioning Oz's faculty position.
"It shows they have little respect for the integrity and honesty of their faculty, for the well-being of the public, or for evidence-based medicine," said Miller.
After writing a Slate article on how Oz "sows seeds of mistrust on genetic engineering" Miller said he and his colleagues "thought that finally, enough is enough."
"I think he should be investigated," Miller said.
Representatives for The Dr. Oz Show did not immediately respond to a request for comment from BuzzFeed News.