A 20-year-old Oregon man is suing Walmart and Dick's Sporting Goods, claiming the retailers discriminated against him by refusing to sell him a rifle after raising the age limit to 21 in the wake of the Florida school shooting.
Dick's and Walmart were among the major gun retailers who raised the minimum age for purchasing a firearm from 18 to 21 following the shooting in Parkland, Florida, in which a 17-year-old allegedly used a legally purchased semiautomatic rifle to kill 17 people. Other retailers, including L.L. Bean and Kroger, followed suit in restricting the age for buying firearms.
By refusing to sell him a rifle, Tyler Watson claims Dick's and Walmart are in violation of Oregon state laws that prohibit age-based discrimination in places of public accommodation, according to both lawsuits published by Oregon Live.
Oregon law allows residents who are 18 or older to purchase guns.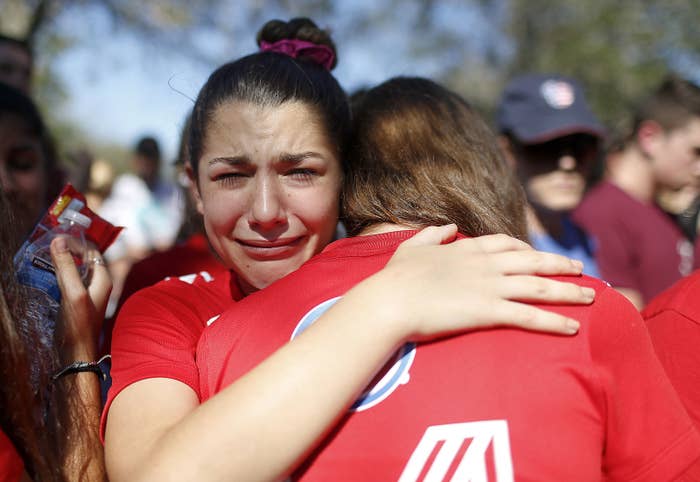 Watson claims that on March 3 a clerk at Walmart refused to sell him any firearm, including rifles and shotguns, or ammunition, per the company's new gun policy.
Watson cites a similar experience last month when he visited Dick's Field and Stream store, through which it sells firearms to the public. Watson said a clerk refused to sell him a .22 caliber Ruger 10/22 rifle based on Dick's new gun policy. The lawsuit states that Watson visited the store "on or about February 24." Dick's Sporting Goods announced its policy to raise the minimum age to buy weapons on Feb. 28.

In announcing its new policies, Dick's said the Parkland shooter had purchased a shotgun at one of its stores.
"It was not the gun, nor type of gun, he used in the shooting. But it could have been," the company added.
Watson is asking the court to order Walmart and Dick's "to stop unlawfully discriminating against 18, 19, and 20-year-old customers at all Oregon locations." Watson is also seeking punitive damages "because of the willful nature of the discrimination" and to cover his attorney fees.
"He was really just trying to buy a rifle," Watson's attorney, Max Whittington, told NBC News.
Whittington, Walmart, and Dick's did not immediately respond to BuzzFeed News' requests for comment.
But a spokesman for Walmart told NBC News the company stands by its policy.
"We stand behind our decision and plan to defend it," the spokesman, Randy Hargrove, said. "While we haven't seen the complaint, we will respond as appropriate with the court."