Author and media critic Michael Wolff's book about the Trump campaign and administration, Fire and Fury: Inside the White House, was leaked/excerpted/unofficially released on Wednesday and, well, just, wow.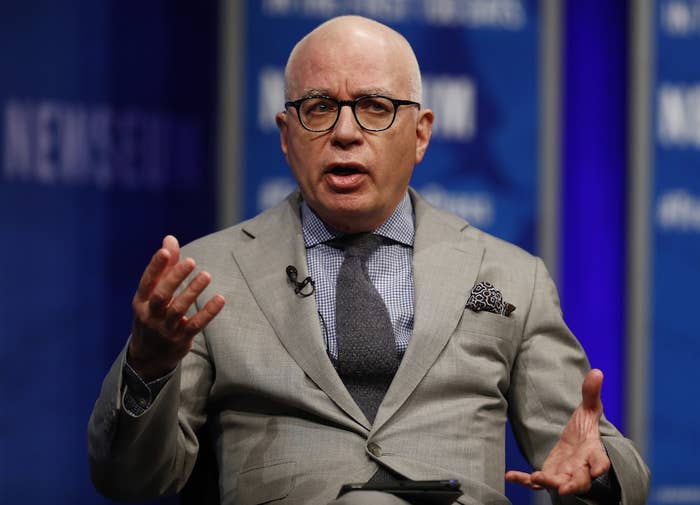 BuzzFeed News has obtained a copy of the book, which was initially set for release on Jan. 9.
The Guardian first published excerpts from the book in which former White House chief strategist Steve Bannon torched President Donald Trump's daughter Ivanka; her husband, Jared Kushner; and Trump's son Donald Trump Jr.
New York magazine also got a lengthy excerpt. And NBC News reporters obtained a copy and have been tweeting out segments.
Here's how New York magazine explained the reporting:
Wolff, who chronicles the administration from Election Day to this past October, conducted conversations and interviews over a period of 18 months with the president, most members of his senior staff, and many people to whom they in turn spoke. Shortly after Trump's inauguration, Wolff says, he was able to take up "something like a semi-permanent seat on a couch in the West Wing"—an idea encouraged by the president himself. Because no one was in a position to either officially approve or formally deny such access, Wolff became "more a constant interloper than an invited guest." There were no ground rules placed on his access, and he was required to make no promises about how he would report on what he witnessed.
In his first response to the book, Trump shot back at Bannon, saying he had "lost his mind" when he left the White House:
Steve Bannon has nothing to do with me or my Presidency. When he was fired, he not only lost his job, he lost his mind. Steve was a staffer who worked for me after I had already won the nomination by defeating seventeen candidates, often described as the most talented field ever assembled in the Republican party.

Now that he is on his own, Steve is learning that winning isn't as easy as I make it look. Steve had very little to do with our historic victory, which was delivered by the forgotten men and women of this country. Yet Steve had everything to do with the loss of a Senate seat in Alabama held for more than thirty years by Republicans. Steve doesn't represent my base—he's only in it for himself.

Steve pretends to be at war with the media, which he calls the opposition party, yet he spent his time at the White House leaking false information to the media to make himself seem far more important than he was. It is the only thing he does well. Steve was rarely in a one-on-one meeting with me and only pretends to have had influence to fool a few people with no access and no clue, whom he helped write phony books.

We have many great Republican members of Congress and candidates who are very supportive of the Make America Great Again agenda. Like me, they love the United States of America and are helping to finally take our country back and build it up, rather than simply seeking to burn it all down.
By Wednesday evening, Trump's attorney's responded by issuing a cease-and-desist letter to Bannon for allegedly violating the terms of a non-disclosure agreement signed during his time at the White House.
In the letter, the president's attorney Charles Harder said the former White House strategist's comments to Wolff violate the agreement and expose him to "numerous legal claims including defamation by libel and slander, and breach of his written confidentiality and non-disparagement agreement with our clients."
"Legal action is imminent," the letter stated.
White House press secretary Sarah Huckabee Sanders called the book "trashy tabloid fiction" that was "filled with false and misleading accounts" — even though Wolff had access to the White House.
"This book is filled with false and misleading accounts from individuals who have no access or influence with the White House," Sanders said in a statement Wednesday. "Participating in a book that can only be described as trashy tabloid fiction exposes their sad desperate attempts at relevancy."
Responding to the book's claim that Melania Trump "was in tears — and not of joy," when her husband's presidential win was imminent, the first lady's spokesperson, Stephanie Grisham, said, "The book is clearly going to be sold in the bargain fiction section. Mrs. Trump supported her husband's decision to run for President and in fact, encouraged him to do so. She was confident he would win and was very happy when he did."
Here are some of the most 👀 👀 👀 👀 👀 👀 👀 things from the book:
Far-right commentator Ann Coulter tried to warn Trump against hiring his kids:
It was Ann Coulter who finally took the president-elect aside. "Nobody is apparently telling you this," she told him. "But you can't. You just can't hire your children."
Ivanka Trump discusses her father's hair, specifically a "scalp-reduction" surgery, and his use of coloring product Just for Men:
She often described the mechanics behind it to friends: an absolutely clean pate — a contained island after scalp reduction surgery — surrounded by a furry circle of hair around the sides and front, from which all ends are drawn up to meet in the center and then swept back and secured by a stiffening spray. The color, she would point out to comical effect, was from a product called Just for Men — the longer it was left on, the darker it got. Impatience resulted in Trump's orange-blond hair color.
Trump liked to eat at McDonalds because of his "longtime fear of being poisoned":
Then he imposed a set of new rules: nobody touch anything, especially not his toothbrush. (He had a longtime fear of being poisoned, one reason why he liked to eat at McDonald's — nobody knew he was coming and the food was safely premade.)
There's also a passage about how Trump "didn't read":
He didn't process information in any conventional sense. He didn't read. He didn't really even skim. Some believed that for all practical purposes he was no more than semi-­literate. He trusted his own expertise­—no matter how paltry or irrelevant—more than anyone else's.
Trump criticized the appearance of his top staffers:
When he got on the phone after dinner, he'd speculate on the flaws and weaknesses of each member of his staff. Bannon was disloyal (not to mention he always looks like shit). Priebus was weak (not to mention he was short—a midget). Kushner was a suck-up. Sean Spicer was stupid (and looks terrible too). Conway was a crybaby. Jared and Ivanka should never have come to Washington.
Trump made a crude remark about top, longtime aide Hope Hicks, sending her running from the room:
Shortly after [former campaign manager Corey] Lewandowski, with whom Hicks had an on-and-off romantic relationship, was fired in June 2016 for clashing with Trump family members, Hicks sat in Trump Tower with Trump and his sons, worrying about Lewandowski's treatment in the press and wondering aloud how she might help him. Trump, who otherwise seemed to treat Hicks in a protective and even paternal way, looked up and said, "Why? You've already done enough for him. You're the best piece of tail he'll ever have," sending Hicks running from the room.
Trump yelled at White House staff for not leaving his shirts on the floor:
He reprimanded the housekeeping staff for picking up his shirt from the floor: "If my shirt is on the floor, it's because I want it on the floor."
Trump going after his friends' wives:
Trump liked to say that one of the things that made life worth living was getting your friends' wives into bed. In pursuing a friend's wife, he would try to persuade the wife that her husband was perhaps not what she thought. Then he'd have his secretary ask the friend into his office; once the friend arrived, Trump would engage in what was, for him, more or less constant sexual banter. Do you still like having sex with your wife? How often? You must have had a better fuck than your wife? Tell me about it. I have girls coming in from Los Angeles at three o'clock. We can go upstairs and have a great time. I promise...And all the while, Trump would have his friend's wife on the speakerphone, listening in.
Trump asked who former Speaker of the House John Boehner was:
Ailes, a veteran of the Nixon, Reagan, and Bush 41 administrations, tried to impress on Trump the need to create a White House structure that could serve and protect him. "You need a son of a bitch as your chief of staff," he told Trump. "And you need a son of a bitch who knows Washington. You'll want to be your own son of a bitch, but you don't know Washington." Ailes had a suggestion: John Boehner, who had stepped down as Speaker of the House only a year earlier.

"Who's that?" asked Trump.
This has been getting a lot of pushback since Trump has tweeted about Boehner in 2011 and 2013.
Ivanka Trump entertained the idea of being the first woman president:
Jared and Ivanka had made an earnest deal between themselves: if sometime in the future the time came, she'd be the one to run for president (or the first one of them to take the shot). The first woman president, Ivanka entertained, would not be Hillary Clinton, it would be Ivanka Trump.
Former Fox News chief Roger Ailes once said, "I wouldn't give him too much to think about" regarding Trump:
Pivoting from Trump himself, Bannon plunged on with the Trump agenda. "Day one we're moving the U.S. Embassy to Jerusalem. Netanyahu's all-in. Sheldon"—Adelson, the casino billionaire and far-right Israel defender—"is all-in. We know where we're heading on this … Let Jordan take the West Bank, let Egypt take Gaza. Let them deal with it. Or sink trying."

"Where's Donald on this?" asked Ailes, the clear implication being that Bannon was far out ahead of his benefactor.

"He's totally onboard."

"I wouldn't give Donald too much to think about," said an amused Ailes.

Bannon snorted. "Too much, too little—doesn't necessarily change things."

"What has he gotten himself into with the Russians?" pressed Ailes.

"Mostly," said Bannon, "he went to Russia and he thought he was going to meet Putin. But Putin couldn't give a shit about him. So he's kept trying."
Fox News CEO Rupert Murdoch called Trump a "fucking idiot" after a phone call with him:
On December 14, a high-level delegation from Silicon Valley came to Trump Tower to meet him. Later that afternoon, according to a source privy to details of the conversation, Trump called Rupert Murdoch, who asked him how the meeting had gone.

"Oh, great, just great," said Trump. "These guys really need my help. Obama was not very favorable to them, too much regulation. This is really an opportunity for me to help them."

"Donald," said Murdoch, "for eight years these guys had Obama in their pocket. They practically ran the administration. They don't need your help."

"Take this H-1B visa issue. They really need these H-1B visas."

Murdoch suggested that taking a liberal approach to H-1B visas, which open America's doors to select immigrants, might be hard to square with his promises to build a wall and close the borders. But Trump seemed unconcerned, assuring Murdoch, "We'll figure it out."

"What a fucking idiot," said Murdoch, shrugging, as he got off the phone.
Trump "assured" his wife, Melania, that he wouldn't win the election:
Not only did Trump disregard the potential conflicts of his own business deals and real-estate holdings, he audaciously refused to release his tax returns. Why should he? Once he lost, Trump would be both insanely famous and a martyr to Crooked Hillary. His daughter Ivanka and son-in-law Jared would be international celebrities. Steve Bannon would become the de facto head of the tea-party movement. Kellyanne Conway would be a cable-news star. Melania Trump, who had been assured by her husband that he wouldn't become president, could return to inconspicuously lunching. Losing would work out for everybody. Losing was winning.
And former national security adviser Michael Flynn, who has been indicted for lying in the Russia probe, also didn't seem to think Trump would win:
Mike Flynn, Trump's future National Security Adviser, who became Trump's opening act at campaign rallies and whom Trump loved to hear complain about the CIA and the haplessness of American spies, had been told by friends that it had not been a good idea to take $45,000 from the Russians for a speech. "Well, it would only be a problem if he won," he assured them, knowing that it would therefore not be a problem."
One of Trump's oldest associates, Thomas Barrack, a billionaire and former chairman of Trump's inaugural committee, said of the president: "He's not only crazy, he's stupid."
Barrack, denied saying those words on Wednesday, telling New York Times reporter Maggie Haberman that the quote attributed to him in Wolff's book was "totally false."
"It's clear to anyone who knows me that those aren't my words and inconsistent with anything I've ever said," Barrack said, adding that Wolffe never reached out to him to check if the quote was accurate.
There was also Trump's reaction to a New York Times report that he walks around in his bathrobe:
"Do I seem like a bathrobe kind of guy, really?" he demanded, not humorously, of almost every person with whom he spoke over the next forty-eight hours. "Seriously, can you see me in a bathrobe?"
And here's a bunch of material related to the Russia investigation, attributed to Bannon:
Bannon, now the executive chairman of right-leaning website Breitbart, called a meeting between top campaign officials and Russians at Trump Tower during the 2016 presidential campaign "treasonous" and "unpatriotic."
Trump Jr., Kushner, and former campaign chairman Paul Manafort met a Russian lawyer who they believed had "incriminating" material about Trump's opponent, Hillary Clinton, in June 2016.
After the New York Times reported about the meeting that took place at Trump Tower in New York City, Trump Jr. was forced to release emails that revealed he was eager to meet with the Russians after an intermediary told him "this is part of Russia and its government's support for Mr. Trump."
However, he defended his actions, saying the meeting with Russian lawyer Natalia Veselnitskaya was "just a nothing." He said he didn't feel the need to inform the FBI of the possible attempt by the Russians to interfere in the US elections because he didn't think it was "shady" or a "danger to national security."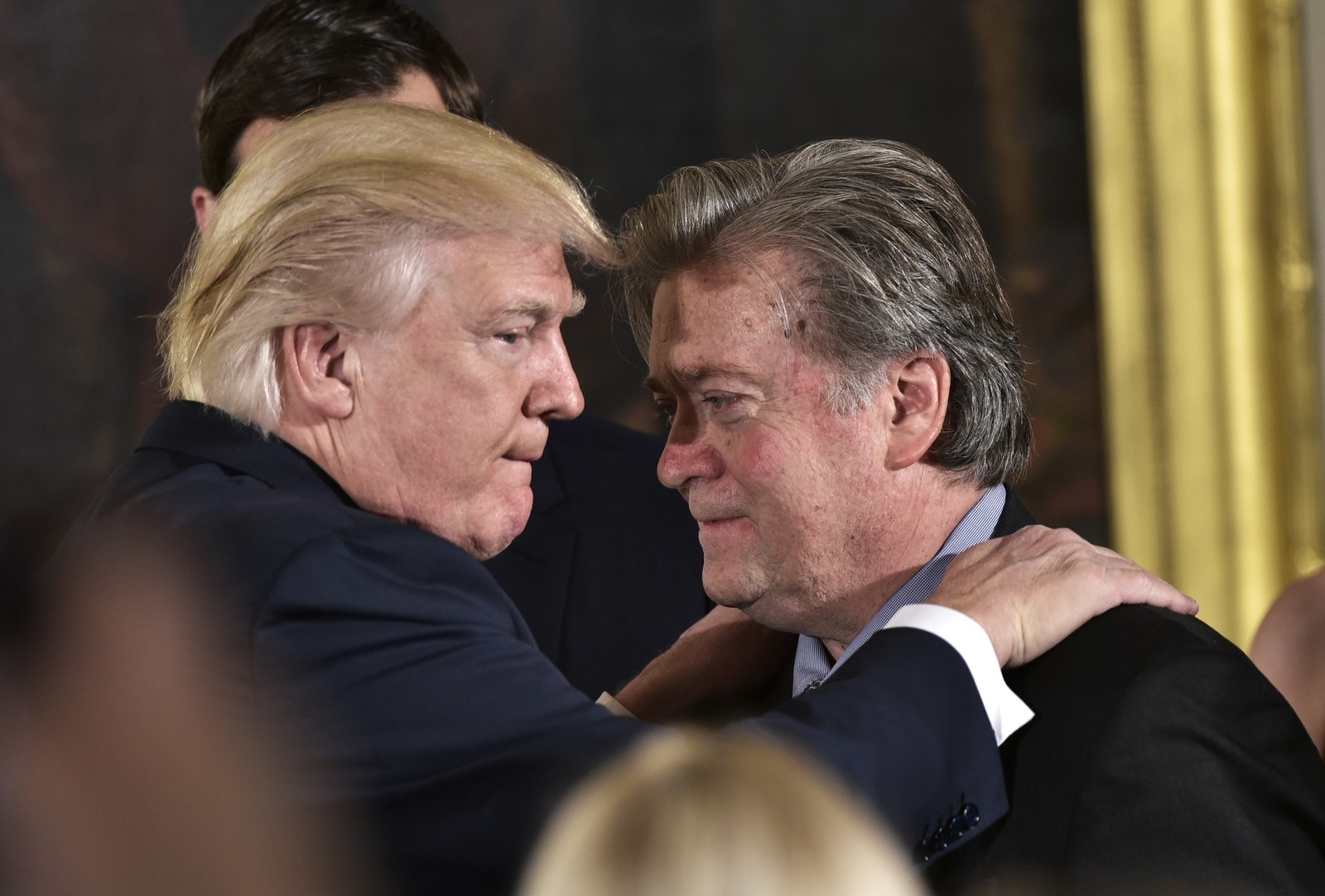 Trump Jr. then became a focal point of special counsel Robert Mueller's investigation into Russia's meddling in the 2016 election. [Editor's note: Emphasis in the following paragraphs is ours.]
Bannon reportedly told Wolff, "The three senior guys in the campaign thought it was a good idea to meet with a foreign government inside Trump Tower in the conference room on the 25th floor – with no lawyers. They didn't have any lawyers."
"Even if you thought that this was not treasonous, or unpatriotic, or bad shit, and I happen to think it's all of that, you should have called the FBI immediately."
Bannon said that such a meeting should have taken place in "a Holiday Inn in Manchester, New Hampshire, with your lawyers who meet with these people," according to excerpts published by the Guardian.
In the excerpt, Bannon also says that he thinks Trump himself met the Russians after the meeting — though Bannon wasn't on the campaign staff until August 2016.
"The chance that Don Jr. did not walk these Jumos up to his father's office of the twenty-sixth floor is zero," Wolff quoted Bannon as saying.
"They're going to crack Don Junior like an egg on national TV," Bannon said, referring to Mueller's investigation.
Since May 2017, Mueller's investigation has led to the indictments of four people — including Manafort, who pled not guilty to money laundering charges, and Flynn, who pleaded guilty to lying to the FBI during the Russia investigation.
"This is all about money laundering," Bannon told Wolff. "Mueller chose [senior prosecutor Andrew] Weissmann first and he is a money-laundering guy. Their path to fucking Trump goes right through Paul Manafort, Don Jr. and Jared Kushner … It's as plain as a hair on your face."
"This Kushner shit is greasy," Bannon said, referring to the $285 million loan that Deutsche Bank gave Kushner's family real estate company one month before the election.
"It goes through Deutsche Bank and all the Kushner shit," Bannon reportedly told Wolff. "The Kushner shit is greasy. They're going to go right through that. They're going to roll those two guys up and say play me or trade me."
In his book, Wolff reportedly explores Bannon's feud with "Javanka" — Kushner and Ivanka Trump. Former secretary of state Henry Kissinger is quoted as saying, "It is a war between the Jews and the non-Jews."
"They're sitting on a beach trying to stop a Category Five," Bannon said, appearing to refer to the Trump administration's handling of the Russia probe.
Bannon reportedly suggested that any potential information that could have come out from Trump Jr.'s meeting with the Russians should have been "dump[ed] ... down to Breitbart or something like that, or maybe some other more legitimate publication."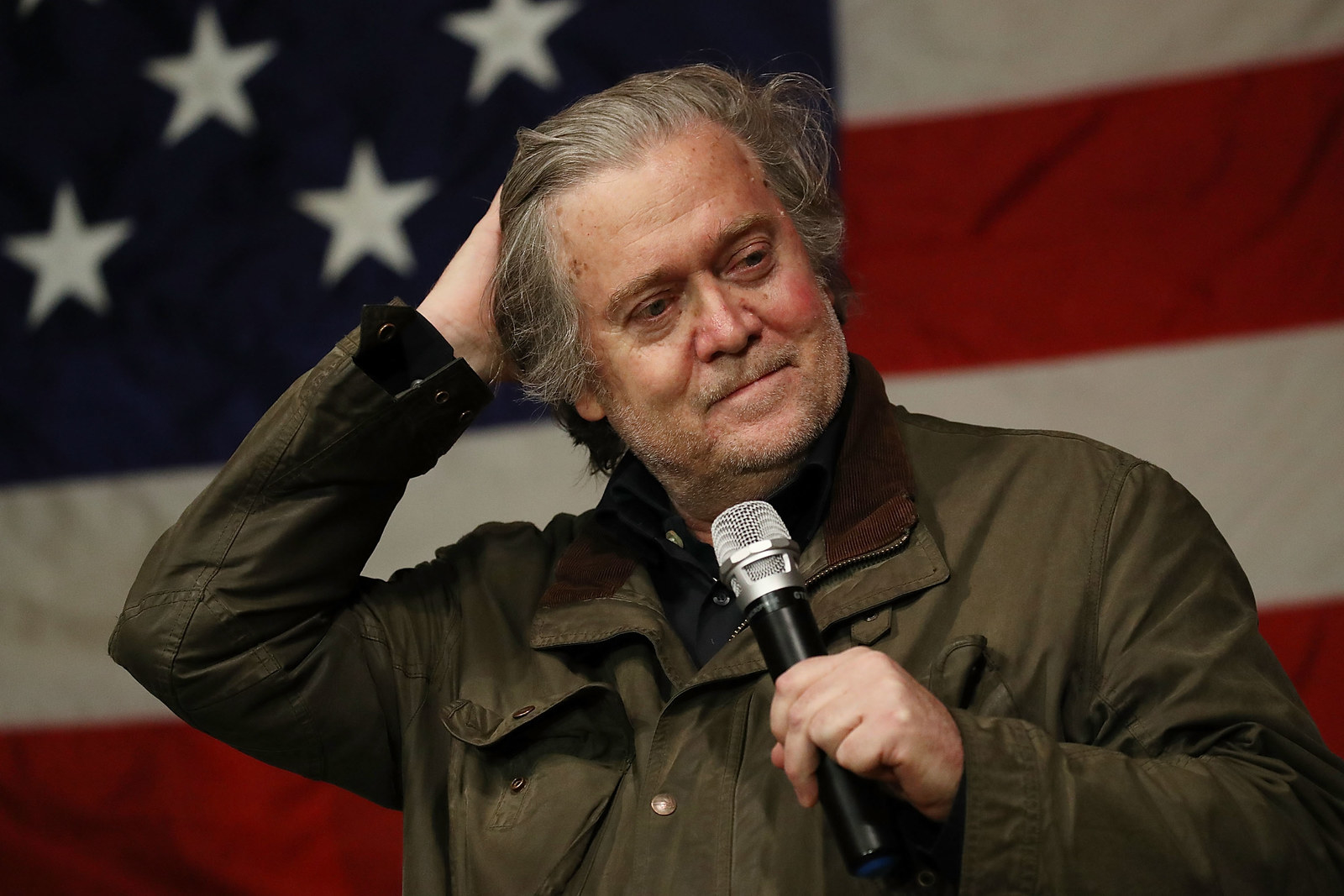 Wolff, his publishers, and Bannon did not respond to BuzzFeed News' request for comment. Breitbart News later cited the Guardian's report on the book without any denials or comments from Bannon.
Arianna Rebolini contributed to this report.