Why Marco Rubio Will Vote To Confirm Trump's Secretary Of State
The senator spent weeks indicating he could vote against, and potentially kill, Rex Tillerson's nomination. But he backed down just before the vote. "In the end, I think Marco decided that it was better to be inside the tent than outside," a source close to Rubio said.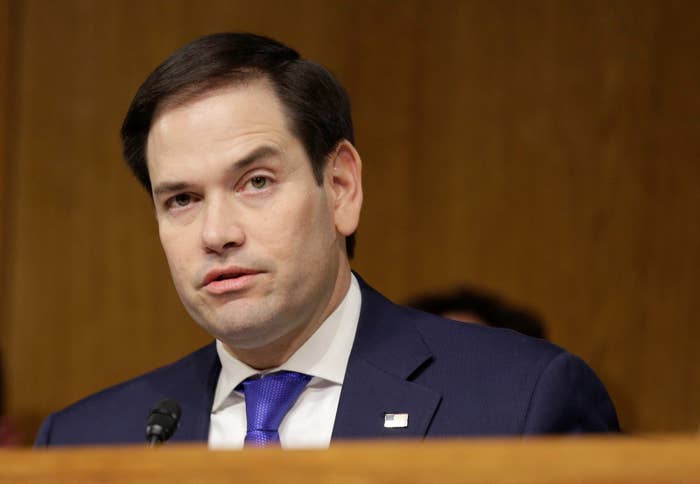 WASHINGTON — When President Donald Trump announced he was nominating Rex Tillerson, the former ExxonMobil chief, for secretary of state last December, GOP Sen. Marco Rubio was quick to announce he had "serious concerns" about the nominee's relationship with Russia.

A month later, Rubio repeatedly grilled Tillerson during his confirmation hearing, making it clear the nominee was not giving him the answers he wanted. The Florida senator, who aggressively took on Trump during the end of the GOP presidential primary, told reporters after the hearing he wasn't going to make the decision on a partisan basis. "I'm prepared to do what's right," he said at the time, hinting he was open to voting against Tillerson, despite Republicans holding only a one-seat advantage on the Senate Foreign Relations Committee.
But on Monday, hours before the committee's vote on the nominee, Rubio announced in a Facebook post his decision: "... despite my reservations, I will support Mr. Tillerson's nomination in committee and in the full Senate."
The decision might seem like a complete about-face based on Rubio's foreign policy views and his tone of questioning during the hearing, but it's not surprising and is telling of how the former presidential candidate will deal with now-President Trump.
Sources close to Rubio insist it wasn't a ploy for attention, as some Rubio critics suggest. They say he made up his mind after a "full court press" from the Trump team. The senator had a 90-minute meeting with Tillerson, Vice President Mike Pence and White House Chief of Staff Reince Priebus last week. The meeting was described as a "blunt conversation" about Tillerson's answers at the hearing and his relationship with Russia.
In the meeting, a source said that Priebus was "transactional," pressing Rubio on what he wanted in return for the vote, while Rubio argued his opposition was purely based on principle. Other than the meeting, Rubio also got a call from Oracle CEO Safra Catz, urging him to support Tillerson. Catz was part of the Trump transition committee, while Oracle co-founder Larry Ellison was one Rubio's major supporters during his White House bid.
"In the end, I think Marco decided that it was better to be inside the tent than outside," a source close to Rubio said. "A vote against Tillerson would have reduced his influence on foreign policy matters with the Trump Administration to zero."
Rubio also asked Tillerson for written responses to more than 100 questions he submitted. He received the answers on Thursday and reviewed them over the weekend before announcing his decision.
Under pressure from Trump administration officials and other Republican senators, sources say, the one question that Rubio had to square with was: How could you vote to confirm John Kerry but not vote for Tillerson?
That question, at a time when the new president is focused on loyalty and quick to attack members of his own party, was especially hard for Rubio, who is trying to resurrect his political career after a failed presidential bid. Rubio, whom Trump labeled "Lil' Marco" during the presidential primary, has seen firsthand what angering Trump can lead to.
It was also becoming clear that Tillerson's nomination was going to make it through the Senate with or without Rubio's support. Last week, Sen. Bob Corker, chairman of the committee, said the Senate would be able to use certain procedures to bring the nomination up for a vote on the floor even if Tillerson failed in committee, making Rubio's opposition notable, but irrelevant.
Support from other foreign policy hawks — Sens. John McCain and Lindsey Graham, who had been siding with Rubio in expressing doubts about Tillerson — was also crumbling. Both officially said they would back Tillerson on the Sunday before the committee vote.
In his Facebook post, Rubio tried to satisfy both wings of the Republican Party -- foreign policy hawks looking to him to stand up to Trump and Trump loyalists.
Acknowledging that Tillerson's answers had been "troubling" on issues including his views on Russia and human rights violations, Rubio said he would vote to give the Trump administration a Secretary of State, in order to avoid uncertainty in foreign policy. He also said he would be even tougher on other State Department nominations going forward.
"I remain concerned that in the years to come, our country will not give the defense of democracy and human rights the priority they deserve, and will pursue a foreign policy that too often sets aside our values and our historic alliances in pursuit of flawed geopolitical deals," Rubio wrote.
"But in making my decision on his nomination, I must balance these concerns with his extensive experience and success in international commerce, and my belief that the president is entitled to significant deference when it comes to his choices for the cabinet. Given the uncertainty that exists both at home and abroad about the direction of our foreign policy, it would be against our national interests to have this confirmation unnecessarily delayed or embroiled in controversy."