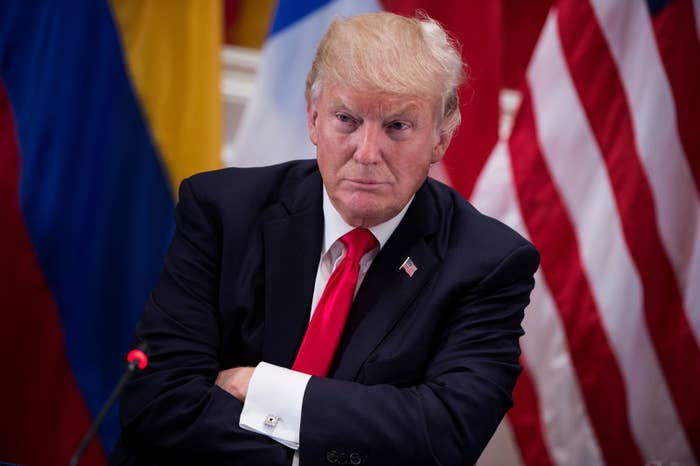 The Republican National Committee has spent at least $427,000 in legal fees associated with the Russia investigation on behalf of President Trump and his son, leading some to question why the self-proclaimed billionaire is making the party's donors pick up the ever-expanding bill.
"I don't think he's lacking in money," said Minnesota-based GOP donor Stan Hubbard, who gave about $285,000 to the Republican National Committee in the last election cycle.
The exact amount the RNC has spent was reported Wednesday in the committee's latest fundraising report filed with the Federal Election Commission. The filing shows that the party committee paid $100,000 to Trump's personal attorney John Dowd and $131,250 to Jay Sekulow, another lawyer on the president's legal team. The RNC spent an additional $200,000 in August for legal costs affiliated with the president's eldest son, Donald Trump Jr., an RNC official told BuzzFeed News, but those payments will be reflected in next month's reports. The level of spending on legal fees was first reported Tuesday.
The RNC also reported spending about $47,000 on catering and venue rental at Trump International Hotel in August, after shelling out $122,000 the previous month at the hotel for a fundraiser.

Hubbard, who was part of the pro-Trump Great America PAC last year and urged skeptical Republicans to get on board when Trump clinched the GOP nomination, said the president should either set up a separate legal fund or pay the bills himself. But if the RNC continues to pick up the tab, Hubbard said he will ensure his future contributions don't pay for the legal fees.
"I will say it's not to go to legal fees," said Hubbard, who gave to different RNC accounts in 2016 but not the legal account. "It's for Republicans to win elections."
RNC's legal spending related to the Russia investigation, according to the committee, has so far come from its legal account, which was set up through a spending bill agreement between Senate Democrats and Republicans in 2014. Under this agreement, three new accounts were created to allow party committees to accept even larger checks from major donors.
The legal account is supposed to pay for election recounts and other election-related legal proceedings for Republican candidates, but a big chunk of it is now likely going to be spent on legal fees associated with the Russia investigation — an unusual move for the committee. Former President Bill Clinton used separate legal defense funds, instead of the Democratic National Committee, during the Whitewater investigation in the late 1990s.
Several major donors have contributed to the RNC's legal fund this year. They include Home Depot cofounder Bernard Marcus, billionaire investor Charles Schwab, and California-based financier Richard Kayne.
BuzzFeed News reached out to some of the donors who gave to RNC's legal fund this year, but they did not respond for comment. Because the money so far has come from a specific account, which is funded by megadonors, some RNC donors see no problem with the spending.
David Herro, a Chicago-based GOP donor who contributed $300,200 to the RNC last cycle but did not give to the legal account, said he doesn't take issue with the practice. "It's legal and acceptable to me," he said in an email.
Former Virginia Rep. Tom Davis, who previously ran another GOP party committee responsible for election Republicans to the House, said some donors might have concerns about RNC's decision to spend, but it makes sense given that legal challenges against public officials are becoming more common.
"The reality is that anybody can sue you," Davis said. "It can always create fundraising problems with donors who only want the money to go to helping candidates, but that's the risk you have. That risk stays, but I don't know how else you do this. There are no good answers to this."
Some of the legal costs from the Russia investigation have also been picked up by Trump's campaign, which in July reported paying $50,000 to the law firm working for Trump Jr. Most of the Trump campaign's donations come from donors who give less than $200 each. The Trump campaign will next have to publicly report its spending, including any additional money going to legal fees, on Oct. 15.
Republicans, especially those who've been skeptical of Trump, aren't convinced it's the right move for the RNC to spend on behalf of Trump.
"I know something about inappropriate expenditures by the RNC. This is an inappropriate expenditure by the RNC," tweeted Doug Heye, a former RNC staffer who served when the committee was criticized for mismanaging funds. Heye left the RNC before the separate accounts were established.
"Did Republicans know their donations were going to pay inflated fees to millionaire defense lawyers representating [sic] an (alleged) billionaire?" tweeted Bill Kristol, editor of the conservative Weekly Standard.
Those close to Trump, however, aren't that surprised he's not picking up the fees. "Look, first of all, he hates paying for legal fees in general, and he thinks this is a witch hunt," said a source close to the administration.
"Why would he pay if he doesn't have to?"