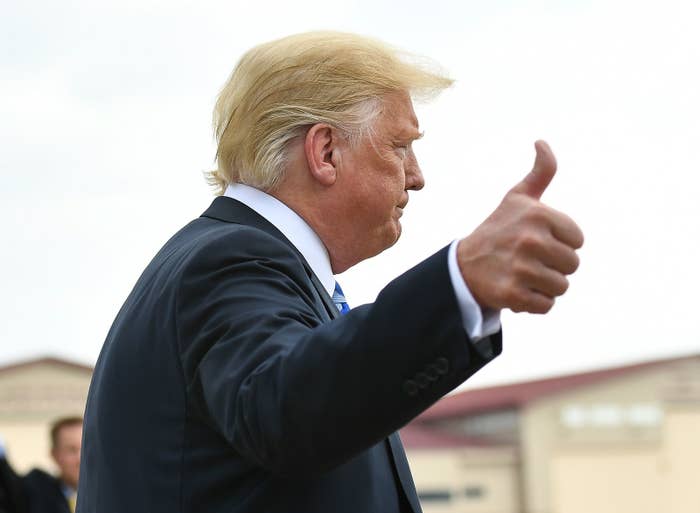 President Donald Trump had an abysmal day in court Tuesday.
Two of his top former associates — campaign chair Paul Manafort and personal lawyer Michael Cohen — were convicted on eight charges and pleaded guilty to eight counts, respectively. In Virginia, a jury handed Manafort the guilty verdict just as Cohen was pleading guilty in New York.
The stunning split screen — made for a reality TV president — played out as Trump boarded Air Force One on his way to two events in West Virginia. He did not initially respond to shouted questions related to Manafort and Cohen. After landing in Charleston, Trump defended Manafort as a "good man." "Doesn't involve me but I still feel, you know, it's a very sad thing that happened," he said, adding that the conviction had nothing to do with the special counsel's Russia probe.
The timing of Trump's trip had those inside the White House worried about what Trump was going to say at a rally in West Virginia. "The White House is unhinged right now, with the president taking the stage tonight," said a source close to the White House. "What if he pardons Manafort live on television? This is crisis PR firms' worst nightmare, and the White House staff is outclassed and undermanned to handle it."
Ultimately, the president stayed relatively on-message during the rally, urging his supporters to vote for Republicans in November. He did briefly express his frustration with the special counsel's probe, saying: "Where is collusion?...Find the collusion!"
Trump has tried to distance himself from both Manafort and Cohen in the past, arguing that the charges against Manafort were unrelated to the campaign, and his legal team has called Cohen a "scoundrel" and "pathological liar." The Manafort verdict and Cohen plea deal, as well as Trump's dismissals, however, contradict Trump's repeated claims during the campaign that he hires "only the best people."
The Cohen case also comes extremely close to the president. It includes campaign finance violation charges related to his payments to women in exchange for their silence ahead of the 2016 election. In court Tuesday, Cohen said he acted in coordination with and on the direction of the "candidate," not naming Trump by name, and that he knew he was acting illegally. The president continued to ignore questions related to Cohen's plea deal after landing in West Virginia.
Cohen's attorney Lanny Davis tweeted soon after Cohen's court appearance. "If those payments were a crime for Michael Cohen, then why wouldn't they be a crime for Donald Trump?"
And a source close to the White House also pointed out that Cohen served as deputy finance chair for the Republican National Committee and could drag not just the president, but potentially even the party committee, into the unfolding legal drama.
In another blow to Trump, one of his earliest supporters in Congress, California Rep. Duncan Hunter, and Hunter's wife, were indicted by a federal grand jury Tuesday on charges that they used $250,000 in campaign cash for personal use. The indictment was announced just after the Manafort verdict and Cohen plea deal.
There was also one other person in court Tuesday who has been a Trump fixation. Imran Awan, the former House IT staffer whom the president has referred to as the "Pakistani mystery man" and turned into a target for conservative conspiracy theorists, was also in court for sentencing.
He was sentenced to time served and three months of supervised release in DC federal court for lying on a bank loan application.
The judge in the case, Judge Tanya Chutkan, criticized the "unbelievable onslaught of scurrilous media attacks" and "baseless accusations" that were "lobbed" "from the highest branches of government" on Awan, and defended the lenient punishment. Awan had "suffered sufficiently," she said. Although the charges against Awan came out of an investigation related to an alleged theft of House IT equipment, they were not related to his government work for former DNC chair Debbie Wasserman Schultz.