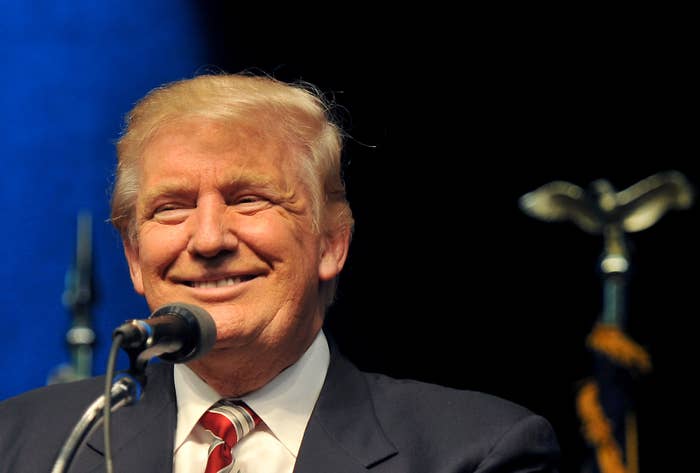 ASTON, Pennsylvania — While claiming that Hillary Clinton "has no child care plan," Donald Trump unveiled a child care plan on Tuesday evening that is likely to face some opposition from his own party.
His supporters believe the Republican nominee will figure out a way to pay for it without raising the national debt.
The proposal — heavily influenced by his daughter Ivanka Trump — would offer six-weeks paid maternity leave for mothers who do not already get leave from their employers. It would also allow families to deduct child care costs from their income taxes for children aged 13 and under and give families the opportunity to contribute $2,000 a year to a Dependent Care Savings Account tax-free.
"We need working mothers to be fairly compensated for their work and to have access to affordable, quality child care for their kids," Trump said at a community center in a Philadelphia suburb, sticking mostly to his prepared remarks.
"These solutions must update laws passed more than half a century ago when most women were still not in the labor force. Today, nearly 2 in 3 mothers with young children have jobs. For many families in our country, child care is now the single largest expense – even more than housing. Yet very little meaningful policy work has been done in this area."
Trump claimed Clinton had not come up with a child care plan, and that even if she did come up with one, it would never be implemented.
"All talk, no action," he said.
Clinton laid out a detailed child care plan last June and has called for 12 weeks of paid family leave.

While proposals like Trump's have in the past lacked GOP support, he was briefly joined on stage by Reps. Marsha Blackburn of Tennessee, Cynthia Lummis of Wyoming, Diane Black of Tennessee, and Renee Ellmers of North Carolina in a show of unity. Trump also thanked House Republican Conference Chairwoman Cathy McMorris Rodgers.
Trump arrived in the area just hours after President Obama made the case for Clinton in Philadelphia. The real estate mogul was introduced by his daughter, who said child care "is not a women's issue. it's a family issue."
"This is a reform that is of critical value and long overdue," she said, promising she would make enacting the proposal a priority if her father defeated Clinton.
Although he didn't call her out by name, Trump continued to take shots at Clinton for her "deplorables" comment at a fundraiser.
"While my opponent slanders you as deplorable and irredeemable, I call you hard-working American patriots who love your country, love your families, and want a better future for all Americans," he said. "It's time to end the rule of special interests, and to begin the rule of the American people. It's time to stop fighting over the smallest words, and to start dreaming about the great adventures that lie ahead."
The GOP presidential nominee's campaign has said his child care plan will be paid for by rewriting the tax code and getting rid of fraud in the unemployment insurance program.
Trump has been light on the specifics, but attendees at Trump's rally in Aston were supportive of his child care plan and said they trusted him to figure out a way to implement the policies without raising taxes or increasing the national debt.
"He has a servant's heart," said Barbara Herbus, who works for the local school district. "He's going to get a lot of savings for us."

Herbus said one of the ways Trump would pay for the plan is by getting rid of Obamacare.

"I think it's about time," said Anne Sweeny, a retired Aston resident, when asked about her a GOP nominee proposing paid maternity leave. "I was very fortunate I always worked for companies that gave paid maternity leave. It's tough when you have both parents now working. It's very hard to pay for child care."
Susan Powell, a landscape designer and lifelong Republican who hasn't decided if she will vote for Trump, said she needs to see more details on the plan's funding. "It's important with so many woman in the workforce. The question is who is going to pay for that."
Trump wrapped up the event by holding a baby and lifting it up for the crowd as he left the room.