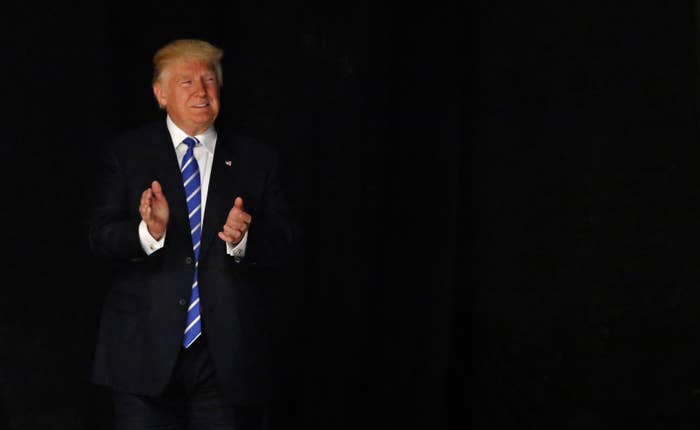 Donald Trump wasn't one of the "puppets," he often told supporters. He wasn't beholden to major donors and lobbyists. He was self-funding his campaign.
It was a key part of his pitch to voters and his eventual success — Trump wasn't like the other politicians who begged Charles and David Koch for money, and his supporters loved that.
Now, he has to raise a lot more money. Trump has brought on major fundraisers who previously raised money for other candidates. He's got a few super PACs working on his behalf. His campaign has created a joint fundraising committee with the Republican National Committee that can accept checks for up to nearly $450,000. He's even requested a meeting with top aides to the Kochs.
But it's not upsetting his die-hard supporters.
"He had no choice, now that he's in the general election," said Sue Gillis, 73, of Millen, Georgia, who came to see Trump in Atlanta on Wednesday.
"He has to," said Michael Stainbrook, 64, of Stone Mountain Ga., who also attended Trump's Atlanta rally. "You're talking the difference between maybe — what was it? — he spent maybe $100 million on his campaign of his own money. Now they're talking about a billion dollars. That's an awful lot to spend."
"We've entered into a different entity," said Joan Buchli, a homemaker from West Tampa. "We have to come to the realization that it takes $2 billion to run a presidential campaign — that's disappointing to me because we teach our kids you can grow up to be whatever you want, but that's not true."
She explained she doesn't take everything Trump says to heart, "I decided to make a change this year and vote for an outsider, and I'm not taking everything he's saying so personally."
Many supporters believe Trump's already made his point by largely self-funding his primary. Now he needs to be able to compete with Clinton because she is the one actually beholden to donors, they argue.
"It doesn't bother me because Crooked Hillary — look at the money she's got from Wall Street," said Mike Johnson, a retired Tampa resident, who attended a Saturday morning event. "He's got no choice. What is he going to do? Fight with two hands behind his back?"
Johnson's son, Derek, added that Trump's supporters realize the real estate mogul is after all a "showman" and at the end of the day "money is what talks."
Wearing a T-shirt bearing Trump's face that read, "Washington, You're Fired!," Mike Smith of Tampa said he's certain Trump will still be able to disrupt things in Washington despite taking money from establishment donors. "I expected that because once you win the nomination you a need a lot of money to win."
As Trump often does, Doug McIntyre of Tampa blamed the media and the system itself. "The media has made it so damn expensive to run. That's just the way it is. The funding system is so crooked and corrupt."
Despite Trump's reversal and his latest proposal at a rally this week to put one of his super PAC donors in charge China, his campaign continues to attack Clinton for "selling out the country," which his supporters in interviews echo as reasoning why Trump is still their choice. "Did you all hear about how Hillary Clinton put on a nuclear security advisory board one of her donors?" Stephen Miller, Trump's senior policy adviser asked the crowd in Tampa before introducing the candidate. "Did you hear about this by the way?"
Some Trump fans pointed to the donations the Clinton Foundation had received from foreign countries to make the point that Trump was still better on the issue than Clinton. "I think you're going to have to take a bit of money here and there," said John Hosegood of Winter Haven, Fla. "At least he's not taking money from foreign countries in exchange for favors."
Christy Gunter and her son Noah Gunter attended Trump's Greensboro event on Tuesday. Christy, 53, argued: At one time he wasn't taking donations at all, and he needs them because we need a change. And if it takes a businessman to change our world, that's what we need." Noah, 19, chimed in: "He's still not doing it as much as other politicians."
Stephen Dickerson, a retired Tampa resident, called it a "necessarily evil."
"At some point it just needs to be done, but I don't think he's going to do something where he owes people positions," he said.
"They want to give it to him, you know?" Stainbrook said of big donors. "And it's not exactly the same. They're not going to own him."
Rosie Gray reported from Atlanta and Greensboro, North Carolina.