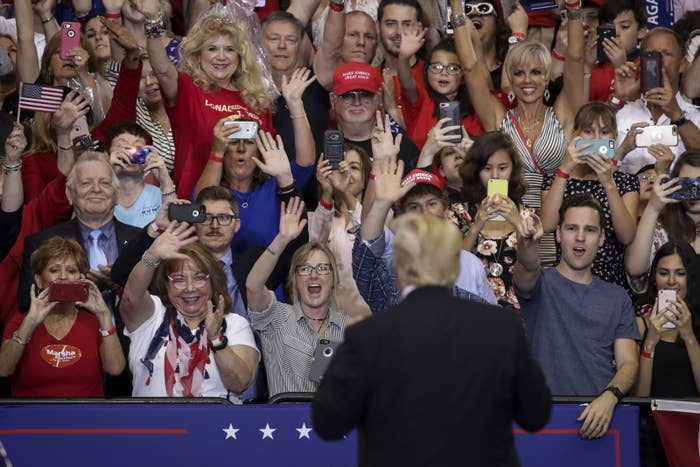 President Donald Trump is homing in on his 2018 pitch to red-state voters: It's a mix of his dark rhetoric on immigration with some conspiracy theories and the occasional reminiscing about his unexpected presidential win — all whipped up with attacks on Democrats as obstructionists and praise for Republicans he's endorsed.
Republican Party leadership has decided that even with all the risks that come anytime Trump is placed in front of a large, adoring crowd, this strategy could work to keep Democrats from taking over the Senate.
Trump shows little restraint from controversial remarks during his usual meandering, 2016 campaign–style appearances — literally throwing out his prepared speech instead of staying focused on touting tax reform and the economy — as he hits the road more frequently ahead of November. But amid all the ad-libs, he's also touting his party's achievements, branding the Democrats running in the toughest Senate races with nicknames, and trying to energize his base to come out and vote for congressional Republicans in states where he could make a difference.
His efforts could give Republicans a significant boost in winning 10 Senate seats in states that Trump won in 2016, while off-script comments in those states get either a pass, if not cheers, from his base in the crowd.
"It's a base election in the Senate and a swing in the House."
Trump has become increasingly annoyed with the narrow majority Republicans currently have in the Senate, and he has improved his relationship with Senate Majority Leader Mitch McConnell in recent months, according to two sources involved in Republicans' 2018 strategy.
"I think he's doing a great job where Senate races are concerned," said a GOP strategist involved in the races, naming Democrats that Trump has "lit into" already. Democrats in states Trump won "need huge numbers of Trump voters to pick them if they want any hope of winning," the strategist said. "Those efforts will have a huge impact and they already are."
In the most competitive House races, moderate Republicans up for reelection want to keep Trump at a distance, and the president, who has been worried a Democratic-controlled House would have the power to impeach him, has mostly been obliging. Instead of campaigning with those endangered Republicans or publicly wading into their races, Trump has followed the GOP playbook and kept the focus on attacking House Minority Leader Nancy Pelosi.
His last two campaign rallies, meanwhile, have been far from places where he could do any damage in tough House races: Tennessee and Indiana, both states with competitive Senate races that Trump carried in 2016. A source close to Trump involved in midterm planning said it's clear Republicans are running very different campaigns in close House races versus Senate races, and Trump will be used accordingly. "It's a base election in the Senate and a swing in the House," the source said.
Trump is also helping Republican candidates and party committees with fundraising that would even benefit vulnerable GOP incumbents who want to show their constituents independence from the president. Trump will travel to Dallas on Thursday for a high-dollar event benefiting two major vehicles for Republicans' 2018 strategy: the Republican National Committee and Trump's 2020 campaign.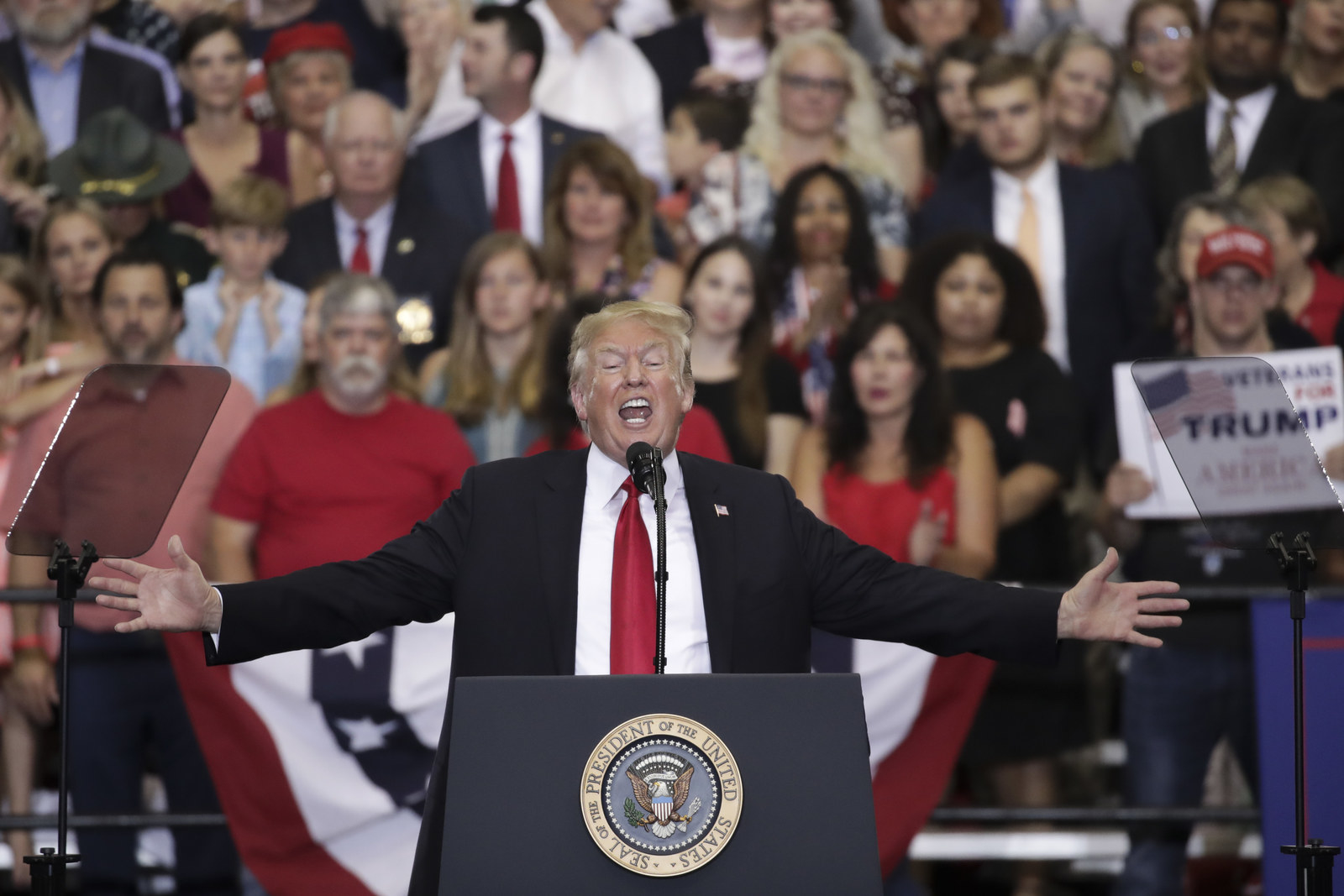 The fundraiser will be his third event focused on the midterms just this week. The president took the stage in downtown Nashville to support the GOP Senate candidate Marsha Blackburn Tuesday night after holding a fundraiser for her. His supporters waited in the rain in lines hours before the rally, as groups of tourists stopped by the area's country music landmarks.
Although Trump didn't bring up the biggest controversy of the day — ABC Entertainment canceling Roseanne, a show he has praised as being "about us," after its lead actor made a racist comment — the president in his hour-long remarks pushed his spy theory again, called Pelosi an "MS-13 lover," accused other Democrats of "taking care of criminals," and bashed rapper Jay-Z for using "filthy language." In between those comments, though, he also tried to label Blackburn's opponent Phil Bredesen, a popular former governor of the state, as a generic Democrat who has little to show for it and made his midterm pitch to his strongest supporters. "I never heard of this guy," he said of Bredesen, as his supporters laughed and cheered. "Who is he? He is an absolute, total tool of Chuck Schumer."
"The fact is that the Democrats are lousy politicians," Trump said. "They are lousy on policy... But the one thing they do is they stick together. So we need more Republicans." After the rally, Bredesen's campaign responded by saying that the Democrat "is an independent thinker" who would work with Trump.
Earlier this month, Trump followed a similar outline of what is shaping up to be his 2018 stump speech during his rally in Indiana, where he called Democratic Sen. Joe Donnelly "sleeping Joe" and a "swamp person." "You have to work every day between now and November to elect more Republicans so that we can continue to make America great again," he told his supporters there, while praising Donnelly's challenger, Mike Braun, as a "winner."
And at an anti-abortion event last week, Trump spelled out the need for more Republicans in Congress in a way that would connect with the crowd. "So the story is, '18 midterms — we need Republicans, and that will happen," he said, going on to talk about failed GOP attempts to pass a 20-week abortion ban and the Democratic senators who have voted against it. "The United States is one of only seven countries in the world to allow elective abortions after 20 weeks, when unborn babies can truly feel the pain. Yet Democratic senators like Jon Tester, Heidi Heitkamp, Claire McCaskill, Debbie Stabenow all voted against the 20-week bill and in favor of late-term abortion."
Trump kept his talk of the Russia probe to a minimum at the Nashville rally on Tuesday. But before the event and over Memorial Day weekend, Trump tweeted 32 times, expressing his growing frustration and paranoia over special counsel Robert Mueller's probe, floating a new conspiracy theory regarding Mueller meddling in midterm elections, quoting guests on Fox News programs, and accusing the media of running "the most highly sophisticated & dishonest Disinformation Campaign in the history of politics."
Recent polling shows a decline in Mueller's credibility among GOP voters, which those close to the president see as a win. But there's concern about the unpredictability of the probe and how it could shape public opinion heading into the elections.
Many of Trump's supporters who BuzzFeed News talked to at the Nashville rally said they didn't mind Trump being "outspoken" on Twitter. But there were some, like Dennis Johnson of Lenoir City, Tennessee, who wanted to see him focus just a bit more. Johnson described himself as a big Trump supporter, thoroughly praised the president, and said he could help candidates like Blackburn. But he didn't understand why Trump was tweeting about those topics when he could be talking up his accomplishments, Johnson said.
"I do wish he would just calm down a little bit."
Alexis Levinson contributed reporting.