Trump Is Sticking With The Establishment For His Supreme Court Picks
"Nobody is particularly thrilled but they understand that Kavanaugh is likely the most confirmable candidate."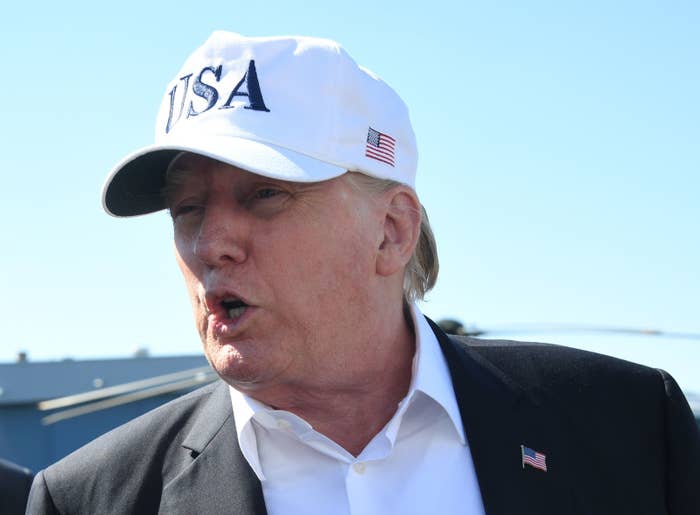 President Donald Trump is setting aside his deep-seated skepticism of Bush family allies for what he has described as "the most important decision a US president can make" — nominating a Supreme Court justice.
Trump's Monday pick of Bush administration alumnus Brett Kavanaugh shows again that although the president has been eager to take on establishment Republicans on issues like trade and immigration, he is relying on them for his Supreme Court nominations and is content playing it safe.
Every Republican senator and three Democrats voted to confirm Trump's first court nominee, Justice Neil Gorsuch, last year, and White House officials and outside groups are already hailing Kavanaugh as being in the mold of Gorsuch.
"He is a brilliant jurist, with a clear and effective writing style, universally regarded as one of the finest and sharpest legal minds of our time," Trump said as he announced his selection Monday night. "And just like Justice Gorsuch, he excelled as a clerk for Justice Kennedy."
Trump routinely cites Gorsuch's confirmation as one of his biggest victories in office — one that Senate GOP candidates are expected to bring up this fall as they try to defeat 10 Democratic senators from states that the president won, making the case that Trump needs more Republicans in Washington to appoint more conservative justices. And nominating another establishment conservative, and potentially getting him onto the court, could give Trump another boast and bit of reassurance for Republicans wary with his tumultuous presidency when he goes campaigning ahead of his own reelection.
Kentucky Sen. Rand Paul has expressed some reservations about Kavanaugh, but even with his long track record as a judge, he is still expected to be easier to get through the Senate than someone like Judge Amy Coney Barrett, who was believed to be among Trump's final four. Barrett would have riled up the GOP base but triggered a contentious confirmation process.
Kavanaugh, like the other judges Trump said he was considering, came from a list of 25 potential nominees that two Washington, DC, conservative groups — the Federalist Society and the Heritage Foundation — helped create. Trump has heralded versions of the list since his 2016 campaign, using it to give some measure of comfort to establishment conservatives who had been queasy about backing him.
There was quick and clear relief in some of the Republican establishment after Trump announced his decision. Sen. John McCain, who Trump has frequently targeted, called Kavanaugh a "fair, independent, and mainstream judge." Jeb Bush, who Trump mocked during the 2016 campaign, said Trump's choice was "excellent."
A whisper campaign driven by conservatives against Kavanaugh was well underway last week. And some Trump loyalists had said they were puzzled Kavanaugh was a top contender, given the judge's deep ties to the Bush family.
"He is from Washington. He is the establishment pick. He is the Bush pick," former Republican senator Rick Santorum said of Kavanaugh on CNN Monday night. He later added, "It just seems like Trump in this case just bowed to the elite in Washington."
But most Trump supporters are expected to fall in line because they still recognize the nomination as a major opportunity for all Republicans.
"Most people in the Trump orbit are content with the move — nobody is particularly thrilled but they understand that Kavanaugh is likely the most confirmable candidate," a former White House official told BuzzFeed News after the announcement.
"This takes an issue off the table for Democrats in November and allows the president to keep selling economic and foreign-policy successes."
A source close to the administration also pointed out that Thomas Hardiman, one of the other top contenders, could have been a problematic pick for Trump's base because of his rulings on certain immigration-related cases. And it's hard to be a conservative jurist — qualified enough for the Supreme Court — without any Bush or GOP establishment connections at all.
Asked how Trump made his selection, White House press secretary Sarah Sanders simply said, "He laid out what the qualifications and the criteria he was looking for were and Kavanaugh met them." Sanders called Kavanaugh an "extremely qualified" candidate who should sail through the nomination process. White House officials said they are expecting Kavanaugh to get confirmed before the Supreme Court's next session in October.
Republican senators in attendance for the announcement in the East Room of the White House Monday evening gave Kavanaugh a standing ovation, with both establishment Republicans and more conservative ones praising him as they left.
Former president George W. Bush nominated Kavanaugh to serve on the US Court of Appeals in Washington, DC. He also served as staff secretary to Bush for three years. Before that, he also worked in the solicitor general's office in President George H.W. Bush's administration. He's also a graduate of Yale Law School, like three other justices on the court. (The other five went to Harvard.)
Tensions between the Trump and Bush families escalated in recent weeks, as former first lady Laura Bush and Trump's 2016 opponent Jeb Bush publicly criticized Trump's immigration policy. The president's eldest son, Donald Trump Jr., then canceled a scheduled appearance at a fundraiser for Jeb Bush's son, George P. Bush.
White House staffers with any connection to the Bushes have also been treated with distrust by Trump loyalists for months, as the number of aides close to the president has dwindled significantly.
But the Bush family appeared happy Monday night. The younger President Bush called Trump's pick "outstanding" in an immediate statement, and labeled Kavanaugh "a man of the highest integrity."