Donald Trump is the presumptive Republican nominee for president. Paul Ryan is the Speaker of the House, the most powerful elected official for the GOP. Ryan isn't ready to endorse Trump because of some of his policy positions and his brash demeanor, which has led to ~tension~ and questions about the future of the party.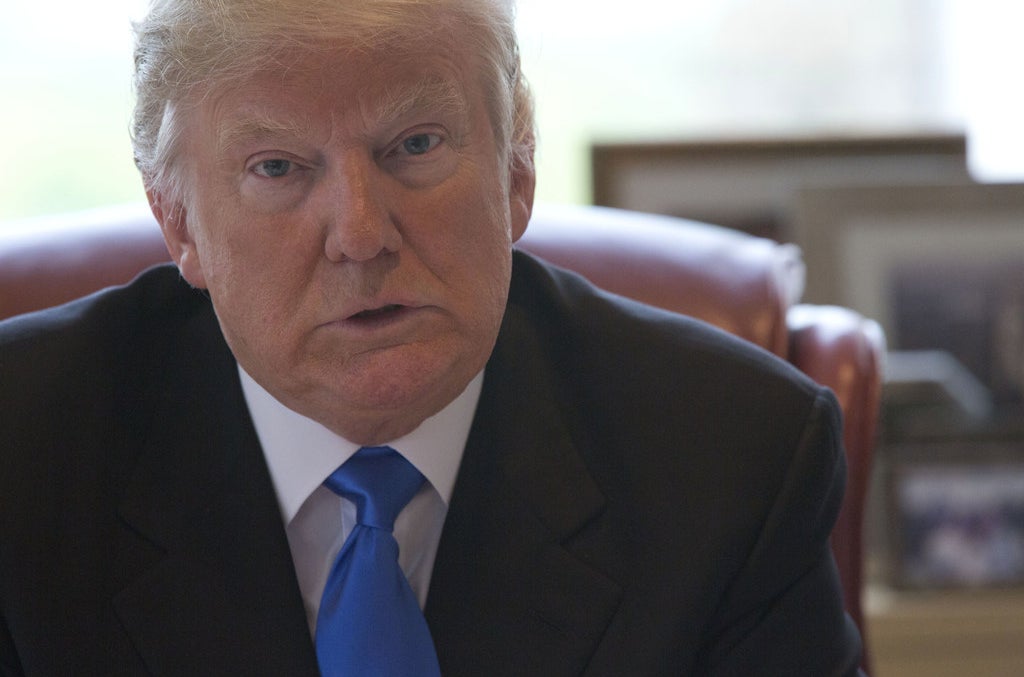 So the two set a meeting for Thursday morning at the Republican National Committee headquarters in Washington, D.C. — will they hammer out their differences?
Here is the moment Trump's motorcade arrived in an alley next to the RNC.
Then Trump arrived.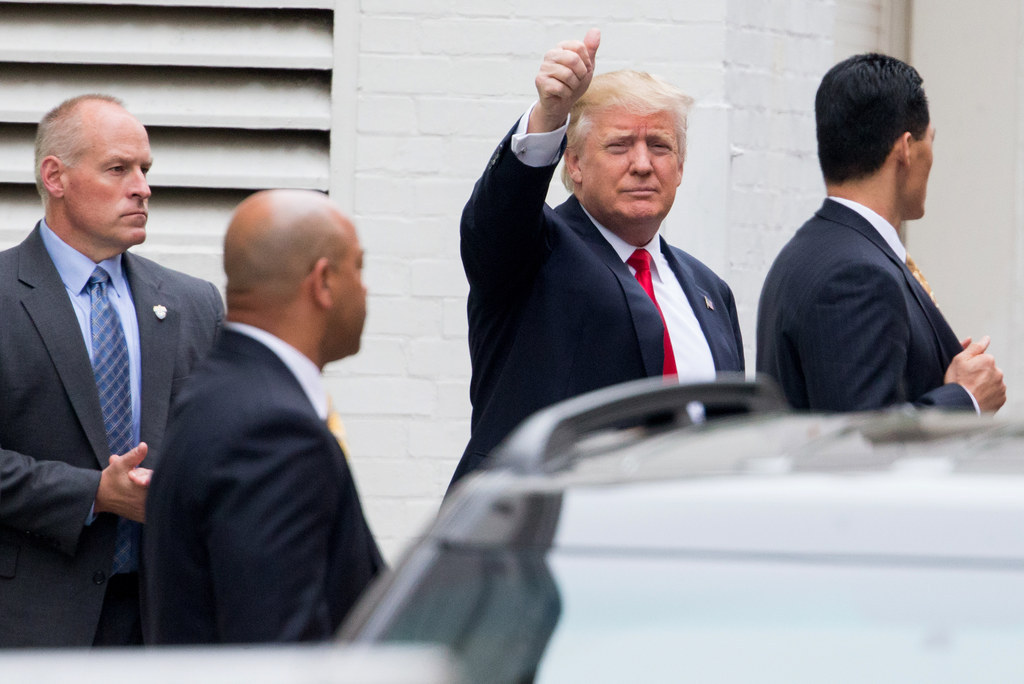 And accordingly, everyone freaked out.
Reporters freaked out.
Cable news went to DEFCON 1 wall-to-wall coverage.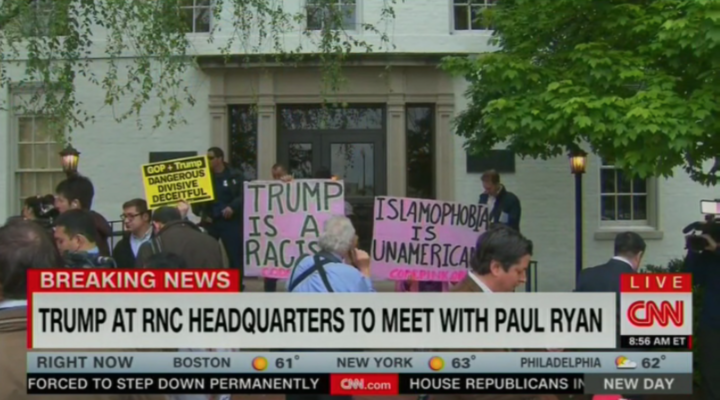 These are reporters across the street, waiting for the perfect shot of two men who never appear in public, ever.
Trump protesters freaked out.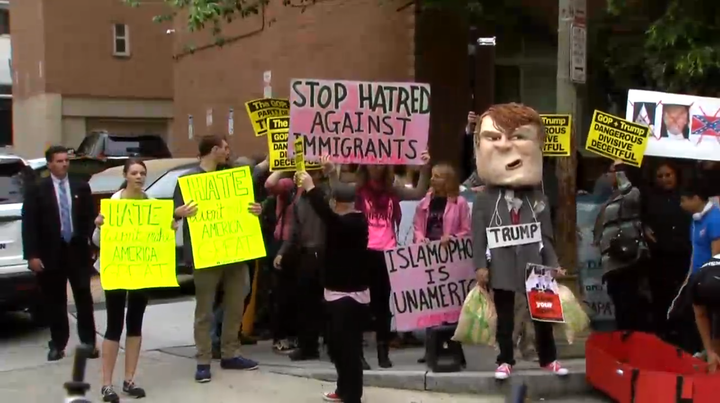 And do not forget Trump supporters, who also freaked out.
This guy brought a Shofar.
He sings too! He stole the show.
This patriot had enough of both sides, and brought his bagpipe to drown everyone out.
At one point the protesters and supporters couldn't decide who was friend or foe.
Even our elected leaders dropped all pretense of being above this fray.
Down to the nitty-gritty:
Many Republican members of Congress circulated nearby during the meeting, including Rep. Lee Zeldin, from New York, who supports Trump.
Zeldin told reporters he believed Trump and Ryan would work it out.
"I don't believe that at the end of the day there's going to be more division, I believe there's going to be unity," Zeldin said.
Asked if he thinks Trump needs Ryan's endorsement, Zeldin said, "I'm not someone who believes that there's any one person, one endorsement that will decide whether or not you get elected president." But, he added, he thought Trump's candidacy would be "strengthened" by Ryan's endorsement.
Rep. Darrell Issa, from California, who originally endorsed Marco Rubio but has come out in support of Trump, said he had talked to Trump earlier and "he's feeling very good. He came here realizing he won the nomination as a rebel but now he has to be a unifier and that's a slightly different role."
"Everyone has a right to endorse or not endorse somebody," Issa said of Ryan. "The people that we have to be vigilant on are the people who took a written pledge to endorse," he said, citing Sens. Lindsey Graham, from South Carolina, and Ted Cruz, from Texas, who both competed against Trump for the Republican nomination this cycle.
"Donald Trump has to go from 'I'll fund my own campaign' to 'no, I'm the standard bearer, I will participate in raising large amounts of money to make sure we have offices that will re-elect senators, elect senators, re-elect house members, elect house members,'" Issa said.
Issa said he expected Ryan to come around, "I do expect that Paul Ryan will be supporting our nominee, I expect that to be Donald Trump, and I expect Paul Ryan to be very happy making that speech and presenting the next president of the United States."
Issa had to hop a fence to even get in to the RNC building:
After about an hour, the meeting ended. The head of the Republican National Committee declared it Great!
Ryan and Trump released this joint statement:
The United States cannot afford another four years of the Obama White House, which is what Hillary Clinton represents. That is why it's critical that Republicans unite around our shared principles, advance a conservative agenda, and do all we can to win this fall. With that focus, we had a great conversation this morning. While we were honest about our few differences, we recognize that there are also many important areas of common ground. We will be having additional discussions, but remain confident there's a great opportunity to unify our party and win this fall, and we are totally committed to working together to achieve that goal. We are extremely proud of the fact that many millions of new voters have entered the primary system, far more than ever before in the Republican Party's history. This was our first meeting, but it was a very positive step toward unification.
And while Ryan declined to endorse Trump after the meeting, here is our reporter's take on what it will all eventually mean:
Trump's team also met with Ryan's full House leadership team. House Republican Conference Chair Cathy McMorris Rodgers, from Washington, released this statement, which is not a formal endorsement:
Today was a very important first step forward to unify as Republicans and build an inclusive coalition of voters to defeat Hillary Clinton which would only be another term of Barack Obama's top-down, government-knows-best policies. As the highest-ranking Republican woman in Congress, the mother of a son with Down syndrome, and a friend to people from all walks of life, I offer a unique perspective. Today was my first opportunity to discuss and impress upon the presumptive nominee the importance of championing a core value of the Republican Party: dreaming big for everyone and turning its back on no one.
Ryan then held a press conference, where he seemed to describe his meeting in the same terms one would describe a blind date, saying Trump "had a very good personality" and that "he is a very warm and genuine person." He added, though, "We really don't know each other."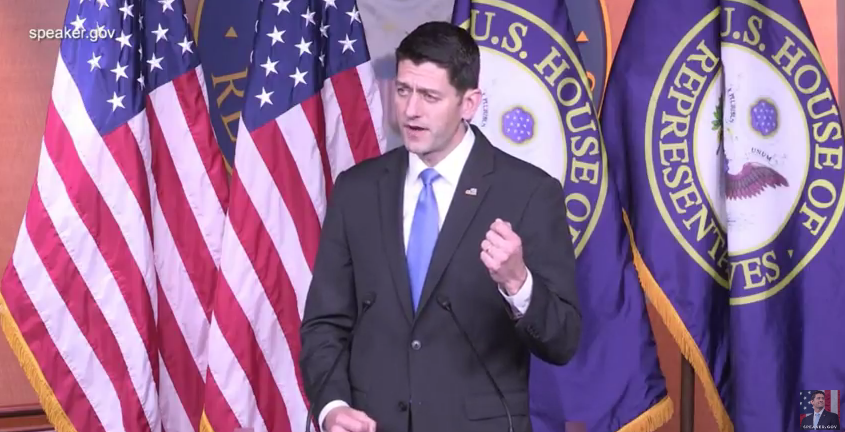 Ryan began by saying that the overall goal is to beat Hillary Clinton in the general election.
He said he was "very encouraged" by the meeting. "It was a good, encouraging and productive conversation."
"I was very encouraged from what I heard from Donald Trump today."
However, the speaker did not give a definitive answer on whether he was endorsing Trump, saying, "I think this is going in a positive direction and this is a first encouraging meeting."
"It's important that we don't fake a unification process," Ryan said.
While saying that that he heard a "lot of good things from our presumptive nominee," Ryan acknowledged the differences between the two.
"It's no secret we've had our differences." He said that it was not possible to "litigate our differences in 45 minutes."
Ryan did not provide specifics about his conversation with Trump but said they discussed their differences and "the core principles that tie us all together." He said they talked about "life," "the Supreme Court and things like that."
And when asked what The Donald was like in person, he said, "I thought it was a very good personality."
"I had a very pleasant exchange with him," he added.
Ryan reiterated that the two have "policy disputes."
"There are no two ways about it," he said, adding that going forward they would "go deeper through the policy weeds."
And he added that Trump's success during the primary season was "unparalleled" and a "remarkable achievement."
At the end of the day, how crucial was Ryan's summit with Trump?