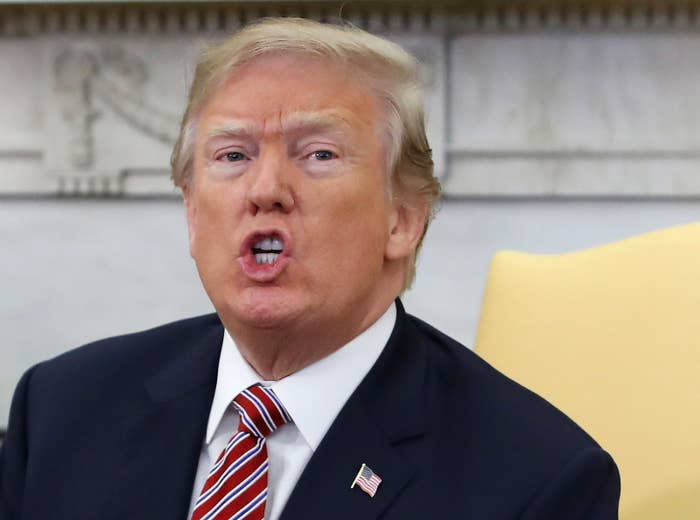 Republicans inside and outside the White House are more disturbed than usual by President Donald Trump's off-the-cuff remarks about the Russia investigation. His aggressive response to federal agents raiding his personal attorney's office and his comments to reporters not ruling out firing special counsel Robert Mueller, they fear, indicate Trump's willingness to go down a self-destructive path.
Sources close to the administration who had been in touch with officials described a White House that was at a "high level of freak-out" Tuesday morning, as one put it. Putting aside whatever comes out of Trump's longtime attorney Michael Cohen getting raided, another source said plainly, "I am worried about [Trump's] response."
Republican leaders on Capitol Hill, meanwhile, are trying to hold tight: Carefully warning the president not to do anything drastic, but not taking any proactive steps to prevent him from doing so.
After closely following cable news coverage of the Cohen raid Monday afternoon, Trump told reporters it was a "disgrace," as he met with his military leadership on Syria and other topics. Trump also vented extensively about Mueller, his attorney general, Jeff Sessions, for recusing himself from the Russia investigation, and Deputy Attorney General Rod Rosenstein, who is overseeing the investigation. In response to a shouted question from a reporter about whether he would fire Mueller, Trump said "many people" had suggested he should, adding: "We'll see what happens."
A former White House official said the president's comments definitely indicate that firing Department of Justice officials involved with the Russia investigation is at the top of his mind, adding to the many issues Trump aides already have to deal with as the president even more frequently goes off script. Most of the aides the president trusted most and who could keep him from making rash decisions have recently left the administration.
"Jesus take the wheel," the former official said.
The president sent two all-caps tweets early Tuesday morning, describing the Mueller investigation — yet again — as "A TOTAL WITCH HUNT." Trump had already criticized Rosenstein, whom he would likely have to fire first to get rid of Mueller, extensively Monday, but more reports Tuesday made Rosenstein even more of a target. The New York Times reported that Rosenstein had signed off on the raid, and USA Today said he disqualified the top interim prosecutor, a Sessions appointee.
Asked at Tuesday's White House press briefing if Trump believes he has the power to fire Mueller, press secretary Sarah Huckabee Sanders said he "certainly believes he has the power to do so," citing "legal experts." Sanders also responded to questions about Rosenstein's role in the Cohen action and how Trump is thinking about his role at the Department of Justice, saying, "certainly the president's voiced his frustrations, but beyond that, I don't have anything else."
Following Monday's raid, the White House also announced Tuesday that the president would cancel his foreign trip to Peru and Colombia, so he could monitor the aftermath of and response to an apparent chemical weapons attack in Syria. But staying in Washington would also give the president more time to watch cable news and vent about Mueller. Tuesday morning already showed what the president can expect to see on his preferred channel: Rep. Matt Gaetz, a fierce Trump ally, told Fox News that he believes "there is a sufficient basis to fire Rosenstein in particular and, likely, the attorney general for not doing his job."
Sanders didn't provide an explanation for the cancellation beyond saying that the president wants to stay in the country "while there are a lot of developments around the world."
Scott Jennings, former aide to Senate Majority Leader Mitch McConnell and President George W. Bush, said he had heard from Republicans who believe that "any kind of attempt to decapitate the Department of Justice or Mueller or Rosenstein would be the functional end of this presidency — and that's the message that's being sent be some Senate Republicans."
"I hope he takes a beat and he doesn't do anything drastic," Jennings said. "And for DOJ's sake...if this is not airtight and if this is messed up in any way, that's going to be a national scandal."
For Republicans gearing up for reelection, Jennings said Trump's comments remind them that the Mueller investigation is "like a piano hanging with a wire over your head and you just don't know when it's going to fall."
Many Senate Republicans said Tuesday they did not believe Trump would fire Mueller. "He's just tweeting his frustration. He didn't say he'd fire him, so I think we're fine," said South Carolina Sen. Tim Scott.
But his statements this week have gone beyond just tweets, and GOP senators had clear warnings for Trump.
Oklahoma Sen. James Lankford, a member of the Senate Intelligence Committee, said firing Mueller would be "politically horrible," while Sen. John Thune, one of the chamber's top-ranking Republicans, said it would be "a big mistake." But both said they did not believe Trump will take that action.
Similarly, Iowa Sen. Chuck Grassley, the chair of the Senate Judiciary Committee, warned that "it would be suicide for the president to want to talk about firing Mueller."
"I have confidence in Mueller, the president ought to have confidence in Mueller," he said on Fox Business on Tuesday morning.
But even as Trump muses to cameras about the merits of firing Muller, there is still almost no appetite in Republican ranks to pass legislation that would protect the special counsel. "I haven't seen a clear indication that we need to do something to keep him from being removed," McConnell told reporters during a Tuesday press gaggle.
Sen. Mike Rounds said moving on one of the bills that would limit Trump's ability to fire Mueller would just raise tensions at a time when they are already high. "You can understand, that would frustrate any of us to have our personal attorney's offices raided," Rounds said. "I think we should give him the credit of knowing what good judgment would suggest."
North Carolina Sen. Richard Burr, the chair of the Senate Intelligence Committee, told reporters he's not concerned about the president firing Mueller. "He'd have to fire Rosenstein first," Burr said. "I'm not worried."
The president could also just veto the legislation, making what would likely already have been a tough passage largely symbolic.
Democrats, however, pointed to Trump's new comments as cause for their Republican colleagues to take action. Virginia Sen. Mark Warner, vice chair of the Senate Intelligence Committee, said Congress should "absolutely" do something now to protect Mueller and that he agreed with South Carolina Sen. Lindsey Graham's comments about how Trump firing Mueller would be "the beginning of the end of this presidency."
"I think the level of irrational comments that are coming out, flailing at the Justice Department, not understanding basic rule of law, this is — I can't think of a time in my lifetime when we've seen these kind of activities," Warner said.
Lissandra Villa contributed additional reporting to this story.