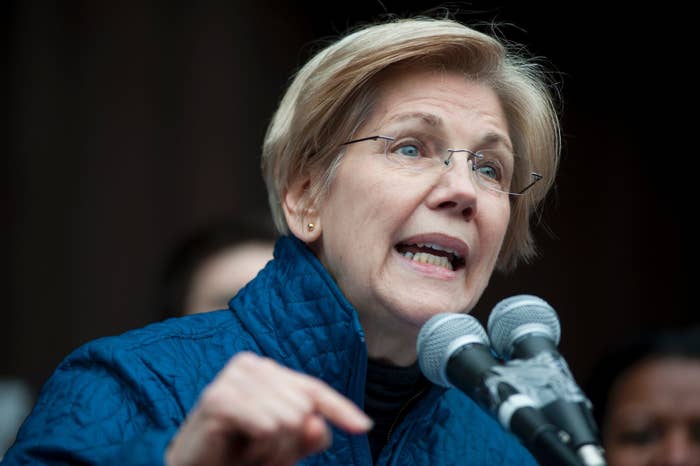 WASHINGTON — Senate Republicans led by Majority Leader Mitch McConnell voted Tuesday evening to keep liberal firebrand Massachusetts Sen. Elizabeth Warren from continuing to speak out against fellow Sen. Jeff Sessions' nomination to be attorney general.
The vote, 49–43, came after McConnell interrupted Warren as she read a letter that Coretta Scott King, the widow of civil rights leader Martin Luther King Jr., wrote in 1986 explaining her "strong opposition" to Sessions when he was up for a federal judgeship.

After Warren appealed the ruling, Sen. Steve Daines, who was presiding over the Senate said that "the senator will take her seat."
Warren had been warned against violating the rule earlier in her speech. "I am surprised that the words of Coretta Scott King are not suitable for debate in the United States Senate," she responded to McConnell's interruption.
The exchange and following vote spurred #LetLizspeak on Twitter, re-energizing the progressive base that has been disappointed by her votes in favor of some of Trump's cabinet nominees.
Democrats requested an appeal of McConnell's ruling, but failed to get enough votes to overcome Republicans. That vote failed 49–43 before Democrats pushed for another vote, allowing Warren to proceed with her speech (and continue to participate in the next 21 hours of debates on Sessions' nomination), but that vote failed as well, this time on a 50–43 vote.

Both Democrats and Republicans gave speeches attacking the other party, following the vote. Utah Sen. Orrin Hatch spoke up in favor of Sessions, while also rebuking the conduct of his colleagues and telling them to grow up.
"The fact is we gotta treat each other with respect otherwise this place is just going to devolve into a jungle," Hatch said. "To attack a fellow senator without reservation seems to me the wrong thing to do. It may not have risen to the violation of the rule, but it came close to it."
Later in the night, Oregon Sen. Jeff Merkely read from the same letter that Warren had. He avoided many of the portions that were mean to Sessions, circumventing the rule that specifies a senator cannot impugn another senator on the Senate floor.