The Republican Establishment Keeps Losing Its Grip
It hasn't been a good month for the establishment — even with their supposed advantages of fundraising and controlling speaker elections and debate rules.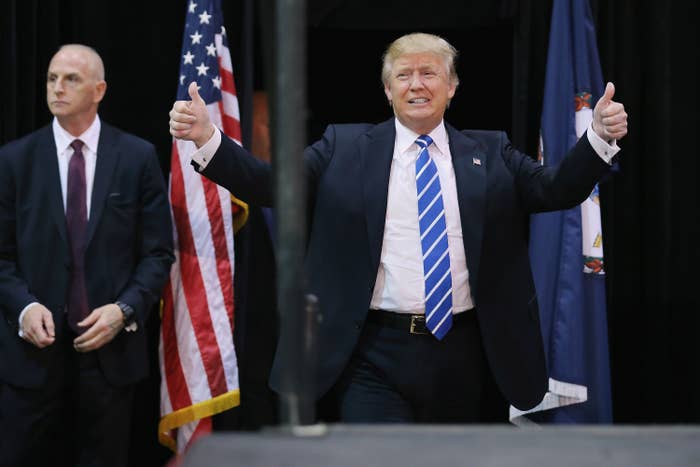 WASHINGTON — Establishment Republicans can't catch a break.
The House Republican conference has fallen into turmoil, still without a clear successor to John Boehner. CNBC has caved into demands for the third presidential debate after Donald Trump and Ben Carson threatened to pull out the event in a disastrous call with the Republican National Committee on Thursday afternoon. Trump's "summer fade" still hasn't happened yet. And now some top-tier candidates are struggling to raise campaign cash — or, at least, they certainly aren't blowing away their conservative rivals.
Carson, who brought in $20 million, outraised all GOP candidates. And Sen. Ted Cruz — seen as the leader of the conservative movement in Congress — ended September with nearly $14 million in the bank, or the most of any GOP contender. By comparison, former Florida Gov. Jeb Bush raised $13.4 million and Sen. Marco Rubio had nearly $6 million.
Even Trump, who has said he wants to self-fund and doesn't want to be beholden to donors, raised nearly $4 million from donors who gave $200 or less.
The traditional advantages of the establishment — superior fundraising and favorable debate rules — don't seem to be holding now. And the latest fundraising reports, combined with disarray in the House, ahead of an election year after two terms of a Democratic president, has caused a lot of uneasiness within the party.
Minnesota billionaire GOP donor Stan Hubbard acknowledged it was "healthy" for the party to go through internal debates, but said conservatives could mess up 2016 for Republicans. "You can't be like a little child kicking your feet and saying, 'I want it my way.' That's not helpful. If they're stupid and foolish enough to attack whoever ends up being the Republican nominee, we will have a Democratic president."
Hubbard, who previously supported Wisconsin Gov. Scott Walker and contributed to his super PAC, has since given the maximum individual contribution amount to five candidates. But told BuzzFeed News he won't be giving to any more presidential super PACs until the nominee is chosen.
California GOP Rep. Devin Nunes recently went so far as to suggest conservatives should break off into their own party if they can't unite. "I would strongly urge those who don't want to be part of a caucus structure within our party, that they should form their own party," he told reporters last week as some right-wing members interviewed candidates for speaker behind closed doors.
Conservatives celebrated a major victory when Boehner announced he was stepping down last month. The good times have continued to roll for them since. House Majority Leader Kevin McCarthy, who was widely expected to replace Boehner, stunned his colleagues when he told them last week he was dropping out of the race. One of McCarthy's reasons for dropping out: rule changes that the Freedom Caucus had demanded.
"They've lost two speakers in two weeks," said Kansas Rep. Tim Huelskamp of the Republican establishment after McCarthy dropped his bid. "This is the introspection we've asked for — demanded — for years. This frustration was bubbling."
These divisions aren't helping the party nationally, Republican strategists admitted. Some argue that the election is far enough away that it won't matter, ultimately. But the problem with the divisions are grounded in very distinct views about the party, and deep tensions.
"There's no question that any intra-party fighting is unhelpful heading into an election year and it's sad that interest groups like Heritage Action and candidates like Ted Cruz are trying to raise money by attacking Republicans and sowing that discord," said Brian Walsh, one of those strategists who previously worked in the House and Senate and the National Republican Senatorial Committee.
"The good news though is that the election is still 13 months away and obviously the Democrats have many problems on their own side," he said. "So hopefully these issues will work themselves out and Republicans can go on offense in 2016."
Not everyone agrees that the time between now and the election to smooth over the situation — or that it can be smoothed over. Trygve Olson, a Republican strategist formerly aligned with Rand Paul, argued that the struggle in the House of Representatives over the speakership is a sign that the party is in for an even more epic struggle when it comes time to nominate a presidential candidate at next year's Republican national convention.
"I see what's going on with the House as maybe the canary in a coal mine that sets people off that this could be repeating itself on a far bigger scale with the nomination process," Olson said. "We're moving into uncharted territory. I really think the congressional thing is the canary in the coal mine. I believe that the nomination process could lead to somebody who gets their ass kicked, but I believe it's more likely that it leads to complete chaos in Cleveland."
Kevin Madden, a GOP strategist and former Romney adviser, said there have been concerns that the other campaigns have ceded too much ground to Trump. "Every day we take a step away from the excuse 'it's still early" and a step towards 'it's too late' in the minds of many donors and party leaders," he said.
Some conservatives believe the situation could have a much more positive outcome, especially for Cruz. Erick Erickson, the conservative writer and radio host, compared this cycle to the 1980 presidential election in which Ronald Reagan won despite opposition from major establishment figures in his party.
"This election feels a lot like 1980 to me because there is much more unanimity among the challengers than the Establishment," Erickson wrote in an email to BuzzFeed News. "Sure you've got Trump, Carson, and Cruz all vying to be that outside guy, but I think they will consolidate more. The Establishment was divided between Walker, Bush, Kasich, Christie, Rubio, and Fiorina as their own outsider. They are still much more divided than the challengers."
"That's what makes this so unique and so much like 1980," he said. "The Establishment hasn't consolidated so quickly and the outsiders, though still plenty of them, are all showing that their second choice is still one of only three outsiders. That's why I think Ted Cruz continues to have an advantage between outsider sentiment and cash on hand."
Conservatives argue that their victories in recent weeks reflect a turning point in the tea party movement and are pushing the Republican Party to better represent its base outside the beltway. The House Freedom Caucus has been focusing on reforming the way the House operates to diminish the power of GOP leadership in the House, which the establishment wing believes could be dangerous for the whole party.
They are also trying to curb the establishment wing's money advantage in congressional races by asking candidates for speaker to pledge they will defend them against the U.S. Chamber of Commerce, which is expected to target conservatives in primaries this cycle.
A number of well-funded conservative outside groups such as Senate Conservatives Fund, Club for Growth, and Tea Party Patriots have also been bringing in millions to counter attacks from the chamber and other establishment-friendly groups.
Despite the growing unrest within the party, some Republicans believe it is now becoming business as usual and the chaos isn't something to be especially worried about.
Fred Malek, a top Republican fundraiser, pointed out that although "there is definitely a thirst for new faces or outsiders," establishment candidates like Bush, Rubio, and Christie can raise money without having to spend millions on direct mail just to raise money. Carson spent roughly $11 million just to raise his $20 million haul.
Republican strategist Ana Navarro, a Jeb Bush supporter, said: "It doesn't feel like a sudden crisis. Nobody is hiding under the bed, rosary in hand, waiting for the world to end."
"The dynamic of competing factions within the GOP has been going on for several years and by the looks of things will continue to go on," Navarro said. "It is what it is."