Donald Trump was in mixed martial arts promoter Ultimate Fighting Championship's corner in the early 2000s, when lawmakers equated the sport with "human cockfighting" and banned it in most states. He hosted two UFC events at the then-glitzy Trump Taj Mahal in Atlantic City with the taglines "Battle on the Boardwalk" and "Locked and Loaded."
Now the former co-owners of UFC are returning the favor: Lorenzo and Frank Fertitta III, who sold UFC for $4 billion in 2016, have quickly become among the president's biggest early reelection supporters.

"When UFC was struggling for survival, Trump had their back when a lot of others didn't," said a former Trump campaign official in explaining the relationship.
The brothers, like other GOP donors, according to a source close to them, have been impressed by Trump's "business-friendly" economic policies, including the overhaul of the tax code that passed last year.
The brothers, their families, and their company have already contributed about $5.3 million to Republican candidates and groups that disclose their donors since Trump took office. Their giving includes a $1 million check each — their largest single donation ever — to a pro-Trump super PAC, America First Action, the group's latest fundraising reports show.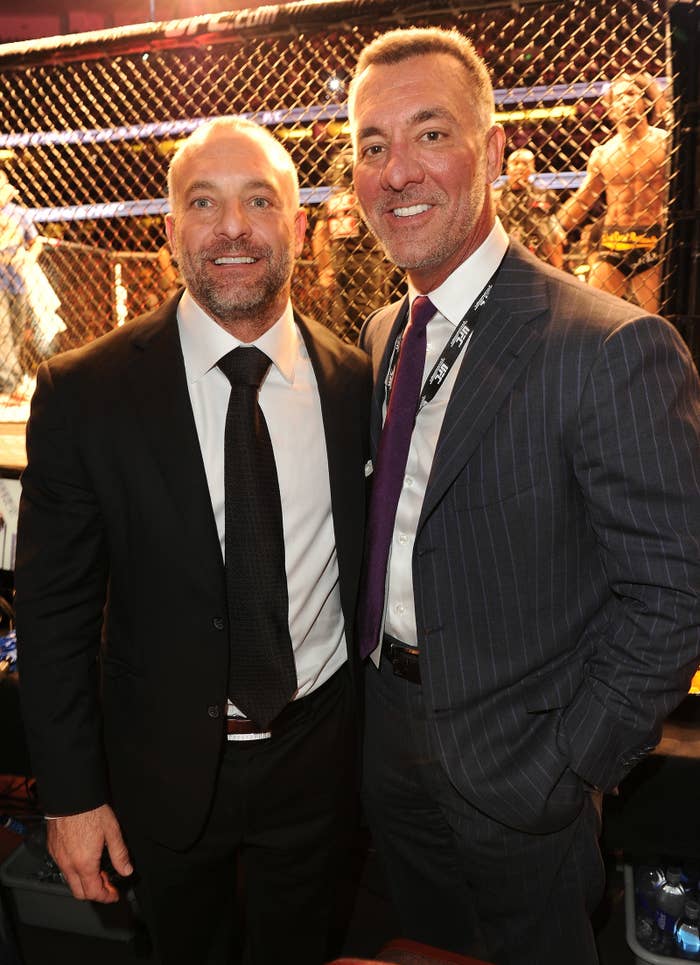 Frank Fertitta and Fertitta Entertainment also gave a combined $707,000 to the president's inaugural committee, bringing their contribution total since Trump's election to more than $6 million. Days before Trump took office, members of the family celebrated with administration officials, with Frank Fertitta III's daughters, Victoria and Kelley, posing for pictures with White House counselor Kellyanne Conway during the inaugural festivities.
The Nevada-based Fertittas have been active in their political giving for years, but Federal Election Commission records show they've significantly increased their contributions since Trump became involved in politics, and even more so since he took office. The brothers, who used to give regularly to the former Senate Democratic leader Harry Reid and Senate Democrats' campaign arm, have also become more overtly partisan, giving big to Republicans and no longer contributing as much of a share of their contributions to Democrats.
Before 2016, the Fertittas together gave less than $800,000 in each of the 2012 and 2014 election cycles and contributed a chunk of their giving to Democrats. In the last presidential race, they increased their giving to $5.7 million, and now — still eight months away from the midterm election — they have already surpassed their 2016 total.
Besides giving to the Trump group and inauguration, they've also contributed $500,000 each to a super PAC trying to protect the GOP majority in the Senate and hundreds of thousands more to Republican party committees.
"I do think that they see this as an opportunity to be closer to the administration."
A second source who knows the brothers put it bluntly: "I do think that they see this as an opportunity to be closer to the administration."
In addition to their contributions to the president and prominent GOP groups, a super PAC created in July of 2017 also appears to be tied to the Fertitta brothers. About two-thirds of the contributions, or $105,000, to the group Fighting for Nevada come from two companies owned by the Fertittas, Station Casinos and Zuffa, a BuzzFeed News review of federal records shows.
The super PAC has not yet spent any money on ads supporting candidates, but it has paid $60,000 this year to two prominent GOP firms, Virginia-based Tarrance Group and New Hampshire–based Norway Hill Associates, for polling and campaign consulting. It spent no money last year after getting $100,000 from Station Casinos as its only contribution. The consulting firms declined to comment.
The Fertittas are also affiliated with more traditional corporate political action committees, Zuffa PAC and Fertitta Entertainment PAC, which have historically given a few thousand dollars to both Republican and Democratic lawmakers. So far this cycle, however, Fertitta Entertainment has only given to Republicans, and the use of the new super PAC could allow the Fertittas to be politically engaged on a much larger level.
Zachary Moyle, a GOP strategist in Nevada and former executive director of the state party, said the Fertittas — along with most other gaming-industry billionaires — have traditionally given to both sides, so the family embracing the Republican Party in a big way is a change in their political activity.
"What usually you see with the gaming and casino crowd, they're active but they hedge their bets," Moyle said, adding that the Fertittas appear to be heading down the path Steve Wynn did under the Obama administration when he flipped to backing Republicans only and giving the party millions.
"Frankly, it's a big statement."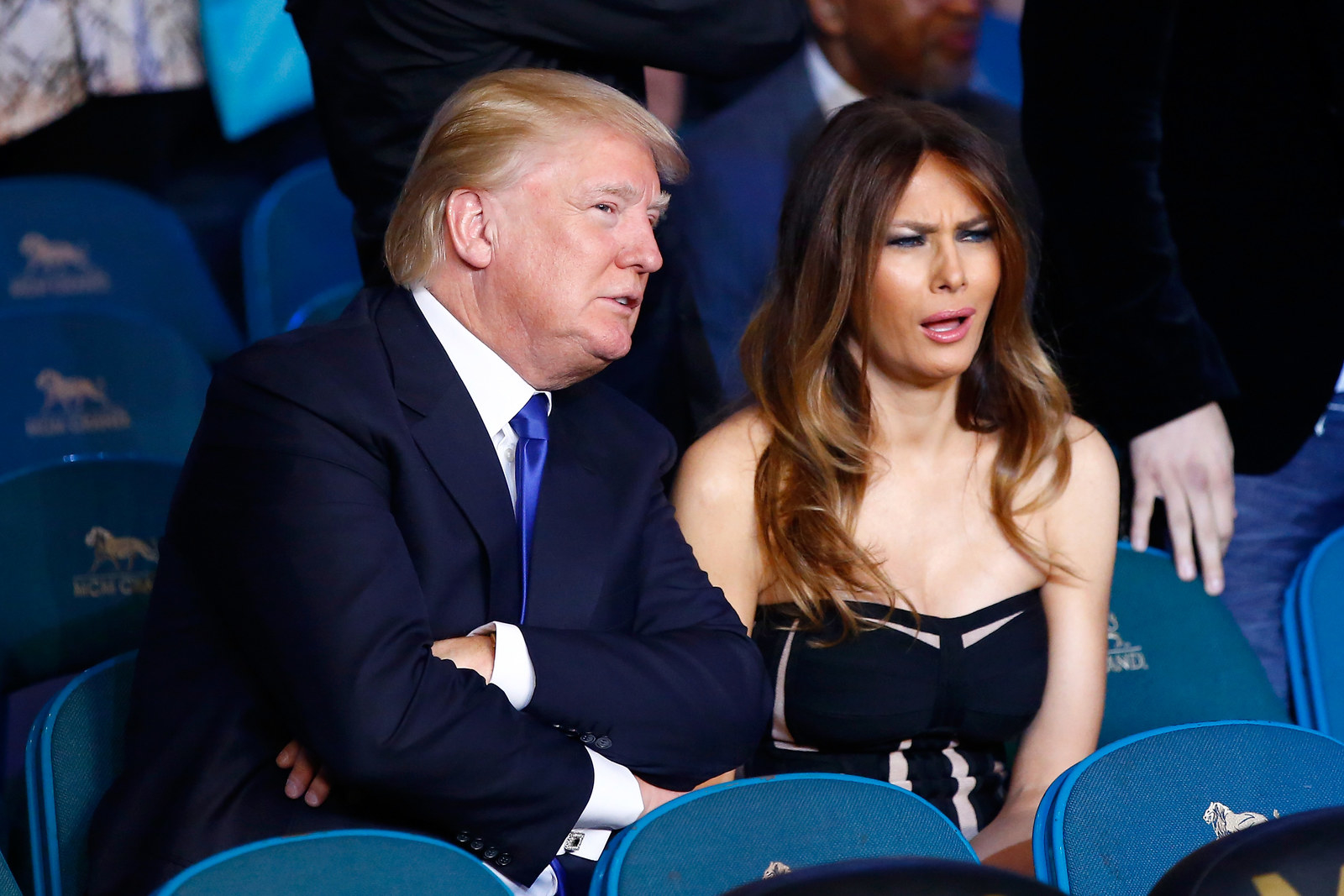 When the brothers first bought UFC in 2001 for $2 million, it "was probably the worst brand in the United States because of all of the negativity surrounding it," Lorenzo Fertitta said in a 2012 interview. In the late '90s, most states banned the sport after Arizona Sen. John McCain labeled it "human cockfighting" and sent letters to governors pushing for a ban.
The Fertittas — who inherited Station Casinos from their father and later expanded into UFC and now a private investment firm — say they established new fighting rules to get acceptance from state athletic commissions (no more eye-gouging, for example). They then invested in extensive lobbying on the state and federal levels to point to the new self-imposed rules in order to deregulate their sport.
Still, there are ongoing federal efforts for tighter control on mixed martial arts and the UFC. Some fighters and others have pushed for Congress to expand 2000's Muhammad Ali Act, which is intended to protect boxers, to include the mixed martial arts industry. Republican Rep. Markwayne Mullin, a former MMA fighter himself, reintroduced a bill expanding those protections in the House last January, and the House Energy and Commerce Committee held a hearing on the issue last November. The UFC is adamantly opposed to the measure and has spent hundreds of thousands of dollars to lobby against it.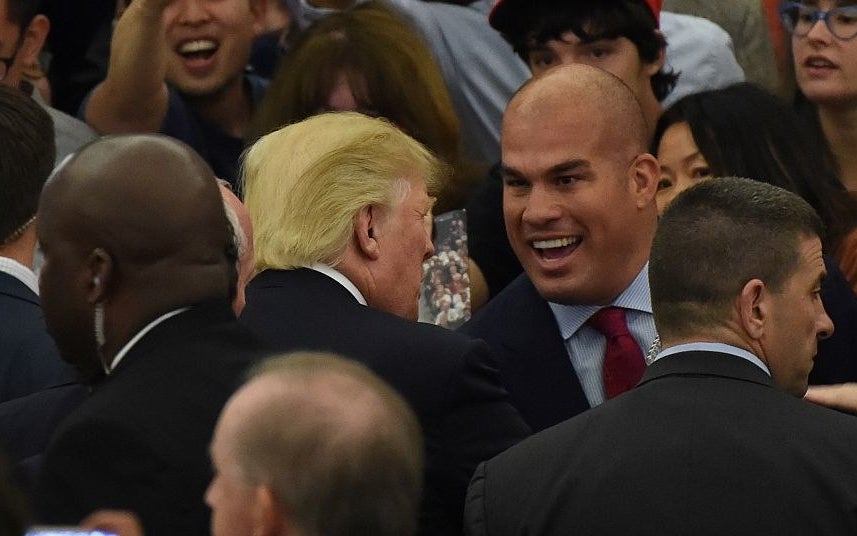 "The biggest thing when [the Fertittas] owned UFC was deregulation, especially in the sports world," said the source who knows the brothers, pointing to efforts to gain acceptance from states. "I think they see that with the administration, there's a whole bunch of regulations that they're pulling back. That's what aligns with what the administration is doing."
The source added that the brothers are "quiet leaders," and "are polar opposites" of Trump in terms of personality.
But Trump shares their history with combat sports. The president's involvement in World Wrestling Entertainment is well documented: He's made appearances at Wrestlemania and was inducted to the WWE Hall of Fame, and WWE's CEO Linda McMahon was among the president's major supporters in the 2016 election and now serves in his cabinet.
Trump, however, has also been interested in mixed martial arts for years and has personal connections with UFC and the Fertittas. Trump was inducted into the New Jersey State Martial Arts Hall of Fame as a "visionary" in 2013 — "Mr. Trump's involvement and acceptance of the sport greatly assisted the growth of MMA," the hall boasts on its website. Trump also invested in a competitor to UFC called Affliction Entertainment, which featured Trump lawyer Michael Cohen as its chief operating officer.
"There is no greater promoter in the world than Donald Trump. Whether it's real estate, whether it's luxury items, whether it's going to be mixed martial arts, there is no better promoter in the world than Donald Trump," Cohen said in a 2008 interview around the launch of Affliction Entertainment. It folded after about a year. In 2014, Trump briefly talked about the dangers associated with the sport but seems to have continued his support for it.
"Whether it's real estate, whether it's luxury items, whether it's going to be mixed martial arts, there is no better promoter in the world than Donald Trump."
There's also overlap between those who have worked for UFC and those who have worked for the administration: Steven Cheung, the White House's director for strategic response, was formerly a director of communications for public affairs at the UFC; and Michael Britt, formerly a lobbyist for UFC, worked as a senior adviser in the Department of Transportation under Trump. Britt now serves as a lobbyist for Fertitta-owned Station Casinos.
And the current president of UFC, Dana White, who first convinced the Fertitta brothers to buy UFC, considers Trump a mentor.
White has publicly been the most prominent UFC-affiliated supporter for the president. He spoke at the Republican National Convention in Cleveland in 2016 and was spotted, sources say, celebrating at Trump's election night party in Manhattan. He also said in an interview earlier this year that the president has called him "15, 20 times" since taking office.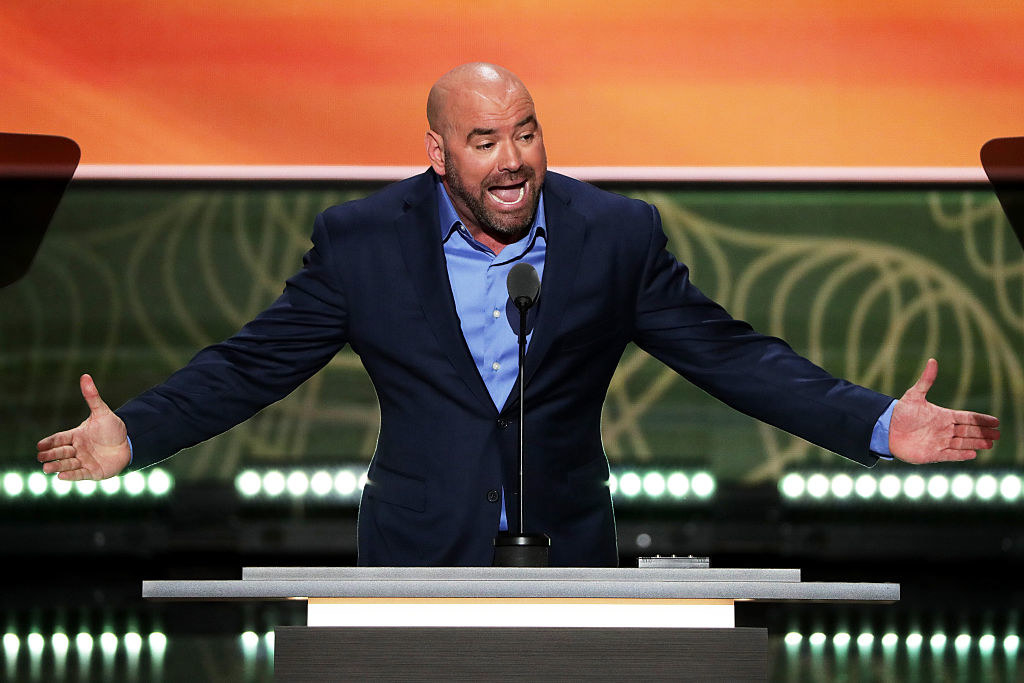 "In 2001, my partners [Lorenzo and Frank Fertitta] and I bought the UFC, and it was basically considered a bloodsport," White said at the Quicken Loans Arena in Cleveland. "State athletic commissions didn't support us. Arenas around the world refused to host our events. Nobody took us seriously. Nobody. Except Donald Trump. Donald was the first guy that recognized the potential that we saw in the UFC, and encouraged us to build our business."
"Donald championed the UFC before it was popular, before it grew into a successful business, and I will always be so grateful to him for standing with us in those early days, so tonight I stand with Donald Trump."
Despite his fondness for the president, White, who still owns a stake in UFC, has a new owner — with his own, very different political connections and history with Trump. In 2016, a top talent agency, William Morris Endeavor, closed the deal to buy UFC from the Fertittas. The co-CEO of the company is Ari Emanuel, a donor to former president Obama and brother of his former chief of staff Rahm Emanuel. He also happens to have been Trump's former Hollywood agent.
Days after Trump's surprise win, the president-elect met with the newly minted UFC owner at his private golf course in Bedminster, New Jersey, and called him "a very good friend."
But unlike the Fertittas who reciprocated their history with Trump with their support and millions in political contributions, Emanuel and Trump's current status is unclear. Emanuel's agency has recently been in talks to represent Michael Avenatti, the lawyer for adult film star Stormy Daniels, who is suing the president. ●