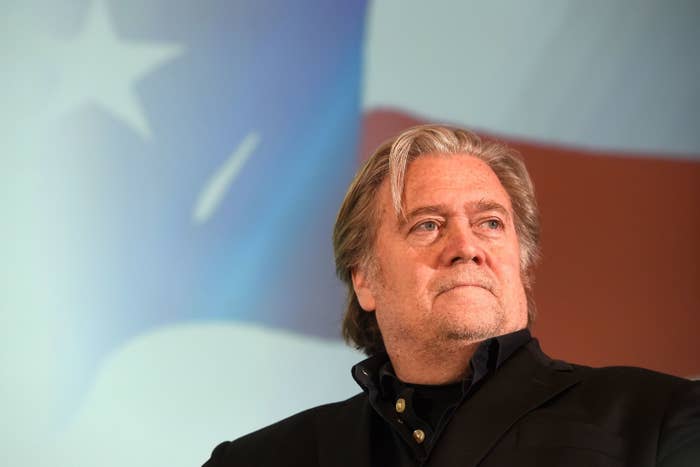 Steve Bannon is expected to launch a new project aimed at helping Republicans keep control of Congress, all in the name of preserving the power of his former boss President Donald Trump, who only a few months ago publicly denounced him.
Sources close to Trump so far say they don't know how closely the president is watching his former chief strategist. And there are mixed signals as to how easily Bannon will be able to reingratiate himself with Trump's inner circle, which he flamed out of earlier this year.

Bannon is expected to launch a "2018 war room," according to two sources, to try to shape the midterm elections messaging on behalf of Republicans. He is pushing Trump's advisers and congressional Republicans to make the possibility of impeachment under a Democratic-controlled House their core message.
It's unclear how the group is set up and who is funding the operation.
Bannon did not respond to a request for comment for this story. And former Trump adviser Sam Nunberg also declined to give any details of the project, but he told BuzzFeed News he will have a senior role in it, adding that Bannon's comeback would be inevitable after his efforts to help Trump in 2018. "Steve would have risen again," he said. "Sorry haters, you lost."
Nunberg said Republicans need to more effectively communicate that Democrats taking the House would mean impeachment hearings and the loss of Trump's agenda. "It will effectively destroy the White House because they will use every resource in their power to impeach the president on circumstantial bullshit that looks like John Nash's office in A Beautiful Mind," he said. "Overall, this is about protecting the House, explaining to the public, sending a signal through the noise that this is Donald Trump's first reelection."
Nunberg did not say when the new initiative would begin. In June, CNBC reported that Bannon planned to air ads in support of Trump ahead of the midterms.
In recent days, Bannon has done a series of TV and print interviews in which he's profusely praised the president and attacked his detractors — seemingly with an audience of one in mind.
"He's been nothing short of extraordinary," Bannon told Sean Hannity, a top Trump ally, last week on his show on Fox News, which the president regularly watches.
"Donald Trump is a historic president," Bannon continued. "Donald Trump is a transformational president. If you want to keep that transformation going, that's why this November is not a midterm election. This November is the first reelection of Donald J. Trump. That's why everybody's going to put their shoulder to the wheel."
So far, TrumpWorld is unsure exactly how toxic Bannon still is, and whether his recent media tour — after about a six-month exile — has rehabilitated his image with the president. Bannon's relationship with Trump quickly deteriorated after he criticized Trump family members in Michael Wolff's book Fire and Fury.
"The entire orbit is waiting for Trump to make the first move," said a source close to the White House.
Another source close to the White House said Trump has enjoyed Bannon's recent TV appearances and understands that his former campaign strategist's popularity with his base could rally voters ahead of the midterm elections.
Bannon, however, is also already looking ahead to 2020. In a Vanity Fair story published online this week about Trump's reelection campaign, Bannon portrays himself as a key part of the unofficial operation. Bannon, according to Vanity Fair, has set up a "shadowy political operation" that includes a group of the president's outside political advisers. An original version of the story said Bannon regularly holds morning conference calls with allies involved in the operation. When asked by BuzzFeed News about the conference call, two of those political advisers mentioned in the article, Corey Lewandowski and Jason Miller, denied being part of any group affiliated with Bannon. By Wednesday, Vanity Fair had switched the mention of the conference call to a line saying that Bannon "checks in by phone with his allies," without explicitly noting the change. (Gabriel Sherman, the reporter who wrote the story, declined to comment, as did a spokesperson for Vanity Fair.)
The change in the story illustrates the complications with Bannon's return: He's using the media to help with his comeback and to associate himself with Trump's inner circle, which is then quick to distance itself from him.
Representatives with Trump's already-up-and-running 2020 reelection campaign declined to comment about Bannon on the record. An official with America First Action PAC, the Trump-blessed super PAC that is likely to play a big role in boosting the president's allies in the midterms, did not respond to inquiries about Bannon's plans.
But there's some evidence that Trump, who sources say has not spoken to Bannon, is paying attention. Bannon's midterms message was echoed by Trump and his outside lawyer Rudy Giuliani this week.
"I say this not in my role as a lawyer but as a concerned citizen and Republican," Giuliani said on Wednesday. "This election is going to be about impeachment or no impeachment.
And when top officials affiliated with billionaire Charles Koch's political network criticized the president for being too "divisive" and for his protectionist approach to trade and immigration policy, Bannon immediately shot back on Trump's behalf. "What they have to do is shut up and get with the program, OK?" Bannon told Politico on Sunday.
By Monday morning, the president was blasting the Kochs in tweets that were similar to those from the 2016 campaign — when Bannon served as the chief executive.
Steven Perlberg, Henry J. Gomez, and Joseph Bernstein contributed reporting.