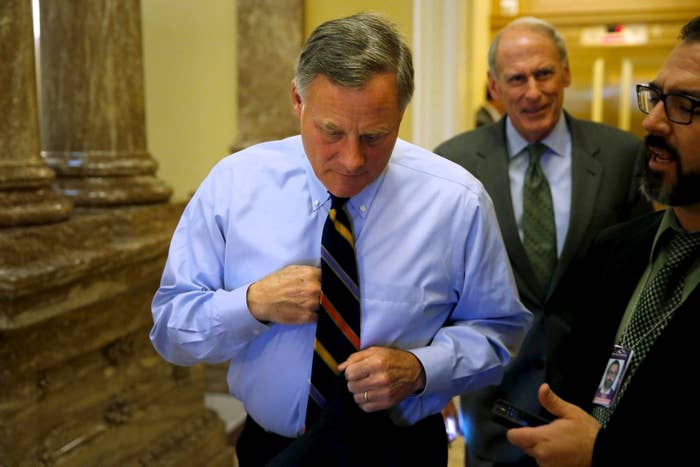 WASHINGTON — Southern senators representing states embroiled in a battle over LGBT laws on Tuesday rejected the idea that the issue was causing friction between the pro-business and evangelical wings of the Republican Party — and stressed their lack of involvement in the debate.
Senators representing North Carolina, Georgia, and Mississippi returned to Washington after a two-week recess during which their home states acted on controversial LGBT laws that several major corporations have condemned.
In North Carolina, the state rushed through a bill to repeal LGBT protections and bar transgender people from using certain restrooms.
The state's senator, Richard Burr, who is up for re-election, is already facing attacks from Democrats for saying the legislation "does not discriminate." In a quick interview with BuzzFeed News on Tuesday following a decision by PayPal to cancel its expansion in the Tar Heel state over the law, Burr insisted that the measure was not going to hurt the state's economy.
"Listen, the decision is of the General Assembly and the governor," he said. "There's no federal jurisdiction in this. I trust that they've looked at all the consequences from it. The truth is I still meet with more companies that are looking at North Carolina as a potential home for them. Our state offers things that other states don't. Certainly PayPal didn't see that as important enough."
When asked about the backlash in his home state and fractures within the party over the issue, he responded: "You don't hear any existing businesses down there talking about leaving."
PayPal's investment in the state would have created 400 jobs.
Sen. Thom Tillis, who also represents North Carolina, told BuzzFeed News he had just returned to the United States from congressional delegation overseas and had been briefed on the issue Tuesday morning.
Tillis said he hasn't spoken to Gov. Pat McCrory, who signed the bill into law late last month and is also facing a tough re-election, but stressed that the issue is in the hands of the state.
"It's a matter of state policy," he said. "I would defer to the state legislature and governor. With regard to the businesses, that's a choice that they have to make. I think it's unfortunate that they would withdraw, particularly when you look at the state of North Carolina's financial services sector is one of the strongest employment bases."
Days after North Carolina moved forward with the bill, Mississippi on Tuesday passed into law what is believed to be the most sweeping anti-LGBT measure. It includes provisions similar to the federal First Amendment Defense Act, a bill introduced in the House and Senate last year that senators from all three states — North Carolina, Georgia, and Mississippi — signed onto as co-sponsors.
Spokesmen for Mississippi Sens. Roger Wicker and Thad Cochran did not immediately return requests for comment.
While governors in North Carolina and Mississippi advanced anti-LGBT rights measures, Georgia Gov. Nathan Deal vetoed a "religious liberty" bill last week. The state's senator, Johnny Isakson, who is also up for re-election, said in an interview he was glad Deal vetoed the bill even though he supports the First Amendment Defense Act.
"I think the First Amendment of the Constitution guarantees religious liberty for all people," he said. "Any laws that carry out that guarantee ought to be passed at the federal level, not the state level. Otherwise, we would have a patchwork of laws in 50 different states."
Asked if the issue has caused divisions within his party back home, Isakson said, "No, no, no," before walking into a lunch meeting with the rest of the Republican conference.
Sen. David Perdue, the other senator from Georgia, called the debate over LGBT laws "an important issue," adding that he hasn't seen much evidence yet of businesses leaving states over the issue.
"You always have that rhetoric," he said. "This is an issue that obviously has to find its own balance."