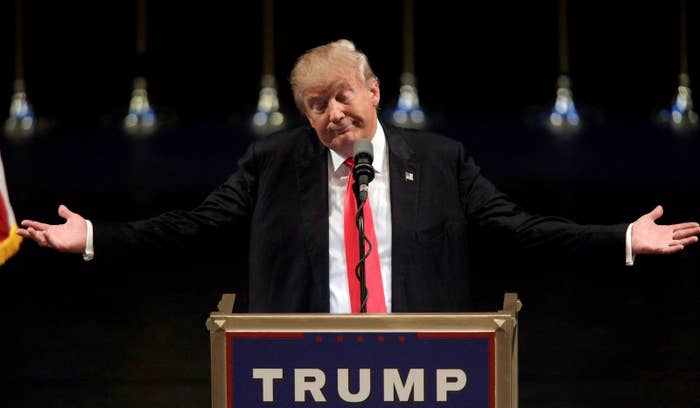 WASHINGTON — As veteran GOP fundraisers grow increasingly worried about Donald Trump's campaign cash and infrastructure, Republicans on Capitol Hill responded with a mix of frustration, hope, and some humor.
"It weakens the whole party," said Sen. Jeff Flake of Arizona, who has said he won't be voting for Trump.
Flake said it wasn't just Trump's fundraising he was concerned about. "This whole campaign is not good down-ballot. It's not good. None of this is good."
Trump's campaign reported having just $1.3 million at the end of May — $41 million less than what Democrat Hillary Clinton reported having in the bank during the same period, according to disclosures filed with the Federal Election Commission on Monday.
The Republican National Committee also reported raising $13 million — about one-third of the money it raised in May of the last presidential election with Mitt Romney as its presumptive nominee. The steep decline in the party's fundraising is causing concerns about whether there will be enough resources for field staff and other infrastructure not just for the presidential race, but particularly for down-ballot races.
"We're all optimistic that there's a course correction in progress," said Sen. John Thune of South Dakota of Trump's campaign. "He's running his campaign his way, but there are a lot of us who would like to see him do well. And in order for that to happen he's going to have to put together an organization, raise money, do some of the things that that I think are going to spell victory.
"If he's got what he says is true that he can eventually write the check, but I think most campaigns — successful campaigns — are based on contributions from a lot of people," he continued. "So I guess I would hope that he would turn on the fundraising mechanism and that we'll see evidence of them taking seriously the need to put resources in the bank to get his message out."
Thune also joked that a silver lining would be "more money available for Senate races," adding later that "everybody benefits when the entire ticket does well, so I hope he'll be able to pick it up."
South Carolina Sen. Lindsey Graham told reporters he wasn't surprised that a significant portion of the money Trump's campaign had spent had gone back to his businesses, but said he had no advice for the party's presumptive nominee on fundraising. "From my perspective, I can't tell him how to win — he beat me!" Graham said.
Sen. Bob Corker of Tennessee, who has met with Trump and often talks to reporters about the presidential race, said he hadn't "paid much attention" to the fundraising part of the campaign. "From what the RNC is saying... it sounds like they have a different model. I'm a policy guy. I'm not a political guy."
Reminded by reporters that he was still an elected official, Corker joked: "Well, barely, you know. I'm a boring, boring policy guy."
Corker also said that Trump firing his campaign manager Corey Lewandowski seemed "like it could be a major turning point." (Donors and fundraisers, however, told BuzzFeed News on Monday that the leadership shakeup likely wouldn't change donors' minds).
Several senators also declined to talk about Trump at all. "I don't think I want to sit here today and critique the presidential campaigns," said Majority Leader Mitch McConnell during his weekly press conference when asked about concerns about fundraising.
And Arizona Sen. John McCain, who is facing a tough re-election, at first said he was in a "Trump-free zone." Later, he insisted he didn't see how RNC's fundraising was related to his campaign.
"I'm doing my own thing. I'm fundraising for my own campaign."
When asked about what it meant for field staff in Arizona to help with his race, McCain responded with: "I run my own campaign," as he walked into an elevator.