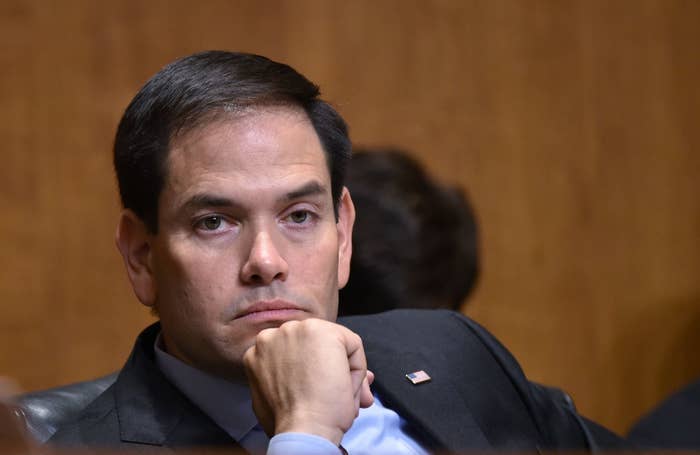 WASHINGTON — Sen. Marco Rubio told major GOP donors he won't be "spurning" or "denigrating" Donald Trump when questioned about how he would be handling the "delicate issue" of running on the same ticket as the GOP presidential nominee in a diverse state like Florida.
"I don't intend to spurn him or denigrate him. Anyone who watched the last 11 months is aware that Donald and I have some policy disagreements, and by the way I'm capable of working with people whom I disagree with on things," Rubio said on a National Republican Senatorial Committee conference call, according to audio obtained by BuzzFeed News.
"So I guess the way I've told everyone is that I disagree with Donald Trump on a few things — there's no doubt about it. But I disagree with Hillary Clinton on everything. I mean virtually everything."
Rubio continued that he had established his own identity from Trump while running for president and blamed the media for the narrative of characterizing the billionaire as a liability at the top of the ticket.
"I think we're capable of working with people toward a common goal that we may have disagreements about on any given issue," he said. "But the things we disagree on, we just have to disagree on in a respectful way. We're not going to denigrate anyone. Don't expect him to denigrate us. But I most certainly don't want Hillary Clinton to win. We'll work our way through it. I have my own identity of course to the extent that there are those that have any problems."
"I think that's something that's a bigger issue for the media than it will be for our campaign."
Rubio and the NRSC staff also estimated on the call that Rubio and his allies would need to spend $40 to $50 million on TV ads alone.
In his re-election announcement, Rubio cited the possibility of a Clinton or Trump presidency as reason for reconsidering retirement, as he promised to hold either accountable in the Senate.
"No matter who is elected president, there is reason for worry," he said in the statement.
"The prospect of a Trump presidency is also worrisome to me," he said. "It is no secret that I have significant disagreements with Donald Trump. His positions on many key issues are still unknown. And some of his statements, especially about women and minorities, I find not just offensive but unacceptable. If he is elected, we will need Senators willing to encourage him in the right direction, and if necessary, stand up to him. I've proven a willingness to do both."