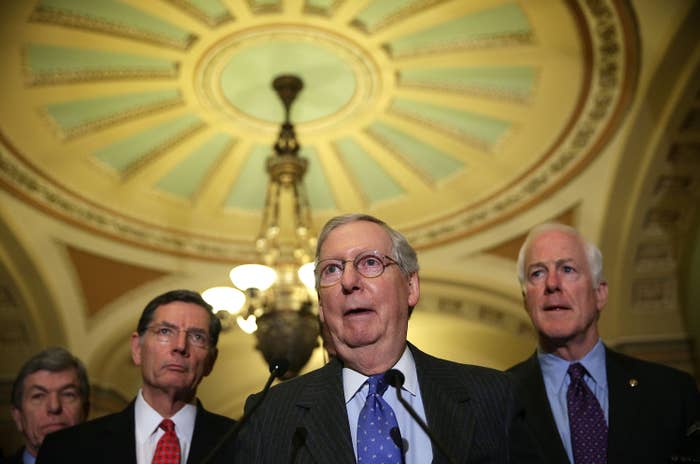 WASHINGTON – Senate Republicans will not hold hearings on whomever President Obama nominates to the Supreme Court, GOP leadership announced Tuesday, while Democrats are already preparing to use the issue to fuel election-year attacks in a bid to win back the Senate.
Returning back to the Senate following the death of Justice Antonin Scalia, Senate Republicans maintained they will not confirm a nominee in a presidential election year, as they previously said in statements. But they went one step further: Republicans on the Senate Judiciary Committee wrote a letter to Majority Leader Mitch McConnell advising him not to hold any hearings for the nominee, and top Republicans said they wouldn't even meet with the nominee.
"The reason for that is that it's not about personality," said Majority Whip John Cornyn, who also sits on the Judiciary Committee. "It's about principle. Principle being that it's up to the American people in this election."
Cornyn and McConnell both also said they would not take a meeting with the nominee — traditionally the next step once a Supreme Court nominee is announced. "I don't see the purpose of such a visit," McConnell said. "I would not be inclined to take one myself."
Cornyn added: "I don't see the point of going through the motions when we know what the outcome is going to be. I don't want to go through the motions and create a misleading impression."
Republicans are using previous statements from Democrats on the issue, particularly a 1992 video clip of then-Sen. Joe Biden arguing against confirming nominees in an election year. Biden, however, did say moderate nominees could be considered.
Sen. Lindsey Graham, a member of the Judiciary Committee, said Democrats in their position would have done the same thing and called any charges of "obstructionism" from the opposing party "silly."
"There will be no hearing, no vote," Graham told reporters after Senate Republicans discussed the issue over lunch on Tuesday. "Let the next president decide."
"This is going to the American people," he continued. "End of story. I'm not going to meet with nominee. I'm sure they'd be a nice person."
"I think it would be a waste of time," said Sen. John McCain of any hearings on the nominee. "We're not going to act this year. We agree with Joe Biden, Schumer, Harry Reid and the president of the United States — they all wanted to stop a nominee to the Supreme Court during an election year. I'm with all of them. They're my heroes. They're my role models."
Two moderate Republicans — Sen. Mark Kirk of Illinois and Sen. Susan Collins of Maine — have said they support holding hearings. Kirk faces a tough re-election race this year.
On Tuesday, Senate Minority Leader Harry Reid and other Democrats made the case that Republican leadership's decision to not even hold hearings is going to hurt Republicans like Kirk and end up costing them the Senate in 2016.
"Doing something that's never been done in the history of this country is not going to help them let's put it that way," Reid said. "This is clear indication that they're heading from the Party of Lincoln to the Party of Donald Trump."
Democrats are already using the issue to attack vulnerable Republicans as they try to win back the Senate in 2016. Senate Majority PAC, a super PAC that supports Senate Democrats, is gearing up to launch a national digital campaign attacking Republicans in battleground states on the issue, sources told BuzzFeed News.
One of those vulnerable Republicans, Sen. Kelly Ayotte, has said a nominee should not be confirmed this year, but on Tuesday afternoon she said the decision regarding hearings is out of her hands.
"The committee which I don't serve on will decide," Ayotte said.
Another Republican in a tough re-election, Sen. Ron Johnson of Wisconsin, said "not acting is acting" when asked if voters could punish him for obstructing the process.
And Sen. Rand Paul, who is now focusing on his re-election bid after dropping out of the presidential race, said he hasn't "come to a conclusion" on hearings.
Democrat Sen. Chuck Schumer also said the Judiciary Committee's letter shows that McConnell was making calculated moves in an effort to save the majority.
"He didn't have his whole caucus sign the letter, which would have been far more powerful," Schumer said. "He only had the Judiciary Committee because he knows two things: One, not all of his caucus would sign it, and second, all the people on judiciary, none of them are up in tough in elections in 2016. He knows where the winds are going."
"My guess, and I have no way of knowing, is if you went deep in his mind, he'd be saying, 'Darn this hard right, the Koch brothers, they're forcing us to do it," Schumer continued. "It's the wrong thing for the majority of our caucus.'"