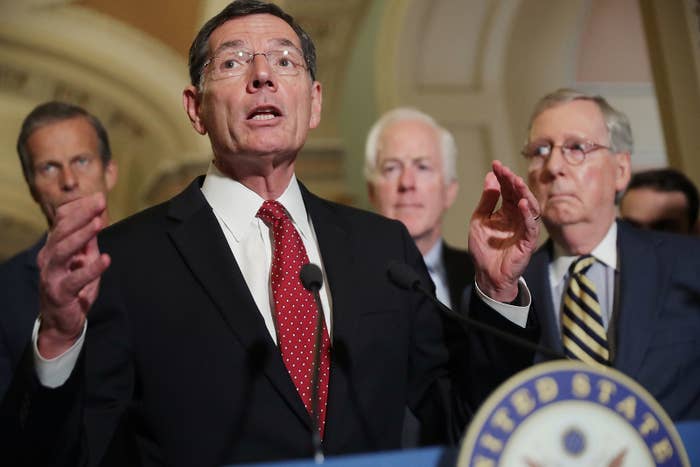 WASHINGTON — For the fourth election in a row, Republicans are attacking Democrats over Obamacare in states with toss-up Senate races.
With major insurance-providers like Aetna recently pulling out of Obamacare and headlines announcing increasing insurance premiums, Republicans are eyeing at least three states — Indiana, Arizona, and Florida — where they believe targeting Democrats specifically on the issue could make a difference.

In a new ad — shared first with BuzzFeed News — Senate Leadership Fund, the outside group linked to Senate Majority Leader Mitch McConnell, hits Indiana Democrat Evan Bayh for voting in favor of the healthcare law when he was in the Senate in 2010. The new ad kicks off the group's $4 million ad buy in Indiana. "Obamacare has been a disaster for Indiana families," a narrator says in the ad. "One man could have stopped this mess by standing with Indiana. But he didn't. Instead, Bayh casted the deciding vote on Obamacare." If you've heard that one before it's because multiple Democratic politicians in 2010, 2012, and 2014 were charged with being the deciding vote on Obamacare.
The spot goes on to stress that Bayh voted with Hillary Clinton 85% of the time and with President Obama 96%. "When it counted, Evan Bayh voted with them. Not Indiana."
Obamacare will likely come up in other races as well, but because the Democratic candidates running in Indiana, Arizona, and Florida have cast votes in favor of the Affordable Care Act, they are the easiest targets.
Bayh's campaign says that he has acknowledged certain problems with Obamacare and said he wants to tweak the law. "Evan wants to fix Obamacare by reaching across the aisle on commonsense reforms like ensuring that that 40 hours is full time and repealing the medical device tax," said Ben Ray, spokesman for Bayh's campaign. "Congressman [Todd] Young has voted in partisan lockstep to turn Medicare into a voucher program and shut down the government rather than working across the aisle."
The political network affiliated with the billionaire Koch brothers is also gearing up to launch a new Obamacare-focused educational campaign ahead of the election.
The effort called "Bust the Bailouts" will "highlight the failures of Obamacare – skyrocketing premiums, fewer choices, unsustainable markets – and urge Congress to resist any efforts to bail out this law and insurance companies by throwing more good taxpayer money after bad," sources involved in the effort told BuzzFeed News.
The campaign will include a new website and videos on the issue. The network also plans to put pressure on different Senate candidates on their position on different aspects of the law.
"Freedom Partners Action Fund has already begun to press candidates on Obamacare, and plans to continue to highlight the failures of the law and put supporters on-record through the fall," said Bill Riggs, a spokesman for the network's super PAC.
Already, the network's grassroots group Americans for Prosperity has run digital ads against Bayh for being the "deciding vote" on the Affordable Care Act and against Rep. Patrick Murphy, who is challenging Sen. Marco Rubio in Florida, for forcing Floridians to pay more for healthcare.
In a brief interview, Rubio told BuzzFeed News that Obamacare comes up constantly when he is on the campaign trail back home.
"Voters bring it up. People are being impacted," he said. "In Florida last week, our Department of Insurance came out with new projections on premiums and they are going to be increasing once again. The number of companies abandoning the marketplace continues to go up. So Obamacare is in a lot of trouble. Floridians know it because they are paying the price for it.
"It will certainly be a point of distinction because my opponent Patrick Murphy doesn't just like Obamacare — and has voted numerous times to support it. He actually wants to expand it. He wants to create a public option."
In Washington, Senate Republicans are renewing their focus on Obamacare using their first leadership press conference after a seven-week recess to repeatedly call the healthcare law a "trainwreck."
They also introduced a bill that would keep individuals from being fined for not having insurance under Obamacare in counties where there aren't enough options for insurance providers, a move intended to force Democrats will block the measure.
"From Day 1, Obamacare has been costly and complicated, and now we're seeing that it is collapsing... This is not a marketplace as President Obama had promised. It's a monopoly," said Wyoming Sen. John Barasso, one of the sponsors of the bill, in the press conference.
Another sponsor of the bill, Arizona Sen. John McCain, is making Obamacare a central part of his re-election campaign, especially since his state became the first to have a county where all insurers left the Obamacare exchange. "Obamacare is failing Arizonans," a narrator says in one of McCain's TV ads. "First, a massive rate hike — more than twice the national average. Then America's largest health insurer abandoned Arizona's failing Obamacare exchange."
"Congresswoman Kirkpatrick bragged about her Obamacare vote," the narrator says in the ad, which goes on to show a clip of the Democrat calling her vote in favor of the law one she's "most proud about" and stressing that McCain "is leading the fight to stop Obamacare."
The U.S Chamber of Commerce aired a similar ad on behalf of McCain.
Even with the coming ramp up against Obamacare, some Republicans — who still see troubles with the Affordable Care Act as a winning issue — are hoping it is used even more in key races and are surprised that it has taken groups as long to attack Democrats on the issue
"Obamacare has gone from simply an unpopular law to an unpopular law that is now directly impacting the bank accounts and access to doctors for millions of Americans," said Brian Walsh, a GOP strategist who previously worked for the Senate Republicans' campaign arm, "So I would fully expect it will be a key issue in races like Indiana and Arizona which are not only traditionally red-leaning but also where the Democratic candidate is directly responsible for imposing this law on voters in their states."
But Democrats say they aren't worried, and know how to run against the Republican playbook on Obamacare.

"The Republican alternative is to return to a time when insurance companies called the shots and being a woman was considered a 'preexisting condition,'" said Lauren Passalacqua, spokeswoman for the DSCC in a statement. "We can always improve health care, but Republicans have failed to offer anything other than threats to shut down the government or take the law away entirely – and that's a disservice to Americans across the country."