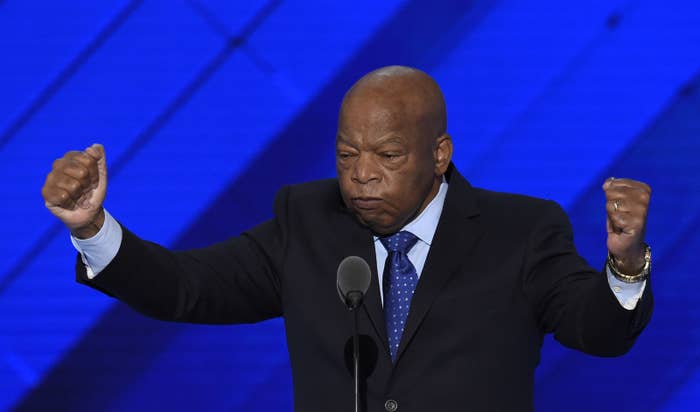 WASHINGTON — House Republicans are moving forward with sanctions against Democrats for breaking rules during a sit-in for gun control, despite Democrats' efforts to cast the punishment as a direct attack on civil rights icon Rep. John Lewis.
Democrats launched their floor protest in late June, as the House was preparing to leave for the July 4th recess without addressing gun violence. The move angered GOP leaders, and Speaker Paul Ryan dismissed the sit-in as little more than a fundraising stunt.
With punishments looming, Democrats are fighting back, painting Ryan's decision less about enforcing the rules and more about personally attacking Lewis, one of the chief architects of the civil rights movement.
"We have time apparently to bring up a resolution condemning those of us — including John Lewis a man who has given his entire life to civil rights, to freedom of expression, who has recognized this is one of the most important civil rights of our time: the right to not be killed by a gun," said Rep. Joe Crowley, vice chairman of the Democratic caucus, during a press conference on Wednesday.
"They will attack him, they will censure him, they will go after John Lewis in some way. I would suggest that by going after any of us you are going after John Lewis... We are all John Lewis and that's something Republicans need to understand."

The timing of the sanctions remains unclear — as does what, exactly, those punishments are — but GOP leadership aides say they are close to announcing them. And House Republicans maintain that Lewis deserves to be penalized for being part of the sit-in as well.

"Sometimes the most popular kid in the class breaks the rules, and he needs to be treated the same way as the other kids," Rep. Steve Stivers of Ohio told BuzzFeed News. "I know they have some popular figure heads, but why shouldn't everybody be treated the same if they're breaking the rules?"
"They are clearly trying to make it not about breaking the rules. But it was breaking rules."
Democrats used phones to tweet and live-stream video of the June sit-in, which is against House rules. However, members regularly use phones on the floor. Republicans have also criticized Democrats for fundraising off the sit-in. The Democratic Congressional Campaign Committee sent out fundraising pleas signed by Lewis and Minority Leader Nancy Pelosi.
"I think we can sanction anybody for trying to raise money on the House floor," said South Carolina Rep. Mick Mulvaney. "That is a sanctionable offense. I don't know what the appropriate sanction is, but I don't care if you're a civil rights leader from the 1960s or if you've been here three days, if you raise money on the floor, that is a sanctionable offense."
"Maintaining decorum on the floor should be an important issue to everybody. I was one of the ones who defended Sen. [Chris] Murphy when he had his filibuster in the Senate — that's the rules of the body. But they didn't abide by the rules of the party. You break the rules; you deserve a penalty," Mulvaney added.
Rep. Tom Cole of Oklahoma said if the roles were reversed, Democrats would have done the same. "If we had behaved like this during Obamacare or Dodd-Frank, I have no doubt that then Speaker Pelosi would have been swift and pretty tough in her sanctions, and she should have been."
Republicans staged a sit-on of their own in 2008 — when Democrats held the majority — over a vote on a proposal to expand oil and gas drilling. But livestreaming was not an option at the time and social media was not used as widely.
"This doesn't have anything to do with John Lewis," Cole said. "It has to do with the Democratic leadership and even the president encouraging them to break the rules. Some were fundraising while it was happening. It's an egregious set of violations. I have great deal of respect for John Lewis, but the rules are the rules. If you want to demonstrate, perfectly appropriate for you to go outside the chamber and do it."
Asked about the sanctions at a press conference Wednesday morning, Speaker Paul said his goal simply to protect the institution "so that democracy can work... so that Republicans and Democrats can actually talk to one another and be reasonable with one another."
South Carolina Republican Rep. Mark Sanford wasn't as supportive of the move by House leadership to reprimand Democrats as some of his colleagues were — citing the civil disobedience of the 60s and 70s. But he was still sympathetic to leadership, and said that the rules were there for a reason and the House wouldn't work well without them.
"It's an impossible position they find themselves in. At the one level, civil protest has been a part of the American experiment for a long time. Sit-ins, whether in the 1960s or Vietnam War movement have been a part of the Democratic tradition. Not widely used on the House floor — but certainly part of the Democratic tradition which makes people sympathetic to it," he said.
"Rules are the key to the functioning of any place with 450 people. It's a tough choice from their end; they are between a rock and a hard place."