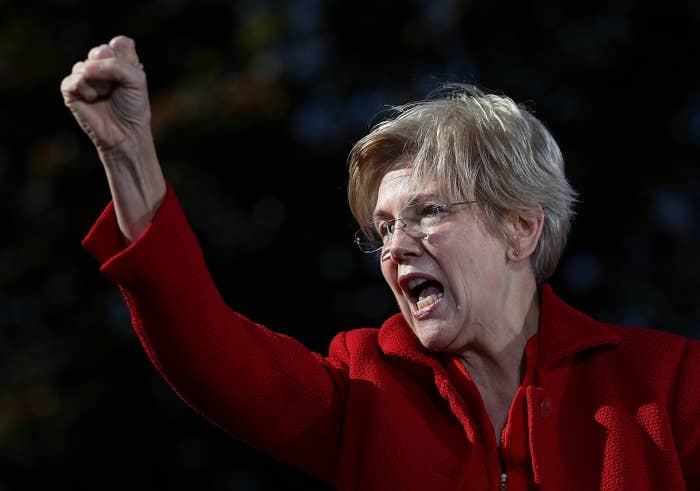 WASHINGTON — Progressive lawmakers and advocacy groups are making a last-minute push to kill a carefully crafted, bipartisan medical research bill they see as loaded with giveaways to the pharmaceutical industry. But with the bill set for a final vote next week, their efforts will likely fail, as opposition among most Democratic lawmakers remains limited.
The House voted overwhelmingly, 392-26, to pass the 21st Century Cures Act, which includes billions in medical research and $1 billion to combat the opioid crisis, along with cutting back regulations for drugmakers. Only six Democrats voted against the measure. The Senate is expected to take up the bill next week and President Obama has said he will sign it into law.
Liberal stars Massachusetts Sen. Elizabeth Warren and Vermont Sen. Bernie Sanders have been putting pressure on their Democratic colleagues in recent days to vote against the bill. But although some are now re-thinking their support, there isn't enough widespread opposition among Democrats for them to be able to block the bill.
Warren even urged her colleagues to oppose the legislation behind closed doors during a Democratic caucus lunch this week, but many were unconvinced, according to Senate Democratic aides.
"This bill isn't about doing what the American people want, it's about doing what the drug companies and donors want," Warren said on the Senate floor Wednesday afternoon.
"According to exit polls, 70 percent of voters say the American economy and the lawmakers who oversee it are owned by big companies and special interests. Bills like this are the reason why."
Oregon Sen. Jeff Merkley and Illinois Sen. Dick Durbin joined Warren on the floor. Durbin, who had supported the measure, said Wednesday he had "mixed feelings." "I think it's a step in the direction, but...it's at a heavy cost," he said, adding that the bill "overpromises and underdelivers."
The bill is not only a major priority for GOP-controlled Congress and the White House, but also for Washington lobbyists. Nearly 1,500 lobbyists have worked on the legislation on behalf of 400 companies, according to the Center for Responsive Politics' analysis of federal lobbying disclosures. The pharmaceutical industry also contributed nearly $22 million to members of Congress' campaign accounts in the 2016 election cycle.
"If we didn't learn any lessons from this past election about draining the swamp, then shame on us," Durbin said on the floor.
Lobbyists who have been working on the issue told BuzzFeed News they felt confident of the bill's passage. "Democrats just aren't lining up behind [Warren]," one of them said Wednesday.
The measure has seen several revisions in the last few years — some as recently as this week. A particularly problematic provision for some members that would have rolled back requirements for drugmakers to disclose financial ties with doctors and hospitals was taken out this week.
But several advocacy groups are still not happy with the bill.
Sarah Sorscher, an attorney at Public Citizen's Health Research Group, called the bill a "Faustian bargain" that trades the Food and Drug Administration's oversight of the safety of new drugs and devices for roughly $6.3 billion in funding over ten years.
"It's not even a great bargain, in terms of the size of the budgets of these agencies, it's a pretty small size of money," Sorscher said. "It adds some money to NIH in exchange for permanently weakening FDA oversight of drug safety. And there is no guarantee they won't pull back that money in future Congresses."
The funding bill is the first to tied FDA's oversight of drug safety to research funding at NIH, she added.
The law will also allow easier FDA approval of combination drugs, the kind which caused problems in the late 90's when the dual diet drug "fen phen" was revealed to cause heart attacks after millions of people had taken it. That led to $13 billion in lawsuit damages. "We have real world evidence that this is very troubling. These combinations are very difficult to evaluate for safety," Sorscher said.
Despite the criticism, voting against any money for something like cancer research isn't easy for many lawmakers.
"Cancer is as close to a nonpartisan issue as there is," said David Pugach, a lobbyist for American Cancer Society Cancer Action Network. "Medical research and NIH funding is an area that historically has had strong bipartisan support, and you can see that the support is still there for the 21st Century Cures Act."
Asked about some opposition from Democrats, Republican Sen. Lamar Alexander, who is leading the bill in the Senate, made the same point. "It's pretty hard for Democrats or Republicans to vote against $1 billion in funding for opioid state grants and against cancer research and against precision medicine and against Alzheimer's research," he said. "These are the things the American people would like for us to support."