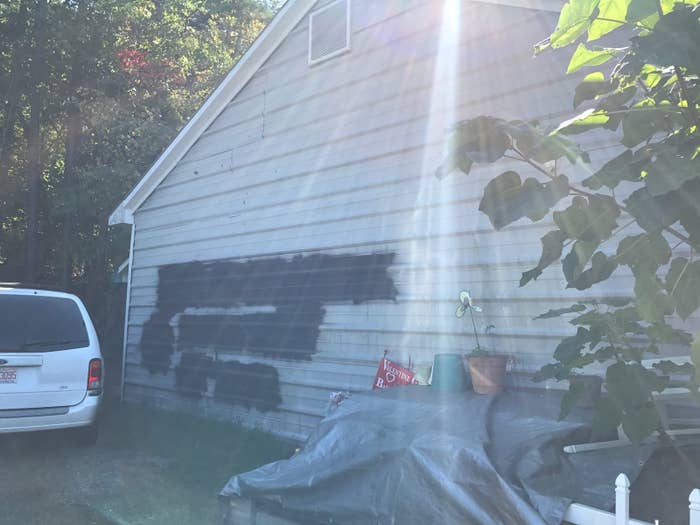 HILLSBOROUGH, N.C. — The spray painted message — "Nazi Republicans get out of town or else" — is now illegible next to the Orange County GOP office, but Republicans in the state are still in shock over the firebombing of one of their headquarters and the accompanying threat about three weeks before the election.
A day after the incident, Republicans in the state are working on rebuilding and trying to ease any concerns from volunteers and county officials statewide about similar threats. The party closed its "victory" offices in the state early Sunday evening and held a conference call to answer any security-related questions from party leaders statewide, as their presidential nominee Donald Trump blamed the incident on Hillary Clinton supporters in tweets.
The office was empty during the time of the firebombing and no one was hurt. Federal, state and local authorities are investigating, but no suspects have been identified.
Gov. Pat McCrory paid a visit to the office Monday afternoon to assess the damages, repeatedly telling reporters that although local authorities initially appeared to have treated the incident as just an act of vandalism, he was taking "this attack to our democracy very seriously."
McCrory also strongly denied any correlation between the firebombing and the tone Donald Trump and his supporters have adopted this year. "Both party have its extremists, but this is anarchy," he said. "This is someone who wants anarchy. And that's not our country. That's why we're taking this so seriously...I don't care what rhetoric you've heard. There's no excuse for that."
Asked specifically about Trump's tweets blaming Clinton supporters, McCrory, who is facing a difficult re-election, gave the same, short response twice: "I have no idea who did this or why they did this."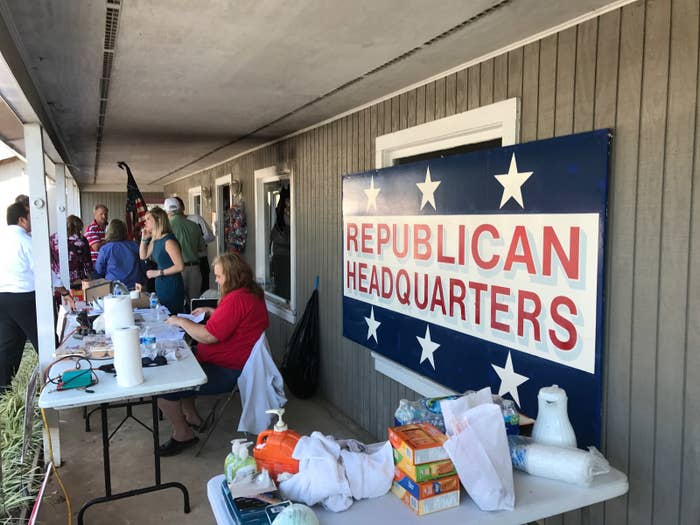 Throughout the day, Orange County Republicans sat outside their now charred building and resumed their get out the vote efforts. Party officials and some policemen walked around the property assessing the damage and dealt with the logistics. The county, which includes the University of North Carolina at Chapel Hill, is one of the most liberal in the state.
"We're sitting out front here operating, getting ready for Thursday early voting and getting sample ballots sent out and absentee ballots and if anybody comes out here for signs or bumper stickers," said Daniel Ashely, chairman of the Orange County GOP. "We're operating as business as usual."
Ashley said The Bureau of Alcohol, Tobacco, Firearms and Explosives painted over the "Nazi message" that included a Swastika soon after they took some pictures Sunday. The message was a few feet away on the wall of a balloon shop next door. "In my opinion, they painted that because they figured this building would be gone," Ashley said.
Bennie Sparrow, the owner of "Balloons Above Orange," first informed police of the message when she stopped by to "feed her colony of kitties" Sunday morning before going to church. "This is not what this complex or Hillsborough represents," she said, saying her store, which is lined with balloons for different occasions and small stuffed animals, is "a happy place."
Following the firebombing, Democrats started a GoFundMe page to help raise money for Republicans to build another office. They hit their goal of raising $10,000 in less than an hour, but it's unclear how that money will be used.
"We're having some people check into that now...we run into problems because of campaign laws in North Carolina," Ashley said. "But we're grateful to any donations."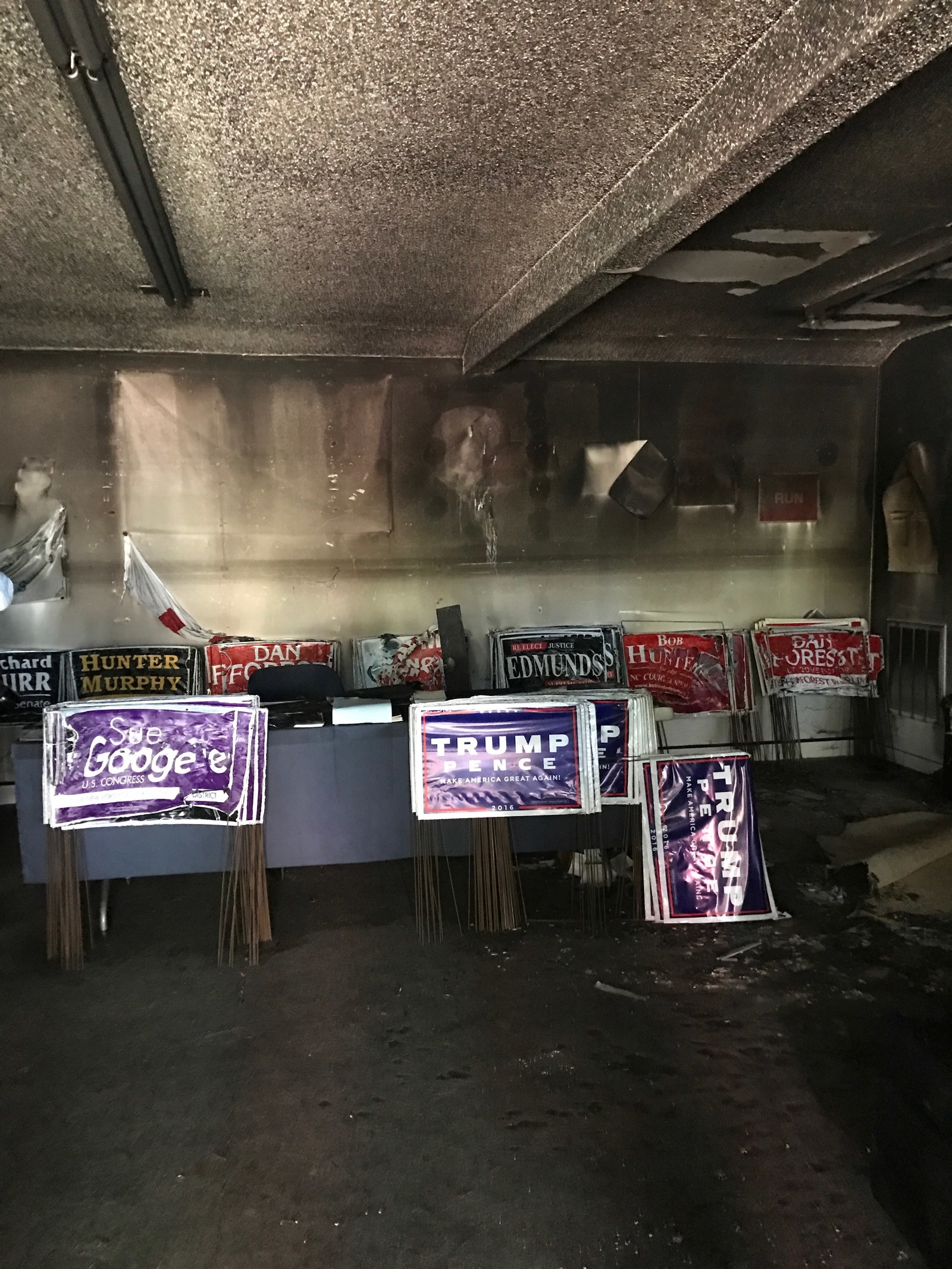 The inside of the county office still smells strongly of smoke and all the furniture has been destroyed. Trump-Pence yard signs leaning against one of the walls are still standing unharmed.
"This is not a little bitty attack," said Dallas Woodhouse, executive director of the N.C. GOP. "This is vicious. It's an act of political terrorism because the point is to intimidate people and you threaten them."
Woodhouse said the party is hoping the incident doesn't keep Republicans from volunteers. Although he and other party officials have been dealing with safety questions from different parts of the state, so far, volunteers are still showing up. "Actually, we had volunteers show up out of the woodwork."
Camilla Zapolsky, a Hillsborough resident and one of the volunteers outside the Orange County office wearing a Trump shirt, said she was even more determined to keep working for the party.
"I'm not worried," she said. "I'm not going to let them intimidate me. We're going to do what we're going to do."
Stunned Hillsborough residents, who heard of the incident on the news this weekend, also stopped by to see the damage themselves.
"I'm here to witness hatred in this day," said Markeith Chamberlain, a truck driver who lives in the area. "This has always been a peaceful community. Donald Trump and what he says — this is part of what's going on in our country, and it's showing it's ugly face. But of all the places in the world? Hillsborough?"