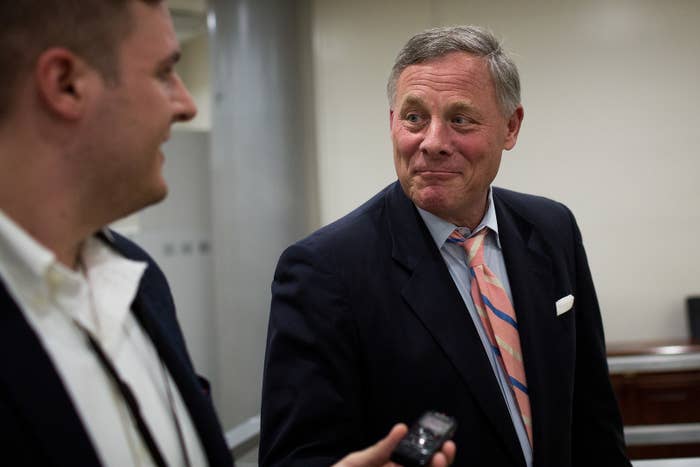 WASHINGTON — The Koch network is unleashing its grassroots army in North Carolina to boost Sen. Richard Burr, following recent polls showing his re-election race tightening and concerns about lack of field organization from the Trump campaign hurting down-ballot candidates.
Koch-backed Americans for Prosperity, which has a heavy presence in the state, will target Burr's Democratic opponent, Deborah Ross, for her votes in favor of certain tax hikes during her time in the state legislature. AFP will start knocking on doors, making calls and sending out 500,000 mailers on the issue — the first in a series of mailers directed at Ross — this week.
The mailer, first shared with BuzzFeed News, reads: "When we needed her the most, Deborah Ross made life harder."
"In the depths of the recession when North Carolina suffered 10.7% unemployment... Deborah Ross raised your taxes and made life more expensive for everyone."
A spokesman for the group declined to give specifics on spending but called the effort "substantial." Other than the mailers, AFP will have more than a dozen full-time staff plus part time staff and volunteers knocking doors and making phone calls in the state.
The group does not have plans to air ads yet. However, an outside group linked to Senate Majority Leader Mitch McConnell is taking the lead on that front.
Senate Leadership Fund announced recently it has reserved $8.1 million in ads on behalf of Burr. The ads will begin Sept. 13 and run through Election Day. The nonprofit arm of the same group has already spent $1 million in ads on the race.
Ross, a former ACLU lawyer and state legislator, wasn't the Democrats first choice to run against Burr. But she's gained traction in recent weeks and raised more money than the incumbent in the last quarter. Democratic outside groups have endorsed Ross, but have yet to spend any significant money in the race.
The Koch network, which is staying out of the presidential race, has been active in Senate races in Wisconsin, Nevada, Pennsylvania, and Ohio.