Koch-Affiliated Super PAC Raised $11.1 Million In Second Half Of 2015
Freedom Partners Action Fund, Inc. ended the year with $14.8 million in the bank.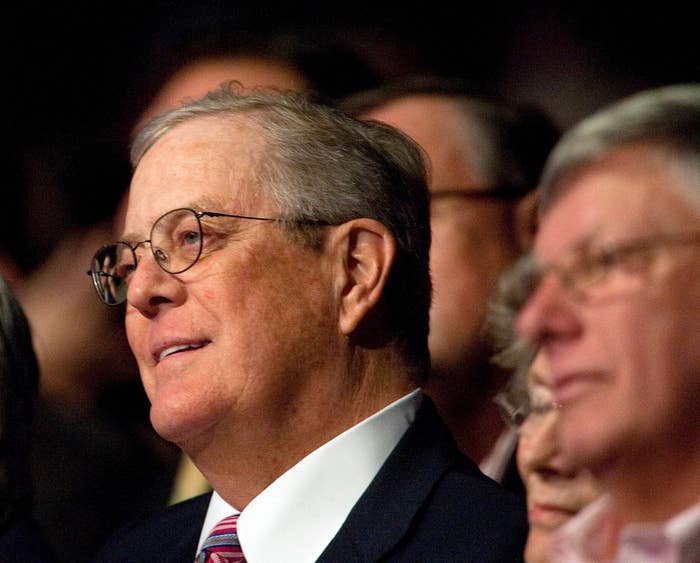 INDIAN WELLS, Calif. — Freedom Partners Action Fund, Inc. — the super PAC affiliated with the Koch network — brought in $11.1 million in the second half of 2015, with top GOP donors writing six- and seven-figure checks ahead of the 2016 election.
The group spent only about $200,000 during the same time period and ended the year with $14.8 million in the bank, according to reports the group will file with the Federal Election Commission on Sunday.
The filing was first shared with reporters at the network's annual winter meeting, where BuzzFeed News is one of six news organizations that agreed to cover the event under certain ground rules set by the Freedom Partners, the organization hosting the semi-annual event.
Top donors, including billionaire Charles Koch, Dallas-based businessman Darwin Deason, Amway co-founder Richard and Helen Devos, oil tycoon Paul Foster, coal-mining executive Richard Gilliam, billionaire hedgefund manager Ken Griffin, Wisconsin-based businesswoman Diane Hendricks, and media mogul Stan Hubbard, were among the top donors to the group.
The political network affiliated with Charles and David Koch was until recently only made up of nonprofits that don't have to disclose their donors, but officials created a super PAC last year as part of their broader effort to be more transparent. Unlike politically active nonprofits, super PACs have to file regular reports including names of their donors and their spending with the FEC.