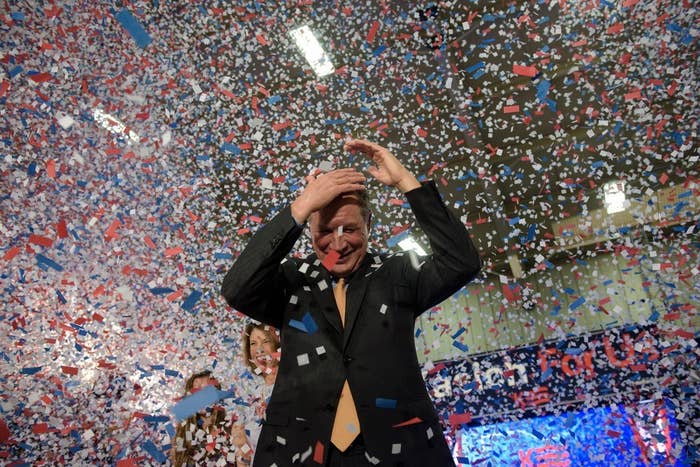 BEREA, Ohio — John Kasich pulled off a big win over Donald Trump in his home state of Ohio on Tuesday, giving the GOP establishment at least some cause for celebration — a rarity this presidential election.
Kasich defeated the billionaire handily in the Buckeye State, where he had pinned his presidential hopes from the get-go. His win — the first primary victory for Kasich — will make it harder for Trump to secure the Republican nomination for president outright, increasing the chances of a chaotic contested convention in July set to take place just a few miles from where the governor celebrated his win complete with confetti canons on Tuesday.
"I labored in obscurity for so long," Kasich told the crowd gathered at Baldwin Wallace College outside of Cleveland.
"People counted me out. People in Ohio were saying, 'Why don't they ever call on him?' But we put one foot in front of the other."
Kasich will move on to campaigning in Pennsylvania and Utah this week. His campaign repeatedly points out that there are still almost 1,000 delegates to go before the convention and that the map for upcoming contests in the next few weeks is more suitable for Kasich's message. "We're going to hitch up a covered wagon and we're going West," the governor told reporters the day before the election.
In a memo released by his campaign Tuesday night, Kasich's chief campaign strategist, John Weaver, said their internal data shows that Marco Rubio voters break to Kasich by a 3:1 margin. Kasich, who some establishment Republicans had grumbled for weeks was only helping Trump by staying in the race, ended up being more helpful in blocking Trump than Rubio. The Florida senator got crushed in his home state to Trump on Tuesday and suspended his campaign.
"With a narrowing field, Gov. Kasich is the candidate best positioned to go toe-to-toe in the remaining states," Weaver said.
At Kasich's election night event, his supporters said the governor he had been wrongly underestimated and ignored in favor Rubio, but now he will have a better shot at getting his message out.
"I think it will wake people up and show them that there is a alternative to Trump and make people pay attention to him," said Amy Schoch, who voted for Kasich and attended his election night event.
"I think think this is huge," said Brad Himes, 51, resident of Berea who has been friends with Kasich for years. "Kasich is the man left to challenge Trump."
In the days leading up to the election, Kasich focused on reminding voters how he had led the economic recovery in the state as governor and refused to attack Trump even as the real estate mogul was going after him during rallies and on Twitter. He made references to violence at Trump rallies and the mudslinging by other campaigns; however, Kasich didn't aggressively attack the real estate mogul as other candidates have done.
But Kasich has already hinted that he will be bringing up Trump more moving forward.
"I will be however forced going forward to talk about some of the deep concerns I have about the way this campaign has been run by some others — by one other in particular," he told reporters earlier on Tuesday.
"I just saw a commercial I guess it was last night, of these comments that were made about women. I have two daughters. They see this stuff. What do you think they think? I'll have more to say about that. But that's going to be not designed to be negative as much as it is to point out things that I've seen that are deeply disturbing in this process. And I think I have the right to do that as a candidate, but in terms of rolling around in the mud that's not where I intend to ever really go even in the fall election."
Kasich, who has previously won two dozen elections in Ohio since 1979, already had the help of the Ohio Republican Party, which endorsed him for president, and a super PAC that spent significant resources on ads and getting out the vote. But on the eve of the primary, former GOP presidential nominee Mitt Romney flew out to Ohio to campaign with him. Romney hasn't endorsed yet but came pretty close to throwing his support behind Kasich hours before polls opened.
Standing alongside Romney, his family, and Ohio Sen. Rob Portman, the governor closed out his campaign in his home town of Westerville Monday night, encouraging voters to choose his hopeful message in an increasingly negative campaign season.
"I think people are proud," he told reporters of his neighbors and friends in his hometown earlier on Tuesday. "I think it's really interesting because I've been asked, 'Do you regret the fact that you've been so positive in the campaign?' And we all know that by the fact that I ran a positive campaign — or our team has run a positive campaign — that there were probably missed opportunities to get attention early on, but by continuing to run the race the positive campaign is now starting to shine through like a beacon all over the country."