In Private Meeting, Paul Ryan And House Conservatives Discussed Plan To Stop Outside Attacks On GOP
The conservatives floated a proposal to somehow stop outside centrist groups from attacking Republican hardliners — and vice versa.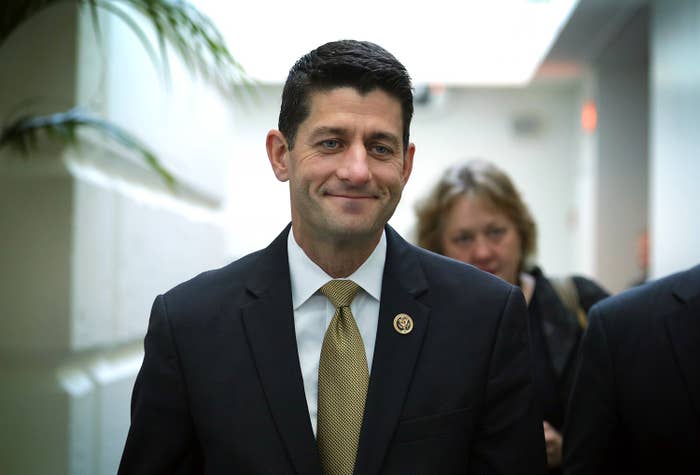 WASHINGTON — Hours before many of them threw their support behind Rep. Paul Ryan's bid for speaker, House conservatives pushed him on one of their own proposals: to defend them from attacks by big-money establishment groups.
During a private meeting, the House Freedom Caucus — which announced Wednesday evening it would support Ryan by a super majority, giving him enough votes to be speaker — discussed a proposal that calls for the next speaker to step in when well-funded groups from the centrist or right-wing of the party spend money attacking sitting members of Congress.
Members of group said they had discussed the proposal — along with other issues — with all candidates for speaker, but Ryan in particular, because of his emphasis on party unity. In theory, the proposal would protect not just the Freedom Caucus but all members.
No specifics were finalized, but those who attended the meeting said Ryan, who made his bid for speaker official Thursday, was receptive.
"If [Michigan Rep.] Justin Amash gets attacked by the (U.S. Chamber of Commerce), then leadership would step in to make sure that didn't happen anymore," said South Carolina Rep. Mick Mulvaney, a member of the Freedom Caucus, in an interview with BuzzFeed News, explaining the proposal.
"It would be the party, the leadership, the establishment — whatever you want to call it," he said. "And if a centrist member gets attacked from some right-wing group, then they would step in to help that person in order to try and lower the temperature a little bit. It would go both ways."
Mulvaney said there was internal debate among the group if helping establishment members should be part of the proposal. "We had a very candid conversation internally amongst ourselves that if we asked for that, we have to be prepared. But what's good for the goose is good for the gander. And the group was pretty solidly in support of that."
He said he did not know what form it would take in practice. "Different folks have different thoughts on the (National Republican Congressional Committee). Maybe if you attack members, you don't get access to the speaker anymore?"
The discussion with Ryan follows reports this summer that U.S. Chamber of Commerce is considering targeting conservative members. Other groups like the American Action Network have already spent some money this year to attack Freedom Caucus members, including Mulvaney. On the conservative side, groups like Club for Growth have been targeting members on issues such as the Export-Import Bank.
Republican primaries have become increasingly expensive in recent years as outside groups from the right-wing and establishment wings of the party become more politically active. GOP outside groups spent about $21 million attacking other Republicans in primaries in the 2014 election cycle, according to the Sunlight Foundation.
It's unclear how Republican leadership would be able to stop outside groups from hitting whoever they want in ads, but if they agree on a way, it could decrease the amount Republicans spend just on primaries.
"We expect our leadership to defend our members, not attack our members," said Louisiana Rep. John Fleming. "We want us to be unified. We want us to work together as a team yet we have leadership that is actively or passively consenting to money being spent against our members and in some cases blocking the money that's being contributed to our members. We made that known to Ryan."
A spokesman for Ryan declined to comment on the private discussion.