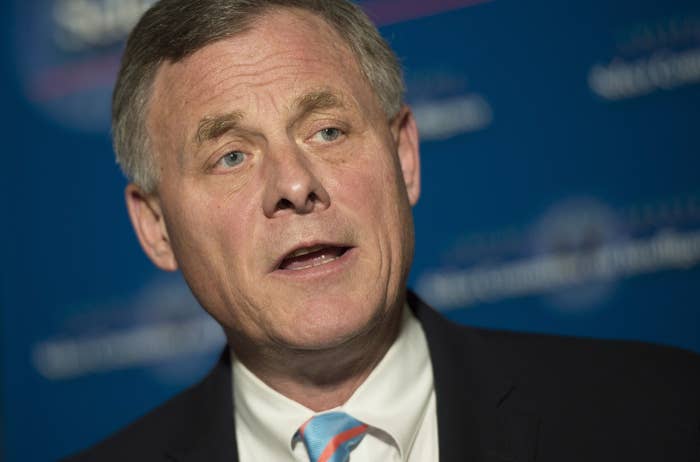 RALEIGH, N.C. — Republicans in North Carolina, once a solidly red state in presidential elections, are gearing up to avoid what they believe could be their worst election year in decades.

With Donald Trump at a historic low in the state in some polls, Gov. Pat McCrory still reeling from the bathroom bill fallout, and Sen. Richard Burr trying to overcome low-name recognition and fundraising, top Republicans are becoming increasingly concerned not only about Trump losing the must-win state — but about him losing by a wide enough margin to wipe out recent years of GOP gains made in the state.
"It certainly has the potential to be one of the worst elections we've seen in a long time," said Carter Wrenn, a veteran GOP strategist in the state. Wrenn said looking at Trump's troubles and latest polling, the question on Republicans' minds across the state has been: "How bad could it get?"
Although the state has voted for a Republican president all but twice since 1968, the national tea party wave in 2010 brought the state legislature and governor's mansion under Republican control for the first time since Reconstruction. North Carolina then moved rapidly to the right with several conservative reforms that caused an uproar among liberals in the state.
Now, over the last few weeks as the possibility of tough election losses sinks in, top Republicans and some donors — who have had much to celebrate over the last six years — are trying to plot contingency plans to make up for the lack of field organization and advertising dollars from the Republican Party's nominee to boost down-ballot candidates, sources say.
Their fear is that a Trump loss by more than four or five points could put a dent in the party's super majorities in the state legislature and a Democrat in the governor's mansion, reversing the political course of the state.
"I do think that people need to be very open eyed about what could potentially go wrong," said one such top Republican who has been involved in discussions. "The sky isn't falling, but it's cloudy and we need to get in gear. It's going to require a different level of organization and intervening from the top of the ticket than we've seen, and it's going to require support from outside groups."
A new outside group called N.C. Means Jobs — set up by Charlotte businessman Richard Alexander — is in the works, with plans to launch an ad campaign focused on touting the economic improvements in the state under McCrory and the GOP-controlled legislature, BuzzFeed News has learned. The effort would help distinguish the Republican brand in the state from Trump. Other similar proposals for outside spending are also being floated.
On field efforts, the Koch-backed Americans for Prosperity, which has a large presence in North Carolina, has been knocking on doors and delivering mail thanking McCrory for tax reform and opposing Medicaid expansion. Art Pope, a major donor in the state who also worked in the governor's administration, was a founding board member of the group.
Over a two-week period in August, AFP knocked on 25,000 doors in the state. For now, the group is focused on the governor's race, but officials have hinted they could start spending on the tightening Senate race on behalf of Burr, as well. "We're watching closely and think the race may provide an opportunity to advance good policy in the state," said Levi Russell, spokesman for the group.
Meanwhile, the Trump campaign is still hiring staff and doesn't have field offices yet. The state director for the Trump campaign was recently replaced after he was accused of pointing a gun at another staffer. Trump's North Carolina team — which has been expanding quickly in the last two weeks — is still working out of the state party office in downtown Raleigh. It is now looking for office space to open two Trump victory offices in the state, sources say.
As the campaign gets its operations set up, the state Republican Party is trying to fill in the gaps. On Monday afternoon, volunteers — many of whom were college students — knocked on doors near downtown Raleigh, targeting low-propensity Republicans and unaffiliated voters and distributed Trump-Pence door hangers.
Despite polls showing concern among Republicans in the state about the top of the ticket, Michael Hoxie, president of Students for Trump at N.C. State University, said Republicans on campus were passionate about Trump, and he quickly brought up the primary as evidence — much like the nominee himself does. "If you look at the primary, he still pretty soundly won," Hoxie said in between knocking on doors.
And Dallas Woodhouse, executive director of N.C. GOP, pointed to Republicans outpacing Democrats in voter registrations in the state as a sign that any concern is premature. "I think we always have reason to worry," he said calling a recent NBC poll that showed Trump down by nine points in the state as "B.S." "What I'm hearing is normal, healthy discussions around election time."
With Trump's team still not assembled in the state and a barrage of advertising from the Clinton campaign and super PAC portraying him as unfit to be president, a significant portion of self-identified Republican voters — about 15% — haven't committed to voting for their party's nominee, based on recent public polls and those seen by insiders in the state.
"The electorate is as fluid is as I have ever seen it," said Andy Yates, another GOP strategist in the state, who is working on several state legislative races. "I wouldn't be surprised if Trump won by more points than Romney did or lost by more than 10 points."
But with fewer than 80 days left to go, those potential crossover Republican voters, mostly suburban moms, is a large enough contingent to cause panic on the right and optimism on the left.
"I really believe a tsunami is building," said Brad Crone, a Democratic strategist in the state.
Already, Trump's drag on down-ballot races is showing with Democrat Deborah Ross — who is still largely unknown in the state — now in a tied Senate race with Burr. Both campaigns went up on TV this week, and an outside group linked to Senate Majority Leader Mitch McConnell announced a $1.5 million ad buy, airing positive spots on behalf of Burr.
In the senator's hometown of Winston-Salem on Tuesday afternoon, Ross repeatedly portrayed the incumbent as a self-interested, career politician while talking to a small group of mostly seniors about Social Security and Medicare at a public library.
Although she would have to ride a Democratic wave to defeat Burr, she also made an effort to distance herself from her own party's top-of-the-ticket troubles. "I would tell Hillary Clinton to her face that she handled her email in the wrong way," Ross said when asked about newly released emails that show Clinton's close relationship with donors. "I mean it was wrong. No two ways about it... The mess has to be cleaned."
Ross did not mention the GOP presidential nominee during the event, but it was the Trump effect on the Republican Party in part that led Mary Miller, a retired Winston-Salem resident, to Ross' event.
"I was a Republican for 50 years, but then the Republican Party got so out of control and angry I just couldn't be a part of it," she said.
Burr does not have any public events this week, and his campaign declined an interview request.
His longtime political strategist Paul Shumaker maintained that North Carolina has a history of ticket-splitting, which is only going to increase with influx of unaffiliated voters in the state.
"North Carolina is going to be competitive. That's nothing new," he said, stressing that both party's presidential nominees have problems for down-ballot candidates. "The revelation of new Clinton emails has the potential to change the dynamic in this race.
"There's a long ways to go here."