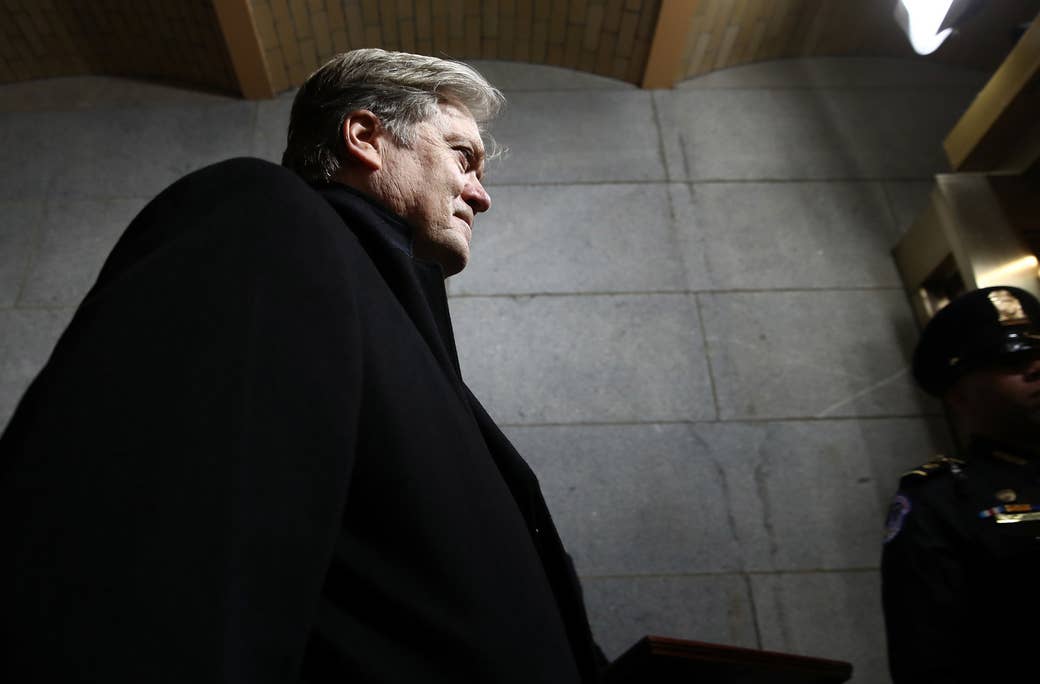 Steve Bannon is determined to prove that he is capable of more than bluster, taking clear steps to steer a well-funded political operation, devise a new media effort, and increase the pressure on House Speaker Paul Ryan and Senate Majority Leader Mitch McConnell to turn the GOP into the party of Trump.
Bannon has spent the weeks since he left the White House working to dispel his reputation as being not much more than a troublemaker, in an attempt to refute the many people — including President Trump himself — who have questioned his credentials as "The Great Manipulator."
There's still widespread skepticism, even among those close to him, about how effective Bannon can be in his battle against Republicans. But his openly declared war on the GOP establishment, sources say, will be fought on multiple fronts: putting pressure on Ryan through an alliance with a group of House conservatives, threatening McConnell and Republican incumbents he sees as anti-Trump by jumping into Senate primaries, and a continued assault on the media through his website Breitbart, potentially a TV network or online show, and more partnerships with conservative outlets.
"I think he's freer to execute the kind of strategy to advance his agenda that he couldn't fully execute while he was at the White House," a former Trump administration official said, noting that Bannon is the decider at Breitbart, which he wasn't at the White House.
Bannon is also gaining muscle outside of Breitbart. A pro-Trump outside group — Great America PAC and its affiliated nonprofit, Great America Alliance — is evolving into a big-money vehicle that could be used by Bannon and his allies against McConnell and other Republican senators seen as unsupportive of the president. A source close to the super PAC said the group, which in the past has struggled to get money from megadonors, has recently talked with top-level conservative donors. The Mercer family, the billionaires who poured money into Trump's election and have bankrolled much of Bannon's political career, and casino mogul Sheldon Adelson are considering writing checks to the group, the source said.
"It sounds like Bannon now has money to put behind what he wants to do."
"Talks are in place," the source said. "Those levels of support will come in."
The group also recently brought on Andy Surabian, who served in the White House under Bannon, to serve as senior adviser. Surabian's inclusion in the group and the broader revamp was seen as crucial in getting buy-in from top donors, who have been weary of giving to the group because of some concerns of it being a "scam PAC," run by strategists not viewed as especially close to the president.
"It sounds like Bannon now has money to put behind what he wants to do," said a source close to the administration who knows Bannon. Republican leadership, the source added, "should be worried. I would be."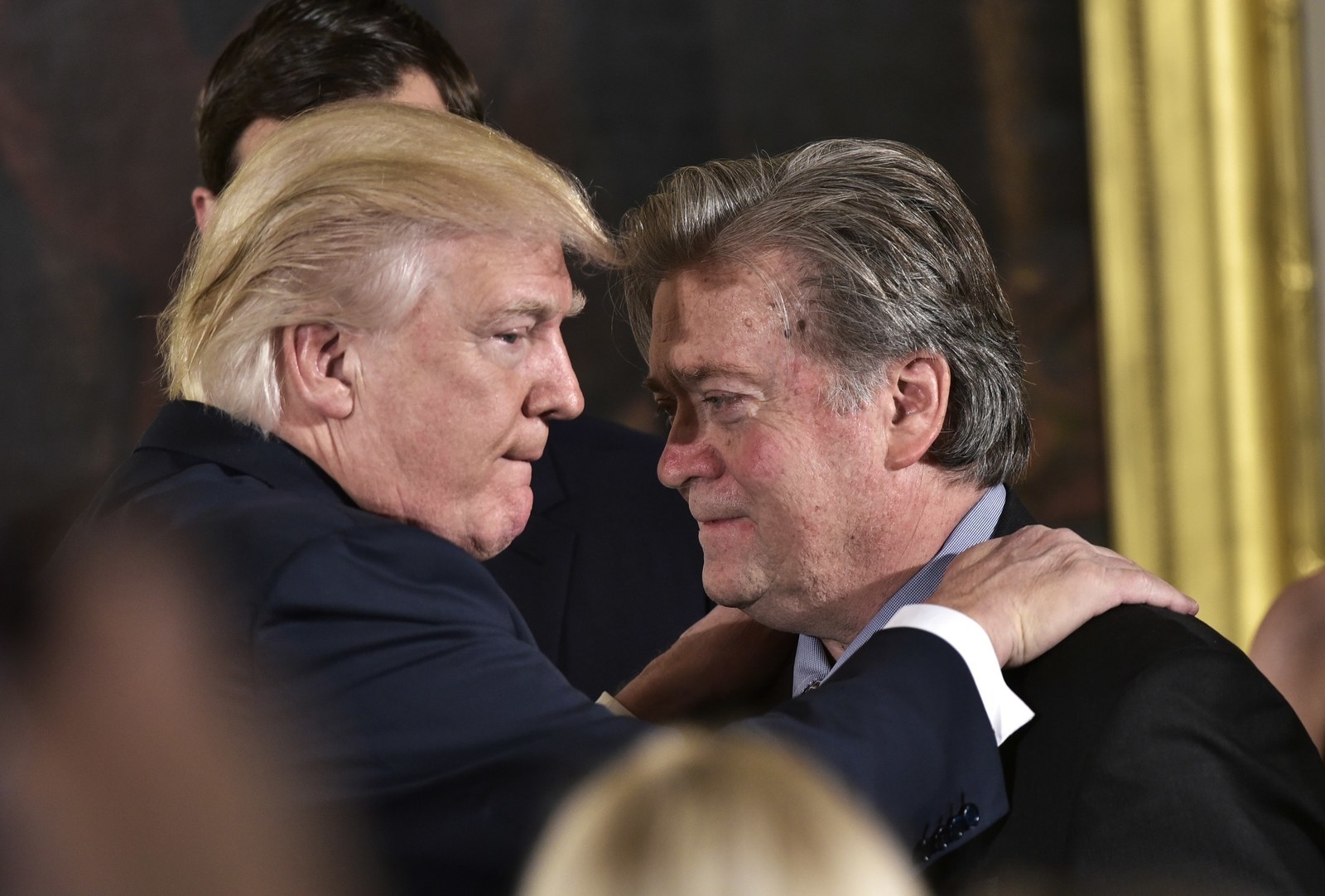 Breitbart alone is still a potent cudgel for Bannon. Trump has not been working hand-in-hand with Bannon in his war against GOP leaders, but he is aware of the "tremendous" influence Breitbart has on his own base, the former Trump administration official said. Trump, the source added, has asked where his printed-out copies of Breitbart articles have gone since Chief of Staff John Kelly began restricting what paper can make its way to the Resolute Desk.
Still, media influence and tangible political influence are very different things, and multiple sources close to the administration and Bannon said that although Bannon would like nothing more than to topple Ryan as speaker, especially as Trump appears to be souring on GOP leadership in Congress, he knows it would be a tough order and he doesn't want one of his first moves outside the White House to end in failure.
There also isn't a Bannon-blessed candidate in the House willing to take on Ryan at this point, so discussions have been centered on making sure Bannon allies use the legislative calendar — looming deadlines and must-pass bills — as "opportunities to strike" or put pressure on Ryan.
Bannon has cultivated a closer relationship with Rep. Mark Meadows, chairman of the conservative House Freedom Caucus, in recent weeks. But even as Breitbart has pushed for Meadows to be speaker in the past, two sources say their understanding is that the North Carolina Republican, who is close to Trump, doesn't want a speakership fight he knows would be hard to win. Challenging Ryan's reelection could prove to be another doomed effort, as Bannon learned last year when Breitbart-endorsed primary candidate Paul Nehlen lost to Ryan by almost 70 points.
Bannon's fight with McConnell, meanwhile, goes back years. Bannon has long hated that Republican Senate candidates selected by the Republican leader end up winning the GOP nomination more often than not. When Trump first won the presidential election, Bannon told some top donors that the "days of McConnell picking Republican nominees in Senate races are over," as BuzzFeed News previously reported. Bannon's now planning to jump into primaries where GOP senators are up for reelection.
Bannon's already backing Roy Moore over Sen. Luther Strange, who has the support of McConnell and his affiliated super PAC, in the Alabama Senate primary later this month. Bannon is also looking at Nevada Sen. Dean Heller and Arizona Sen. Jeff Flake as top targets for next year, with ongoing discussions to challenge more senators in red-state primaries.
"I am sure certain elements of that West Wing don't want Steve to have a public profile, don't want him to try to take out certain Republicans in primaries," said Bannon friend and former Trump adviser Sam Nunberg. "But with that said Steve is gonna do it."
There's a big difference between "Bannon pre-Trump and the Bannon now," a source said.
Sen. Bob Corker, who Politico reported Bannon may target for a primary and is considering retirement, brushed off any potential interference from Bannon should he run next year.
Even if Bannon challenges him, he told reporters Monday, it won't change how he talks about the Trump administration. "Look, I call 'em like I see 'em and I'm not going to change who I am to run in an election or not run in an election," he said. Asked if he's been given assurances by anyone that he won't be a primary target, Corker said, "I have no reason whatsoever to believe that there'd be any desire by the administration to pursue a primary."
Although Bannon and Breitbart's past attempts to play in GOP primaries have had a low success rate, the source close to the administration who knows Bannon said there's a big difference between "Bannon pre-Trump and the Bannon now."
"He means business," the source said. "I'll tell you that."
Bannon took his argument against current GOP leadership public in a 60 Minutes interview that aired Sunday night. "I think Mitch McConnell, and to a degree, Paul Ryan, they do not want Donald Trump's populist, economic nationalist agenda to be implemented," Bannon said. "It's very obvious. ... It's obvious as night follows day is what they're trying to do," he said, claiming that the "Republican establishment is trying to nullify" Trump's win.
White House press secretary Sarah Huckabee Sanders tried to downplay any friction between Trump and Republican leadership on Monday when asked about Bannon's comments. "I think that Steve always likes to speak in kind of the most extreme measures," she said.
Sources who have spoken with Bannon and his inner circle say that while the mercurial former chief strategist has plans to target Republicans, his open and leaked war against party leadership is also a media strategy, tactics to put Republican leaders on notice that they are being held accountable and to keep their promises to Trump's base or face its wrath.
While a source familiar with Bannon's strategy said he's "not that focused on races, other than from a media standpoint," he is watching the Alabama race between Moore and Strange "as a potential referendum on turning the Trump voter into a primary machine." The race, where Bannon and Breitbart have placed their bets on the frontrunner, also offers an early opportunity for Bannon to take credit for a political victory, BuzzFeed News reported last week.
Bannon's team has been discussing ramping up his broadcasting through TV and radio.
What sources close to him say they are most confident about are Bannon's plans to increase his media footprint, with his team discussing how to ramp up the broadcasting of Bannon's economic nationalist ideas through television and radio. A confidante who recently spoke to Bannon said he is working on a book and his three hours of airtime on SiriusXM will now double to six hours with the addition of a nightly show.
A separate source close to Bannon said Bannon has talked with Christopher Ruddy, a Trump friend and the CEO of Newsmax Media, about bringing him on to work on a TV effort. The Sinclair Broadcast Group, a conservative-leaning television company with a growing presence in local markets around the country, also reached out to Bannon about possibly producing content for their networks, the source said.
Ruddy, who did not respond to a request for comment before publication, disputed that he has discussed any joint business with Bannon and said he wouldn't based on the type of content Bannon and Breitbart favor.
"I have never spoken to Steve or anyone at Breitbart about doing anything on Newsmax TV, web or any other related business together," Ruddy told BuzzFeed News. "Newsmax has no interested in working with Steve and Breitbart on TV. We wish them well but Newsmax has a different approach, and is more inclusive, in providing news and perspective.
While Bannon's team has discussed whether a TV network or "TV-lite" online streaming approach would be a good fit, one ally said Sinclair owns a cable channel that it could hypothetically convert for Bannon, making it the easiest option for a delivery system.
Bannon did not respond to a request for comment.
"I just think he's kind of a paper tiger."

But not everyone believes Bannon's new return to his old life will merely consist of feasting on new successful business ventures like an excited diner at a buffet. Roger Stone — who has taken many public shots at a Bannon, who he feels takes too much credit for Trump's election win — said Bannon is articulate on radio but would need to be behind the scenes in a television format.
"First of all, he's a slob. Secondarily he's not very good on TV," Stone said. "I just think he's kind of a paper tiger — he's got the Mercers', money but that's not the end all be all."
But Bryan Lanza, a former campaign staffer who knows Bannon from when Lanza worked for Citizens United, said Bannon, outside Trump himself, is uniquely qualified to disseminate Trump's message to the base, and he doesn't need to have his face on TV to accomplish that.
"I would look at Bannon as a shepherd of the national economic message that ultimately dislodged support for Clinton," Lanza said. "The thing people don't understand is he may not need to appear on Fox, but a phone call or text to his friends will get whatever he wants covered by Fox." At least for now, media outlets have been receptive to Bannon's mechanicians, as the dozens of stories in dozens of publications surrounding Bannon's return to Breitbart and 60 Minutes interview can attest.
Looking forward, Lanza said "the only thing missing" is for Bannon to round out his media and political strategy with a nonprofit designated group that would focus on policy and spreading that message.
But even with his indirect involvement with Great America and its financial backers, conservative donors are not universally embracing Bannon. Bannon's battles have typically been funded by the Mercers, who are also investors in Breitbart. Republican donors more broadly have been growing increasingly frustrated with the lack of legislative wins under the Trump administration. Some explicitly pro-Trump donors could join forces with Bannon, if the GOP-lead Congress continues on its current path. But most of the GOP donor class still views Bannon with skepticism.
A Republican strategist from a top outside group said donors might be more likely to sit out races rather than back a Bannon-endorsed primary challenger, or incumbents who they think have accomplished little in the last eight months.
At the press briefing on Monday, Huckabee Sanders became increasingly annoyed with questions focused on Bannon's 60 Minutes interview, ultimately cutting the briefing short. But even in her dismissals, she conceded that Trump had watched "clips" of the interview.
"Don't discount the influence Bannon still has," the former White House official said. The source pointed in particular to the way Bannon has publicly talked about economic adviser Gary Cohn, a frequent Breitbart target. "When he calls Cohn 'disloyal,' he knows what he's doing, he knows the president is going to watch. That's a trigger for the president."
Nunberg agreed that Bannon has flexed his influence with Trump since he left the White House. "I think Steve leaves and a week later he pardons Arpaio and they suspend DACA. I don't think there was any coincidence there."
After Bannon was pushed out of the White House, Nunberg spoke to him and told him it was "disgusting" the way he was treated, with Bannon responding with typical bluster.
"Donald Trump got us here," Nunberg said Bannon replied. "He was the only one that could win, but now the question is, where do we take the movement now and how do we change the world?"
The answers to those questions will go a long way towards determining if Bannon can get beyond the bombast and deliver measurable wins for the grassroots base he defends. Even Bannon's allies, though, concede he won't be able to just set up a big new platform or try to spin media narrative and change the Republican Party overnight.
"Have you ever heard Steve's show?" another Bannon friend asked with a laugh. "It's fucking terrible."
Emma Loop contributed reporting.
UPDATE
This story has been updated with a comment from Newsmax CEO Christopher Ruddy.