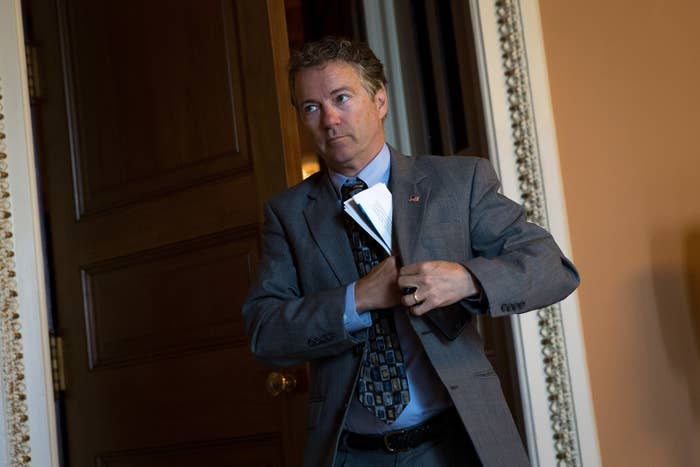 WASHINGTON — Days before dropping out of the presidential race in 2016, Sen. Rand Paul, who appeared angry and frustrated for much of his White House bid, went on a late-night show and called Donald Trump a "delusional narcissist and orange-faced windbag."
These days, Paul is no longer comparing the now-president to Gollum or calling him names. He isn't really bashing him at all. He has, in fact, begun the complicated navigation of trying to sway Trump and Republican policy in the direction he wants it to go — even if Paul has far less outward power than he did just two years ago.
Without the burdens of a presidential bid weighing him down, Paul walks around the Senate — occasionally sporting his black mock turtleneck — with an unmistakable air of freedom and a new sense of determination to mold the GOP-controlled agenda as Trump quickly remakes the political normal. Paul "finally feels comfortable," as one former aide put it. At a reception to celebrate the start of his second term in the Senate, Paul allies — some of whom had not seen him since the presidential race — described an energized senator who now saw "real opportunity" and "power" in the Senate under a Republican president.
Now that Republicans hold the White House and a narrow majority in the Senate, Paul believes he actually has the ability to influence policy in his second term instead of just being a libertarian troublemaker, sources close to him say. His GOP colleagues, Paul allies say, now need him more than they did before, and he plans on making the most of that advantage.
The Kentucky Republican is also being strategic in his relationship with Trump, going so far as to defend the new president when his Republican colleagues have been reluctant. When Trump repeated his claim that millions voted illegally in the election, Paul didn't dismiss the lie. He blamed the media for being fixated on the claim. When Trump criticized civil rights icon Rep. John Lewis, Paul said the Georgia Democrat wasn't "immune to criticism." When criminal justice reform advocates pushed Paul to vote against Sen. Jeff Sessions, he decided to stand by one of Trump's closest allies.
Even when he has voted against the new president's priorities, he doesn't criticize the president himself. In just the first few weeks of 115th Congress, Paul's political calculation is evident: He will pick his battles with Trump carefully in exchange for more credibility when he tries to inject his libertarian views in the debate over repealing and replacing Obamacare, foreign policy, and the budget.
"I think he's really doing what an outspoken leader in a co-equal branch should be doing," said Jesse Benton, formerly a longtime adviser to both Rand and Ron Paul. "Where there is agreement with Trump, he is agreeing and giving praise; where there is disagreement, he is disagreeing in a statesmanlike way."
Paul may no longer be "the most interesting man in America," as a 2014 Time magazine cover proclaimed, but from Morning Joe to regular hits on CNN and Fox News, he's making an effort to be seen as the libertarian voice in Congress after a rocky presidential bid where he tried to fit in more with mainstream Republicans. GOP operatives and activists stress there isn't anywhere close to the same level of interest in him they had two years ago, but they are tuning into this new chapter of Paul's career.
"I was really quiet in my first term, and now I'm going to be less bashful," Paul said facetiously in a quick interview.
(He immediately added, "That's just meant in a humorous way.")
On a more serious note, Paul added: "I do want to be involved and try to shape the debate. If you don't speak out, you don't shape the debate."
After dropping out of the presidential race last February, Paul quietly got through the 2016 election, winning another term while staying out of the national spotlight. While his vulnerable GOP colleagues were carefully toeing the line between criticizing then-candidate Trump and not turning off the support of Trump voters, Paul kept his promise to back the GOP nominee and didn't try to distance himself from him, given Trump's popularity in Kentucky.
But his quiet interlude ended almost immediately after he was re-elected to a new term, as President-elect Trump worked on his cabinet picks. The Kentucky Republican repeatedly said in interviews he wouldn't support some of Trump's initial top choices for secretary of state that were being floated. He stressed, however, that he and Trump — at least candidate Trump — were on the same page. "I think an unrepentant advocate of the Iraq War doesn't really fit with Donald Trump's pronouncements throughout the campaign," Paul said at the time.
With Republicans holding only a one-seat advantage on the Senate Foreign Relations Committee, Paul had some clout, and he used it to push for a noninterventionist nominee who did not support the war in Iraq, as members of the hawkish wing of the party continued to call him an "outlier." "You can put the Republicans in a very small car who are going to follow Rand Paul's advice when it comes to national security," South Carolina Sen. Lindsey Graham said at the time.
In the end, however, Trump nominated ExxonMobil CEO Rex Tillerson, who told Paul during his confirmation hearing he thought the Iraq War was a mistake — exactly what Paul wanted to hear from the country's chief diplomat.
Paul used a similar tactic last week with Elliott Abrams, who worked for former Presidents Ronald Reagan and George W. Bush and was believed to be under consideration to serve as Tillerson's deputy. Paul opposed Abrams for ideological reasons. But he also announced his opposition to the "rumors" about Abrams on MSNBC's Morning Joe, a show Trump is known to watch regularly, specifically calling Abrams a NeverTrumper during the segment and stressing that Abrams was the one against Trump. A day later Abrams was reportedly out of the running after Trump learned of Abrams' criticism of his candidacy last year.
Although Paul was the only Senate Republican to vote against now-CIA Director Mike Pompeo, because of the former congressman's views on surveillance and torture, he focused his criticism on Pompeo and not on Trump or the administration. In his op-ed explaining the vote, Trump wasn't mentioned even once.
On the issue Paul has been most vocal on these days — repealing and replacing Obamacare — he is quick to point out that Trump himself called him to discuss his plan. Within the first week of the new Congress, Paul undermined Republican leaders' plan to deal with Obamacare with his loud calls to repeal and replace simultaneously. Trump called Paul after watching him talk about the issue on Fox News.
The senator immediately announced that Trump had come out in support of his plan after the call, which convinced some other congressional Republicans that repealing without replacing at the same time wasn't the way to go, making the path forward for Obamacare repeal more unpredictable.
Trump hasn't however backed Paul's specific legislation to tackle the Affordable Care Act.
In the meantime, Paul's involvement in Obamacare and foreign policy issues is bringing libertarians, who weren't thrilled with Paul during his presidential bid, back on board. "Libertarians are pretty excited about what we've seen," said Jonathan Bydlak, who worked on the 2008 presidential bid of Rand Paul's father, former Rep. Ron Paul. "Most of us remember the Bush years where there was a unified government under Republicans, but what we got wasn't conservative policy… It was a substantial growth in government. It's a time where it's dangerous in a sense."
"Rand is his best when libertarians are in these positions, because he's not afraid to buck his party," said Bydlack, founder and president of the Coalition to Reduce Spending, who became "a conflicted" Paul supporter in the 2016 election cycle.
And it's not necessarily a calculated strategy, said former Paul adviser Trygve Olson. Rather, his background as an ophthalmologist with a small practice has positioned him well, given "the issue matrix" in the new Congress. "If Rand Paul were a stock, he'd probably be a good stock to buy right now," Olson said.
"He's going to be renegade," said Chris Rufer, a major libertarian donor and California-based tomato magnate.
Among more mainstream Republicans, though, a top GOP operative argues that Paul's moves aren't going to garner too much interest in advancing his political career. "I haven't seen those tactics generate any real buzz," the operative said.
And Paul still faces the same problem he's had since he first got the Senate: He's still going to be fairly lonely in his battles with top Republicans.
In meetings with a group of influential House conservatives known as the Freedom Caucus, Paul has tried to rally support for his ideas on the other side of Congress. He pushed them against voting for the budgetary vehicle that would set up a repeal vote for Obamacare, warning them that the budget tool being used by Republicans to fast-track the repeal would add nearly $10 trillion to the deficit over the next 10 years.
But a day after Paul's lone "no" vote on the budget bill that would start the Obamacare repeal process in the Senate, only nine Republicans in the House voted with him. The measure passed overwhelmingly.
Kentucky GOP Rep. Thomas Massie, who was one of the nine in the House last Friday who voted with Paul, said even though they couldn't get enough support, Paul's "education" is what's important. "On this vote here where we just voted to add over $9 trillion to the debt, he was like the icebreaker that went through the frozen water before us," he said.
"This was the easiest vote in the world to oppose for me because of the stand he made in the Senate and the education he put out there. So yeah I feel like he is sort of putting up a reinvigorated fight."
Later that week, Paul continued the education by releasing details of his new Obamacare replacement legislation — on a Sunday TV show. The bill has yet to find a single co-sponsor.