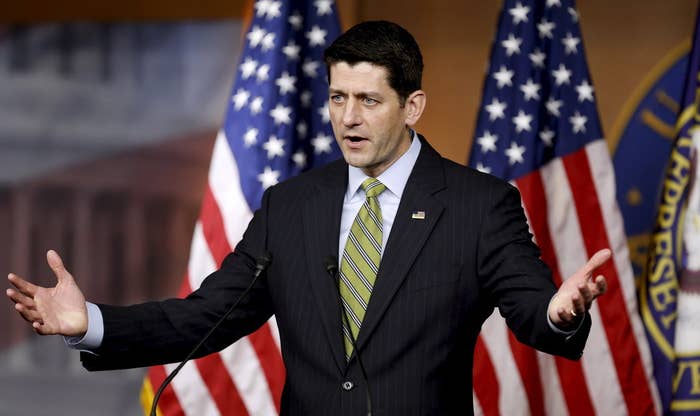 WASHINGTON — House Speaker Paul Ryan Wednesday lamented the divisive, angry tenor of the Republican primary fight, warning Republicans must engage in "battle of ideas, not insults" if they hope to win a mandate from the American public.
"Our political discourse — both the kind we see on TV and the kind we experience among each other — did not use to be this bad and it does not have to be this way," Paul told a crowd of Republican congressional interns.

"Now, a little skepticism is healthy. But when people distrust politics, they come to distrust institutions. They lose faith in their government, and the future too. We can acknowledge this. But we don't have to accept it. And we cannot enable it either."

Ryan did not name any of the presidential candidates, but it was clear he was referring to the tone of his party's presidential frontrunner Donald Trump's campaign.

"Ideas, passionately promoted and put to the test — that's what politics can be," he said. "That's what our country can be ... Instead of playing to your anxieties, we can appeal to your aspirations. Instead of playing the identity politics of our base and their base, we unite people around ideas and principles. And instead of being timid, we go bold.

"We don't resort to scaring you, we dare to inspire you. We don't just oppose someone or something. We propose a clear and compelling alternative. And when we do that, we don't just win the argument. We don't just win your support. We win your enthusiasm. We win hearts and minds. We win a mandate to do what needs to be done to protect the American Idea."

Ryan recalled his time working for his mentor, former Rep. Jack Kemp, and told interns part of leadership was accepting that you can be wrong, giving them examples of times he's been wrong.

"There was a time when I would talk about a difference between 'makers' and 'takers' in our country, referring to people who accepted government benefits," he said. "But as I spent more time listening, and really learning the root causes of poverty, I realized I was wrong. 'Takers' wasn't how to refer to a single mom stuck in a poverty trap, just trying to take care of her family. Most people don't want to be dependent. And to label a whole group of Americans that way was wrong."

Later, he added that his "tough on crime" approach was also wrong and that he has now come around to criminal justice reform.

Ryan has repeatedly said he has no intention of running for president even if it comes down to a chaotic convention. He has condemned comments Trump has made in the last few months, but he has maintained he will support the party's nominee and declined to endorse anyone.