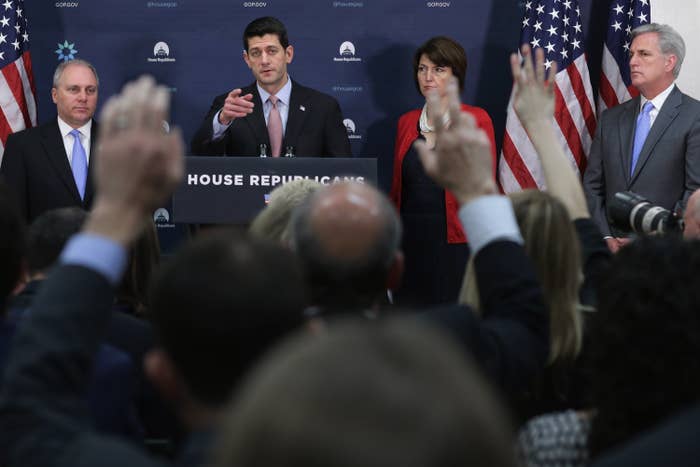 WASHINGTON — House Republicans have formed a task force to form legislation to deal with the Obama administration's plans to accept more Syrian refugees amid calls from Republicans across the country to halt the resettlement program in the aftermath of the Paris attacks.
"It's clear that this was an act of war and the world needs American leadership," said Speaker Paul Ryan in a press conference Tuesday morning after a closed-door meeting with House Republicans.
Ryan continued: "Our nation has always been welcoming, but we cannot let terrorists take advantage of our compassion. This is a moment where it's better to be safe than to be sorry. So we think the prudent — the responsible thing is to take a pause in this particular aspect of this refugee program in order to verify that terrorists are not trying to infiltrate the refugee population."
House Majority Leader Kevin McCarthy added during the press conference that the task force, which includes members of several committees — counterterrorism and homeland security, armed service, appropriations, intelligence, judiciary, and foreign affairs — was formed over the weekend to come up with short-term and long-term solutions.
The House could take action on legislation coming out of the task force as early as this week.
Fifteen House Republicans have proposed defunding the settlement program through the government funding bill that Congress needs to pass by Dec. 11, but at this point, there doesn't seem to be enough support for that idea.
"We don't want to wait that long," Ryan said in response to using the spending bill as a vehicle to deal with the refugee issue. "We want to work and act on this faster than that."
Even several members of the House Freedom Caucus, who in the past have pushed for using spending bills as leverage, said they didn't want to endorse using the spending bill just yet.
"I think there are a lot of options on the table," said Rep. Matt Salmon of Arizona, a member of the Freedom Caucus. "I think it's really clear that we're not going to go home without take some kind of action. Our first responsibility is to protect our American people. Of course, we're a country that welcomes people who are oppressed across the world. But right now we're in very unique circumstances and the president can't guarantee that there's even a vetting process much less an effective one."
"I think in the next 48 hours, we will galvanize around a solution or a series of solutions," he said.
Rep. Tim Huelskamp of Kansas, another member of the caucus, said he wanted to wait for the intelligence briefing from the administration on Tuesday evening and look at other options before deciding on what he would support.
"We have a long ways to go," he said.
An idea a few members coming out of the meeting said they could support deals with funding "safe zones" within Syria and the region.
"That would be the best for Syria and Syrians," said Rep. Greg Walden of Oregon. "The leadership has to work with our partners there to create the safe zones."
Salmon also brought up the idea.
"My personal feeling is I like the idea of 'safe zones' within Syria itself or nations close by," the Arizona Republican said. "There's a lot of reasons for that. We can provide the funding — or a lot of the funding — for that kind of thing. We can also ensure that when those people decide to go back and fix their country when it's safe to do so that they are in close proximity."