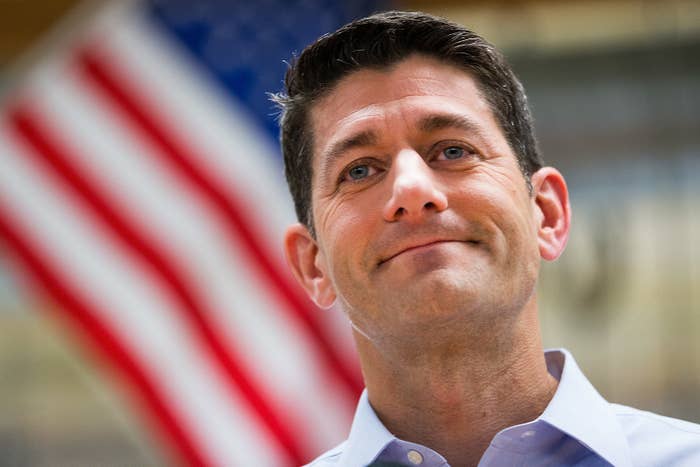 House conservatives and outside groups with a reputation for being troublemakers are signaling they're gearing up for battle once again with Republican leadership — but this time, they have a key ally on their side: former top White House adviser Steve Bannon.
North Carolina Rep. Mark Meadows, chairman of a group of House conservatives known as the Freedom Caucus, has struck up an alliance with Bannon, President Trump's nationalist adviser who left the White House last month to return as chairman of his far-right publication Breitbart. The two, who recently dined together, have clout within the Trump administration and with Trump's core base of supporters.
With Republicans set to face several major issues for conservatives in the coming months — including tax reform and how to handle the fallout from Trump's decision to rescind the DACA program — Meadows and Bannon could play a signature role in keeping the pressure on House leadership to stay close to the wishes of the party's grassroots wing.
"Bannon has been strategizing with them on how they can pass conservative measures," said a source close to the administration and Bannon. The source pointed out that given that Bannon is now not an "advocate of the administration," but rather one "for the administration" from the outside, he has the leeway to occasionally criticize the president and more often criticize those "misadvising the president."
"This is how the sausage is made, as Steve says," the source said.
An early indication of their strategy became clear Wednesday, after Trump cut a deal on the debt ceiling and government funding with Democratic leadership, rolling over his own party's leaders and leaving most congressional Republicans fuming. But instead of attacking Trump for siding with Democrats, House conservatives are keeping their focus on House Speaker Paul Ryan and Senate Majority Leader Mitch McConnell.
"There were no conservative solutions offered to the president in relationship to addressing the debt ceiling," Meadows told reporters, arguing that Trump made a decision between "no deal and a bad deal."
Ryan and McConnell, however, did offer the president an option to raise the debt ceiling into 2018. But Trump went with Democratic leadership — House Minority Leader Nancy Pelosi and Senate Minority Leader Chuck Schumer — who offered a three-month option for the debt ceiling and government funding, giving Democrats more leverage to negotiate a deal in December that might include some of their legislative priorities.
While Meadows said he didn't know if it would be "appropriate" to blame any specific person for the deal, he pointed out that the Republican leadership did not make an effort to offer any spending offsets for raising the debt ceiling, which Republicans have typically pushed in the past. "Increasing the limit on a credit card without making any reforms is not a conservative solution," he said.
The plan Trump agreed to with Schumer and Pelosi, which also includes funding for Harvey relief, does not include any broader reforms or offsets either. And Trump's Treasury Secretary Steve Mnuchin told the House Financial Services Committee last month that he believed "there should be clean debt ceiling," with no offsets.
However, when Mnuchin made the case for a longer-term debit limit extension in the meeting on Wednesday, the president interrupted him and said he was going to side with the Democrats, according to a source briefed on the meeting.

Budget director Mick Mulvaney, a former Freedom Caucus member, had also previously agreed to a clean debt ceiling measure, and the source said that every Republican in Washington was operating under that assumption, so adding offsets, as Meadows is now suggesting, wasn't possible.
But by keeping their frustration honed on party leadership instead of on Trump, Meadows and Bannon avoid draining their influence early.
Bannon's website Breitbart did take the opportunity to criticize Trump after he agreed to the deal with Pelosi and Schumer. After staying quiet for much of the afternoon, the site turned its sights on the president, blaring "MEET THE SWAMP" at the top of its homepage over a picture of the White House meeting, adding that the deal "jacks up debt, punts agenda, snubs GOP."
But Breitbart has long centered its attacks on McConnell and Ryan, and it is expected to become even more aggressive in its broadsides as Republicans fail to push any of Trump's agenda through Congress.
South Carolina Rep. Mark Sanford, another member of the Freedom Caucus, said the deal Trump accepted Wednesday made the bill to raise the debt ceiling go from "bad to worse" from a taxpayer's perspective.
But Sanford, who typically doesn't hold back from attacking Trump, didn't target him outright for his decision. "It's a reminder of how important governing philosophy is," Sanford said, adding that it shouldn't be about "getting something done," but should be a question of "to what end."
Several conservative groups held a conference call Wednesday afternoon to express their frustration with the debt ceiling deal. They, too, trained their ire mostly on congressional leadership.
"We didn't work this hard just to let Congress enact liberal policies," said Jenny Beth Martin, president of Tea Party Patriots, who described the deal as "fool's play" and a "trap" for Republicans.
Ken Cuccinelli of the Senate Conservatives Fund said the deal showed "why ordinary Republicans of every stripe believe Republican leadership must be replaced." Pointing to McConnell specifically and the perceived lack of a conservative debt ceiling option for the president, he said, "If that's going to be the habit in September, it's going to be a very ugly September."
Adam Brandon, from the conservative group FreedomWorks, said on the call that "to say I'm a little steamed right now would be an understatement."
He later pointed his finger at Ryan and McConnell, telling BuzzFeed News that congressional leadership should have brought "everybody's butts back" to DC to work on the debt ceiling measure last month instead of dropping this "A-bomb" on the conservative base.
Brandon, though he did not portray the president as faultless for Wednesday's deal, talked up how crucial Bannon will be in persuading Trump to pursue conservative policy: "Steve Bannon knows the Trump voters very well and their agenda. It's fighting the swamp. Striking a deal with Nancy Pelosi and Chuck Schumer? That's straight out of the swamp."
He also said the way the debt ceiling deal happened doesn't bode well for tax reform and other issues Republicans want to get to: "Do you really want to do this right before the tax reform bill?"
Asked what Wednesday's deal meant for the rest of the Republican's fall agenda, Meadows said: "It means we've got to get our act together."
This post has been updated with additional information from the White House meeting.