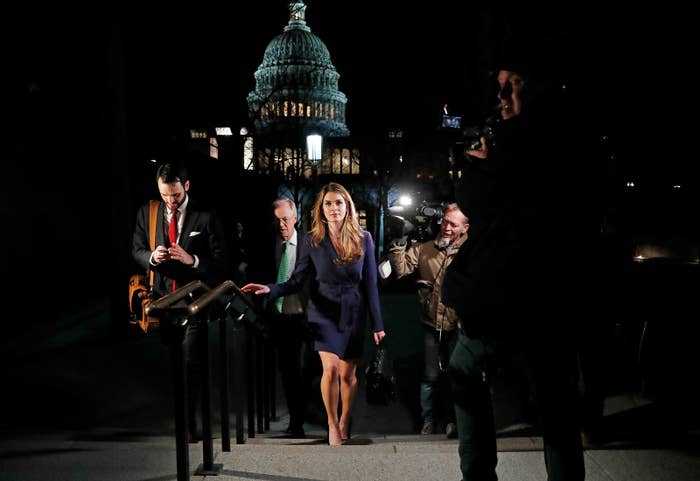 White House communications director Hope Hicks — one of the few longtime aides to President Donald Trump to make it to his second year in office — has resigned.
"There are no words to adequately express my gratitude to President Trump," Hicks said in a statement sent by the White House Wednesday afternoon. "I wish the President and his administration the very best as he continues to lead our country."

In his own statement, Trump said, "Hope is outstanding and has done great work for the last three years. She is as smart and thoughtful as they come, a truly great person. I will miss having her by my side but when she approached me about pursuing other opportunities, I totally understood. I am sure we will work together again in the future."
The news of Hicks' departure, expected to come in the next several weeks, was first reported by the New York Times.

Hicks met Tuesday with the House Intelligence Committee, which is investigating Russia's interference in the election, where she reportedly did not answer some of the committee's questions about her work in the White House or during the presidential transition. She also, according to the Times, said she has occasionally told "white lies" on behalf of the president, though she said that did not extend to anything concerning the Russia investigation.

One member of the committee told BuzzFeed News that the news of Hicks' exit is a "complete shocker" and that "nothing from her testimony gave the impression she was leaving."
Sources inside and outside the White House told BuzzFeed News they were also shocked by Hicks' announced departure, and that they are still trying to determine what exactly it will mean for the administration.
Hicks did not immediately give a reason for her exit, but the Times reported she had been "considering" it for months.
Hicks, 29, started working for Trump Organization in 2014, doing public relations for Ivanka Trump's fashion line and some Trump properties. She played a key, early role on Trump's 2016 presidential campaign as a close adviser and media liaison, despite having no prior political experience. Even as other Trump allies moved in and out of the president's inner circle, Hicks, who never did TV interviews and largely stayed out of the public eye, managed to stay in the mercurial president's good graces.
However, her role in the White House's response to the allegations that top aide Rob Porter physically and emotionally abused his former wives reportedly frustrated the president. Hicks was dating Porter when the allegations became public.
The White House released several statements praising Porter when the allegations were first reported. But in the following days, after Porter resigned, deputy press secretary Raj Shah admitted that the White House could have handled the situation better. However, Shah also said that the president still had confidence in Hicks and other top advisers involved with the drafting of those statements.
The revelations about Porter appeared to weigh on Hicks. White House communications officer Mercedes Schlapp told some White House staff in the days following the scandal to direct questions to her instead of Hicks, because Hicks was "dealing with a lot" and "not able to perform the duties of communications director right now," The Wall Street Journal reported. Schlapp denied making those comments.
In recent weeks, Hicks had also come under scrutiny as part of special counsel Robert Mueller's investigation, particularly her role in responding to the revelations of the president's oldest son, Don Jr., meeting with a Russian lawyer with ties to the Kremlin at Trump Tower during the campaign. Hicks has reportedly met with Mueller's team to answer questions about the incident, as investigators seek to determine if Trump obstructed the investigation into Russian interference in 2016's election.

Hicks was one of the last Trump loyalists from the campaign or his businesses left in the White House, leaving that role now chiefly to social media director Dan Scavino. Keith Schiller, Trump's close aide and longtime bodyguard, left the White House last September.
Josh Raffel, another top White House communications aide who has worked closely with Hicks, announced Tuesday that he would be leaving the administration as well. Raffel has primarily served as a spokesperson and communications adviser for Jared Kushner and Ivanka Trump.
Hicks is just the latest communications director to leave Trump's White House, following Mike Dubke and Anthony Scaramucci, who both briefly filled those roles in 2017. Sean Spicer also took on the responsibilities of the communications director during some of his tenure as White House press secretary.

Lissandra Villa contributed reporting to this story. This is a developing story. Check back for updates and follow BuzzFeed News on Twitter.