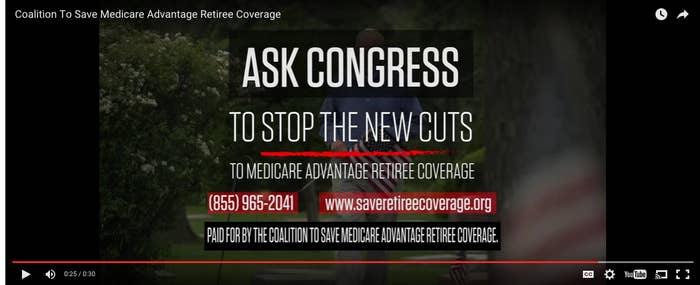 WASHINGTON — A new coalition is going up with a seven-figure ad buy in five states and Washington, D.C., targeting senators over proposed cuts to a health care program that covers millions of seniors.

The group — Coalition to Save Medicare Advantage Retiree Coverage — will be airing ads starting Wednesday focusing on senators from both parties: Sen. Chuck Schumer in New York, Senate Majority Leader Mitch McConnell in Kentucky, Sen. Ron Wyden in Oregon, Sen. Orrin Hatch in Utah, and Sen. Gary Peters in Michigan.
The ads, which were first shared with BuzzFeed News, urge viewers to ask Congress to stop cuts to Medicare Advantage Retiree Coverage proposed by the Centers for Medicare & Medicaid Services last month and thank certain senators working on the issue. None of the senators mentioned are facing tough re-elections this election cycle but represent states with a high number of retirees who are covered by the program.
"Retirees, your health care may be on the line," a narrator says in 30-second spots. "The Medicare agency has proposed new cuts to Medicare Advantage Retiree Coverage that 3.3 million seniors count on. You could be facing up to $264 a year in higher costs and reduced benefits. It's not too late to stop the cuts."
Although the narrator doesn't specifically call out the senators, the text on screen ads mentions their names.
The coalition, which was formed recently, has more than 30 members including the National Boilermakers Funds, Verizon, Nokia, Humana, United Health Group, 1199 SEIU and the Kentucky Teachers' Retirement System.