GOP Not Thrilled With Trump's Plan To Keep Jobs In The US
Trump suggested imposing a 35% import tariff for companies that move their operations overseas, but congressional Republicans argue that the move could start a trade war.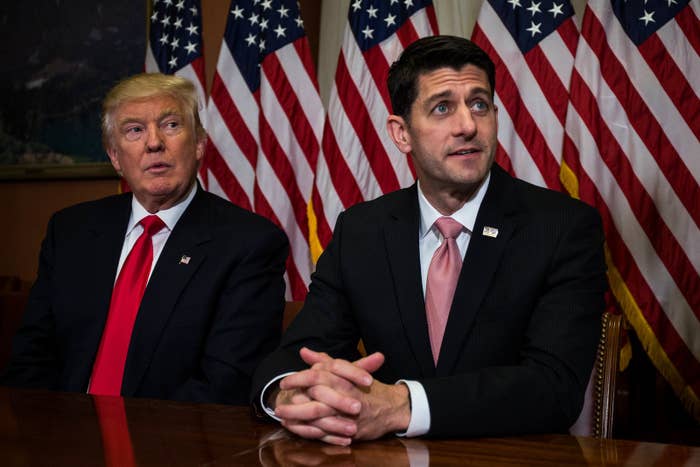 WASHINGTON — President-elect Donald Trump's proposal to impose high import tariffs on companies that move operations outside the United States is going to be a tough sell within his own party.

Congressional Republicans — free-market supporters who have long said that government should not pick winners and losers — made clear that they disagreed with Trump's proposal, even if they agreed with the sentiment of keeping jobs in the country. Instead, they advocated for tax reform, specifically lowering the corporate tax rate and the tax on repatriation, as an incentive to stay.
"You can't just establish tariffs at will," said Utah Sen. Orrin Hatch, chairman of the Senate Finance Committee. "There has to be a reason."
Hatch said Republicans might support tariffs in some "isolated cases," but not as a blanket policy. "He just sent that warning shot and it's got some businesses thinking twice before they leave," he said of Trump's tweet. "But give us a chance to change the tax laws, so there's much more economic incentive to stay here. We know how to do that."
In a series of tweets this weekend, Trump said: "The U.S. is going to substantialy [sic] reduce taxes and regulations on businesses, but any business that leaves our country for another country, fires its employees, builds a new factory or plant in the other country, and then thinks it will sell its product back into the U.S. without retribution or consequence, is WRONG!"
"There will be a tax on our soon to be strong border of 35% for these companies wanting to sell their product, cars, A.C. units etc., back across the border," Trump tweeted.
Congressional Republicans were careful to suggest that this does not amount to a serious break with the president-elect so much as a disagreement over tactics. House Majority Leader Kevin McCarthy was none too pleased with Trump's proposal, suggesting that it could start a "trade war." But pressed on the fact that this tweeted suggestion violated long-held Republican orthodoxy, McCarthy rejected the very premise of the question. That's becoming typical of the cautious style congressional Republicans have exhibited in publicly reacting to anything controversial Trump has done since becoming president-elect.
McCarthy, like other congressional Republicans, used the opportunity to champion "tax reform" as a way to solve the issue Trump was addressing in his tweets. "I think there's other ways to achieve what the president-elect is talking about," he said. "I think that's a better way of solving the problem than getting into a trade war with a 35% tariff," he said.
House Speaker Paul Ryan took a similar tack, voicing agreement with the sentiment behind the tweet, but proposing different action. "We can get at what he's talking about through smart tax reform. What his concern is, is legitimate — American companies are moving overseas, are shifting headquarters and factories overseas," he told the Milwaukee Journal Sentinel.
"I'd want to be very cautious about the implications of that," said Iowa Rep. Steve King said of Trump's proposal, adding that he "understand[s] the sentiment," but that "lowering our tax structure, reducing much of this regulation here will go a long way to resolving this issue without having to do anything like putting a tariff on a product that's coming in from an expatriate American company."
South Carolina Sen. Tim Scott took another approach, saying it was another Trump proposal that shouldn't be taken so literally. "He's going to continue to find interesting ways to point out the fact that there is disparity in the result of some of the trading deals and that we're running to make sure we're improving the life of the American worker," Scott said.
"I'm not sure he's specifically suggesting that we should have 35 percent tariffs as much as he's suggesting that the playing field not be lowered for the average American worker."
Without explicitly saying he would oppose such a proposal, Iowa Sen. Chuck Grassley said, "The law has to be followed, and there are rules on what the president can and cannot do."
South Carolina Sen. Lindsey Graham questioned how such a proposal would even be permitted. "I'd be curious how you can do that under the [World Trade Organization] and other things," he said. "I think tax reform to entice people to stay is the right approach."
And Arizona Sen. John McCain simply responded with a long, "No," when asked whether he would support the tariff before jumping in an elevator up to the Senate floor.
Oklahoma Rep. Tom Cole said he was "not sure that's the right tool" for solving the issue. "I sympathize with the sentiment, I mean I think sending the message you're gonna be tough on people moving jobs out of the country is a good thing," but, he cautioned, "you've got to make sure you don't stumble into a trade war before you're ready for it."
Already, the influential conservative group Club for Growth, which has backed primary challengers to GOP senators in the past, has warned lawmakers against backing such a tariff.
"Tax cuts and deregulation will make the American economy great again, but tariffs and trade wars will make it tank again," said David McIntosh, the group's president, in a statement. "The president-elect is spot on when he calls for cutting taxes and federal regulations, but 35-percent tariffs would be devastating to consumers and businesses."
The question is how seriously Trump's tweet storm proposals ought to be taken, and there is little consensus among members of Congress on that score. Cole deemed Trump's tweets an expression of his "initial thinking. That doesn't mean that he'll end up there." Ryan, on 60 Minutes Sunday night, brushed them off as irrelevant. "Who cares what he tweeted on some Thursday night if we fix this country's big problems," Ryan said.
But King said he took the proposals far more seriously, saying, "Soon the president's tweets will be substitutes for press conferences and press releases."