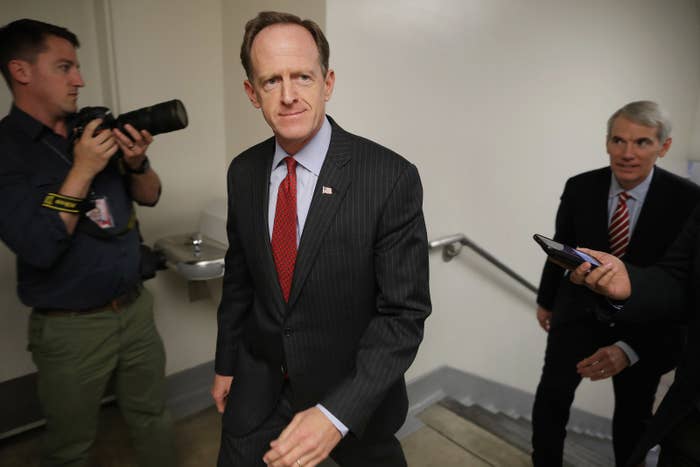 ASTON, Pennsylvania — Barbara Herbus, a local school district administrator in Pennsylvania, is an unabashed and enthusiastic Donald Trump supporter. Last week, she was "thrilled to have Trump at her doorstep" in Aston, just outside of Philadelphia and is more than ready to cast her vote for the nominee she believes has "a servant's heart" in November.
But ask her about Sen. Pat Toomey, the incumbent Republican senator on the ballot, and she's lukewarm. She can't quite put her finger on why she's concerned about him, and vaguely said that "he talks about changing Social Security" as a reason for her trepidation. A friend sitting in front of Herbus quickly tried to correct her: "But that other girl McGinty is going to raise our taxes by $3,000. Don't get me started." The two argued a bit over which candidate was richer, ultimately deciding that personal wealth shouldn't influence how they planned to vote. Herbus wasn't entirely convinced, but ultimately said she would probably vote for Toomey. Other than Social Security and child care, Herbus said an issue she cared about was keeping "In God We Trust." "Because they're taking it out of a lot of things."
In swing states across the country, Donald Trump's biggest fans — like Herbus — are getting ready to hold their noses and vote for incumbent GOP senators. They're far more excited to vote for their presidential nominee, and like the fact he's an outsider with zero political experience. But in many cases, that translates to a healthy dose of skepticism towards establishment Republicans like Toomey, Ohio Sen. Rob Portman, and Florida Sen. Marco Rubio.
Vulnerable down-ballot Republicans are counting on these die-hard Trump voters and have had to be careful in any criticism against their presidential nominee, as they balance winning over moderates and independents at the same time. Rubio, Portman, and Toomey are all in tough re-election races. For now, polls show all three incumbents running ahead of Trump and being able to keep his supporters while winning over others.
Trump supporters at his rallies in Pennsylvania, Ohio, and Florida last week said they were just starting to tune into down-ballot races, and don't necessarily love what they see.
Angel Gonzalez, was at a Miami event for Trump and took issue with Rubio's criticism of Trump. "I haven't done enough research to determine if I really will vote for him or not," he said.
"Right now I will tell you no. Just for the simple reason, how can you turn your back to your nominee. I mean, I don't get it. If you are in the Republican Party, and you considered yourself a Republican, how can you not stand for your party to begin with? So if you are telling me your parents are from Cuba, and you are for Cubans, excuse me? I don't get it. What have you really done for us?"
Anne Sweeney, a retiree from Aston who attended the same event as Herbus in Pennsylvania, said she liked Toomey's strong position against sanctuary cities, but she wasn't excited to cast her ballot for him. "I'm excited to not vote for her," she said, referring to McGinty.
Attendees at Trump rallies in other states also said their vote was more about being against the Democratic option.
"What would be the alternative, you know, voting for the Democrat?," said Andres Novoa, 24, in Miami, when asked if he would vote for Sen. Marco Rubio. "I mean this is a party that completely shown that they have a total disdain for the American people. Hillary Clinton isn't alone in saying 25% of Americans are deplorable. That is a sentiment that is rampant upon the American Left. And it seems she just revealed too much. She slipped and let her true colors show. And I think the American people aren't stupid. And that's the problem with Hillary Clinton. She thinks we're all stupid."
But Anthony Mayle, who works in communications in Canton, Ohio, said he didn't want to vote for his senator Rob Portman just because he's a Republican. "I think the Republican Party has lost a lot of face among Republican voters. They campaign on one thing and do another."
Several Trump supporters at different events also said they just didn't know much about the Senate Republicans who represent their states.
In Miami, Anthony Yaques, 25, said of Rubio: "Probably, maybe. I haven't thought about it yet. I've kind of not really looked at it. I don't think about the Senate race, I don't think about the congressional race."

And in Ohio, Jeremy Taylor, a mental health counselor from Canton, didn't have too much to say about Portman. "I don't know if I like him," Taylor said, adding he would probably still vote for him.
Ryan Beltz, a 33-year-old Canton resident who works in insurance, was the only one of the dozen Trump supporters BuzzFeed News spoke with at the Trump event in Ohio who went as far as to say he liked Portman.
"I have a lot of respect for him for when he came out in support of gay marriage," Beltz said, adding as millennial Republican, that was important to him.
But when asked if he was excited to vote for Portman as he was for Trump, Beltz responded: "Probably not. But I still plan to vote for him."
Tarini Parti reported this story from Aston, Pennsylvania and Canton, Ohio. Kyle Blaine reported from Miami, Florida.