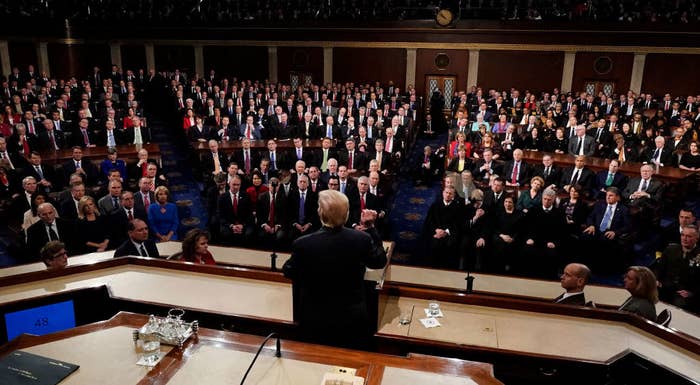 For about 80 minutes Tuesday night, President Donald Trump largely stuck to a scripted speech and acted presidential. Republicans cheered, Democrats mostly resisted, and the state of our union was fairly predictable.
But a year into his presidency, it's clear that Teleprompter Trump is not necessarily the man who sits in the Oval Office every day, and his swirl of unscripted moments typically blur whatever is written on the teleprompter.
Although the annual address is supposed to offer a guide for the president's priorities for the year, this restrained version of Trump — who came right back to his prepared remarks after only occasional ad libs — likely won't be the one actually negotiating with lawmakers and carrying out his agenda. And members of both parties and administration officials know by now not to hold out for a "pivot" to a more controlled Trump who's never going to come, after seeing a flash of normalcy from the president.
In his speech, Trump, who often criticizes Democrats in his tweets, opened with a call for bipartisanship and unity by bringing up the response to the gunman who opened fired on Republicans during a baseball practice last year. "In the aftermath of that terrible shooting, we came together, not as Republicans or Democrats, but as representatives of the people," Trump said. "But it is not enough to come together only in times of tragedy. Tonight, I call upon all of us to set aside our differences, to seek out common ground, and to summon the unity we need to deliver for the people."
He went on to bring up issues that typically have bipartisan support: reducing the price of prescription drugs, improving infrastructure, reforming the prison system, instituting paid family leave, and dealing with the opioid crisis. "America is a nation of builders," Trump said. "We built the Empire State Building in just one year — is it not a disgrace that it can now take 10 years just to get a permit approved for a simple road? I am asking both parties to come together to give us the safe, fast, reliable, and modern infrastructure our economy needs and our people deserve."
"Infrastructure, my goodness, we all need infrastructure, and we've just got to see where the money's coming from," Democratic Sen. Joe Manchin told reporters after the address. Trump "kind of put the olive branch out there," he added. "Let's see if they take it and run with it."

Much of the speech was devoted to detailing the inspirational and trying personal stories of his official guests, including Ji Seong-ho, a North Korean defector who faced multiple amputations before fleeing his country for Seoul, where he now helps other defectors.
But he also catered to his base, reiterating the "four pillars" of his immigration proposal that received some boos from Democrats, announcing that Guantanamo Bay would be staying open, and giving an ominous but unclear warning to his potential detractors within the government. "So tonight I call on Congress to empower every cabinet secretary with the authority to reward good workers and to remove federal employees who undermine the public trust or fail the American people."

Republican Sen. Jeff Flake, who supports a deal to grant a pathway to citizenship to some young undocumented immigrants, told reporters after the address that the immigration language in particular "was kind of the American carnage kind of moment."
The president took a victory lap for several GOP agenda items: passage of tax reform at the end of last year, remaking the judiciary, and executive orders that unraveled a slew of Obama-era regulations. "This is our new American moment," the president said. "There has never been a better time to start living the American dream."
In execution, however, Trump has rarely followed any script, even one he lays out himself.
The president gave a similar speech last year with similar themes and issues.
"Dying industries will come roaring back to life," he told a joint session of Congress at the outset of his presidency. "Heroic veterans will get the care they so desperately need. Our military will be given the resources its brave warriors so richly deserve. Crumbling infrastructure will be replaced with new roads, bridges, tunnels, airports, and railways gleaming across our very, very beautiful land. Our terrible drug epidemic will slow down and, ultimately, stop. And our neglected inner cities will see a rebirth of hope, safety, and opportunity. Above all else, we will keep our promises to the American people."
This year, like during last year's joint address, Trump called for a bill that creates over $1 trillion in new infrastructure investment — the main difference being an "at least" $1.5 trillion ask this year, as opposed to just $1 trillion last.
Trump and his aides were thrilled in the immediate aftermath of his joint address to Congress last February. The president received rave reviews. But the next day, the Washington Post dropped an explosive story saying that during his confirmation hearing, Attorney General Jeff Sessions failed to disclose meetings with the Russians. That revelation led to Sessions' decision the following day to recuse himself from the investigation into Russian election meddling.
Trump's first State of the Union address, and whatever warm feelings of togetherness it generates, may run into another immediate wave of news. The White House could soon release a deeply contentious and eagerly anticipated four-page memo from Republicans on the House Intelligence Committee that is said to question the integrity of the Russia investigation.
Without seeing it, some Trump supporters say the memo will completely shake up the Justice Department and FBI. The memo, former Trump adviser Sebastian Gorka said recently, describes injustices "100 times bigger" than the offenses that caused the American Revolution. Trump's own Justice Department, meanwhile, has reportedly been pressing the White House to keep the document under lock. Democrats on the House Intelligence Committee, who voted against releasing the memo, argue that the four pages are a politicized threat to national security.
That debate, should Trump decide to release the memo as he's so far suggested he will, would almost definitely overshadow whatever was said in Trump's speech.
"I thought it was fairly measured and uneventful in a very good way," Republican Rep. Charlie Dent told reporters of the speech after it ended. Asked if he thought it would still matter at end of the week, Dent noted Trump's joint address last year was measured, and then was wiped away within days. "I hope that doesn't happen again, but this is the chaos presidency. You never know."

"He can't string two consistent days together," Rep. Eric Swalwell, a California Democrat, told BuzzFeed News after the speech. "If he invited Democratic and Republican lawmakers to the White House tomorrow, said let's get back to work on immigration and infrastructure, then yeah, I would say the speech mattered, and it would have been a step in a new direction. But if he starts tweeting at, you know, 5:45 a.m. about someone's response to the speech or the Russia investigation, then I think we're just back to [where we started]."

But on Tuesday night at the Capitol, the president remained optimistic — unlike during some of his previous big speeches, including his inaugural address on the steps on the same building.
"As long as we are proud of who we are, and what we are fighting for, there is nothing we cannot achieve," he said. "As long as we have confidence in our values, faith in our citizens, and trust in our God, we will not fail."
Additional reporting contributed by Lissandra Villa and Emma Loop.