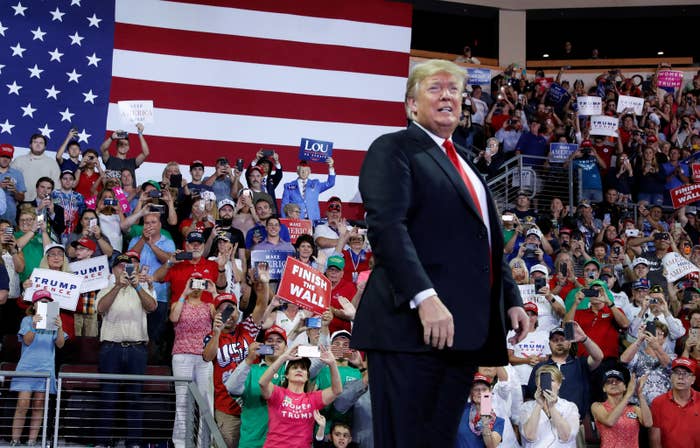 Supreme Court Justice Brett Kavanaugh was officially sworn in this week and has already been presiding over oral arguments, but President Donald Trump is not ready to let his confirmation battle go.
Trump has brought up the judge repeatedly before cheering crowds at rallies and in his public comments over the last two weeks, casting Kavanaugh, who was accused of sexual assault, as a "flawless" man under attack by Democrats and the "angry, left-wing mob."
As he takes a victory lap, his comments have become much more aggressive than they were during the confirmation process, when he initially refrained from attacking Kavanaugh's accuser, Christine Blasey Ford, who testified that the judge sexually assaulted her when they were both in high school.
Although Kavanaugh's nomination process has galvanized both the right and the left, in the areas where Trump is campaigning — mostly states he won in 2016 where Democrats are now defending 10 Senate seats and some governorships — Republicans are counting on the political divide to favor their side in pushing Trump supporters to the polls. The backlash from women and moderates, however, could further hurt Republicans in swing districts where House Republicans have been keeping races local and away from Trump.
"If Democrats are willing to cause such destruction in the pursuit of power, just imagine the devastation they would cause if they obtained the power they so desperately want," Trump said at a rally in Kansas on Saturday, immediately after Kavanaugh's confirmation vote. The president was campaigning for Kris Kobach, one of his most loyal allies, who is in a tight race for governor.
"You don't hand matches to an arsonist, and you don't hand power to a angry, left-wing mob, and that's what they have become," Trump said, a line he later repeated at a rally in Iowa.
Ahead of a White House swearing-in ceremony for Kavanaugh on Monday, Trump took his rhetoric a step further, telling reporters the allegations against his nominee were a "hoax set up by the Democrats." In a speech later that day to the International Association of Chiefs of Police in Orlando, Trump again brought up Kavanaugh. "False charge. False accusations. Horrible statements," he said as the crowd cheered. "It was a disgraceful situation brought about by people that are evil, and he toughed it out, and we toughed it out together."
He went on to claim Kavanaugh had been "proven innocent" during the swearing-in ceremony, which was largely symbolic since the judge had already been sworn in on Saturday.
And on Tuesday, Kavanaugh's first day on the bench, Trump opened his rally in Council Bluffs, Iowa, with the same topic, claiming that Democrats' handling of the Kavanaugh allegations was a "national disgrace." Encouraging his supporters to vote for Republicans, Trump also said that Kavanaugh was still not safe from Democrats' attacks, calling the party "unhinged" and "wacko" in its "lust for power."
"Last week, they were saying, 'We'll impeach him.' Impeach him for what?"
Trump also attacked Sen. Dianne Feinstein, the ranking Democrat on the Senate Judiciary Committee, claiming without evidence that she had leaked Ford's confidential letter detailing the allegations against Kavanaugh.
As the crowd chanted "Lock her up!", which Trump supporters typically shout about former Democratic presidential nominee Hillary Clinton, Trump said: "Did she leak it? 100 percent."
Ben Ray, a spokesperson for the Democratic Senatorial Campaign Committee, said Trump's use of the Supreme Court fight on the campaign trail shows that the other issues Republicans were messaging on — tax reform and health care — were not working. "They're really having to grasp at straws right now to bail themselves out before the election," Ray said. "If they want to attach themselves to the least popular Supreme Court nominee turned Supreme Court justice ever, fine."
Trump hit on those policy issues and others Wednesday night during a rally in Erie, Pennsylvania, but the Kavanaugh battle — after some words about Hurricane Michael's landfall earlier that day in the Florida Panhandle — was still his leadoff topic.
The audience inside the Erie Insurance Arena cheered loudly during Trump's victory lap over Kavanaugh's messy confirmation.
"What the radical Democrats did to Brett Kavanaugh and his beautiful family is a massive disgrace," the president said, to prolonged booing. "Disgrace. What they did was a disgrace. Look at Cory Booker … you look at Sen. Dianne Feinstein … the disgraceful behavior, the disgraceful leaking of documents, you look at what they did. You look at the false charges, you look at the false accusations, it was a disgrace."
"On Nov. 6," Trump continued, "you can vote to reject the Democrats' shameful conduct by electing [a] Republican House and … a Republican Senate."
Rep. Lou Barletta, a Trump-backed candidate facing an uphill battle to unseat Democratic Sen. Bob Casey this fall, piggybacked off Trump's comments later at the event.
"If you don't like the way that Justice Kavanaugh has been treated," Barletta said, "then you can't reward Bob Casey by sending him back to Washington."
Though the Supreme Court was a crowd-pleasing subject, as Trump's supporters waited outside in line before the rally, few who spoke with BuzzFeed News mentioned it as a motivating issue. (Most emphasized state and local issues, such as taxes and road and infrastructure projects.)
One exception was Vince Friscarella, a New Alexandria man who described himself as a past Democratic voter who voted for Trump in 2016 and now, because of the Kavanaugh hearings, "will never vote for a Democrat again as long as I live." It was clear he'd been listening to the president on the matter in recent days.
"The way they treated Kavanaugh," Friscarella said, "that was a total disgrace by our government."
Tarini Parti reported from Washington, DC. Henry J. Gomez reported from Erie, Pennsylvania.