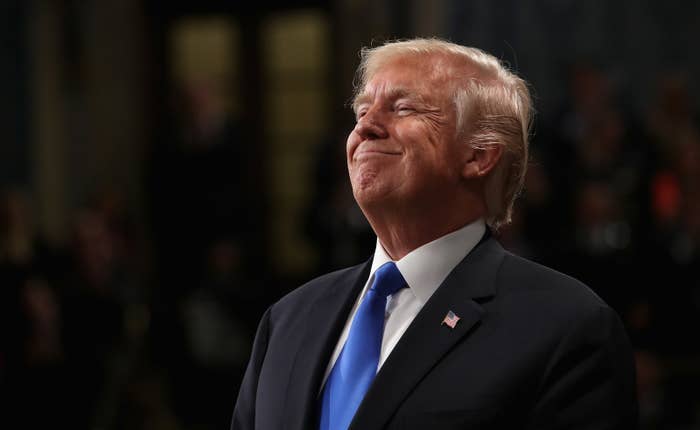 John Melendez, the "Stuttering John" podcast host known for playing pranks, says he managed to get an Air Force One phone call from President Donald Trump, who appears to have thought Melendez was New Jersey Sen. Bob Menendez.
If accurate, the call, which Melendez recorded and posted as a podcast episode, would be a stunning lapse in procedure and security for the White House.

In the recording, the person who appears to be Trump said he was calling from Air Force One on his way back to Washington, DC, from Wednesday's campaign rally in North Dakota. He seems to sympathize with Menendez, a Democrat who was facing federal corruption-related charges before a mistrial was declared last November and the government later dropped all charges.

"Congratulations on everything," Trump appears to say on the call, according to the audio Melendez posted. "We're proud of you."
"You went through a tough, tough situation, and I don't think a very fair situation," he goes on to say.

In the nearly four-minute call, Trump then appears to answer questions from Melendez, posing as Menendez, related to immigration and the Supreme Court vacancy.
"I want to be able to take care of this situation every bit as anybody else," he says of the crisis at the border. "I'd like to do the larger solution rather than the smaller solution."
He also says he will make a decision on his Supreme Court nominee in the next two weeks, or "over the next 12 to 14 days." That timeline is in line with what a key Trump adviser told BuzzFeed News on Thursday.

The White House did not immediately return a request for comment about the recording.
In an interview with CNN, Melendez said he tried a few different White House phone numbers and left messages, until he was eventually connected with top administration officials after dialing a number he found on Google for the White House switchboard.
Melendez said he used a fake English accent, pretending to be from Menendez's staff, before he was eventually connected to Jared Kushner, the president's son-in-law and senior adviser.
President Trump then called Melendez from Air Force One, he said.
"It amazes me since he's talked to me well over 20 times that he did not recognize that it's Stuttering John, a guy he's listened to in the Stern show for years," he told the network. "I have the worst Long Island accent known to man, and how he could not know that it wasn't a real senator is beyond me."
In a series of tweets late Friday night, Melendez said Secret Service agents had come to his home to interview him, but left when he did not answer the door.
Joseph Casey, a spokesperson for the Secret Service, told BuzzFeed News on Saturday morning, "We don't comment on our protective operations."
In a statement to CNN, a White House official said the comedian was mistakenly able to reach Trump because of the president's desire to be available to members of Congress.
"The President wants to be accessible to members and likes engaging them and wants them to have the opportunity to connect," the official said. "The downside of that is sometimes the channels are open too widely and mistakes like this happen."
Melendez said that, besides Kushner asking him what topic he wanted to discuss with the president, there was little to no screening to verify his identity.
"If they had just screened me and asked me what party affiliation Senator Menendez had, or what state he represented, I would have been stumped," he said. "I got on the phone with Trump and he was just like, 'Bob, I want to congratulate you.' I didn't even know that Senator Menendez was in any legal problems."
Melendez was previously a longtime fixture on the "Howard Stern Show," which Trump was a frequent guest on. In an Oct. 10, 2001, episode, Trump talked about having lunch with Melendez for over two hours with Melania Knauss, the eventual first lady who was then the future president's girlfriend. Trump, Melendez, and Stern went on to talk about Trump's sex life.
A spokesperson for Menendez did not immediately respond for comment.